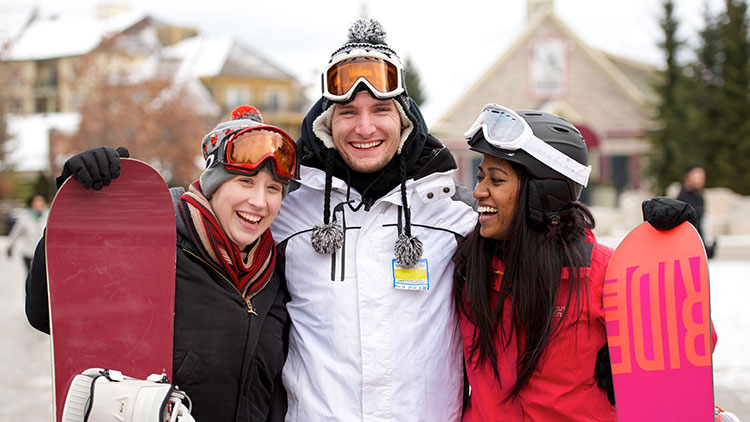 Come for The Campus. Stay for the Classes.
Bring your school spirit to the best campus in Ontario for the genuine Blue Mountain experience. Enjoy the finest skiing and snowboarding in the winter and myriad activities from zip lining to golf and tennis in the summer. Blue Mountain offers over 40 restaurants, shops, and bars featuring weekly events and entertainment.

University and College Group Rates 2017/18

All prices plus HST
Winter Lift Ticket
Monday to Thursday
Friday
Saturday and Holiday
Sunday
Day/Night Lift Ticket
$32
$40
$60
$40
Day/Night Ticket and Rental Package
$60
$68
$111
$91
Student Special!
5 Step Ski or Snowboard Lesson
Drop in Beginner Lesson 10:00am-8:00pm
Complimentary
Complimentary
Complimentary
Complimentary
Base Camp Ticket (1 Ticket per Attraction)
Ridge Runner Mountain Coaster, Hike N' Tube, Plunge! Aquatic Centre (3 Hour Admission), Woodview Skating (2 Hour Admission), Snowshoe (1/2 Day Rental)
Monday to Friday
Weekends & Holidays
Adult (ages 18+)
$11.20
$12.80
ESL Lesson Package
(Lift Ticket, Rentals with Helmet, Full Day Beginner Lesson)
Midweek
Weekends & Holidays
Beginner/ Newbie (Beginner Terrain Only)
Ages 13+
$78
$98
Base Lodge Meal Plan
Daily
Optional Group Meal Voucher
(9 Food Combos to choose from)
$9.74
| Rentals Options | Midweek | Weekends & Holidays |
| --- | --- | --- |
| Ski or Snowboard package with Helmet | $28 | $51 |
| Winter Jacket or Snow Pants | $15 | $20 |
| Helmet Only (for those not renting equipment) | $8 | $12 |
| Gloves or Goggles | $10 | $12 |
| Snowshoe (half Day) | $11.20 | $12.80 |
| Storage Locker or Bin | $8 | $8 |
Please Note:
Full payment due at time of purchase
Lift ticket valid for 8 hours from time of purchase/ pick-up
Holiday Rates Apply: Christmas (Dec 26-Jan 2) Family Day (Feb 20) March Break (March 13-17)
Valid for groups of 16 or more
Groups must be pre-registered 72 hours prior to arrival.
Student ID may be required at time of purchase
Weekend group discounts on rental and lesson packages not available
Meal vouchers are available to Groups only
Green Season at Blue Mountain



To access group savings of up to 30%, you must be a group of 16 or more and be pre-booked prior to arrival. Our most popular recreation option is to purchase a number of Base Camp tickets to distribute to your group. Unstructured and full of choice, ticket holders can choose one of 10 activity options. Depending on group size, budget, and structure, you can also organize one or more of our higher priced options as a group play which gives you a lot to think about.

University & College Day Group Rates Summer 2018 COMING SOON!
Apres & Activities

Skiing and snowboarding is synonymous with Blue Mountain, but it's the rest of the resort that truly makes us a favourite four season destination.
Ontario's only mountain village with over 40 restaurants, shops and bars
3 Base Lodges with full food service from 9 am to 9 pm daily
Base Camp Tickets allow access to the Ridge Runner Mountain Coaster, Woodview Mountaintop Skating, Hike N' Tube, Plunge! Aquatic Centre and Snowshoe rentals.
Bluer Mountain shuttle service. Daily from Toronto to Blue Mountain
Booking Details & Registration
Bookings must be made 48 hours prior to arrival. To access group discount for a minimum of 16 people in the winter please contact Recreation Sales.

Call 877.445.0231 ext. 53221 to speak with a representative from Recreation Sales directly or email groups@bluemountain.ca to register your group.