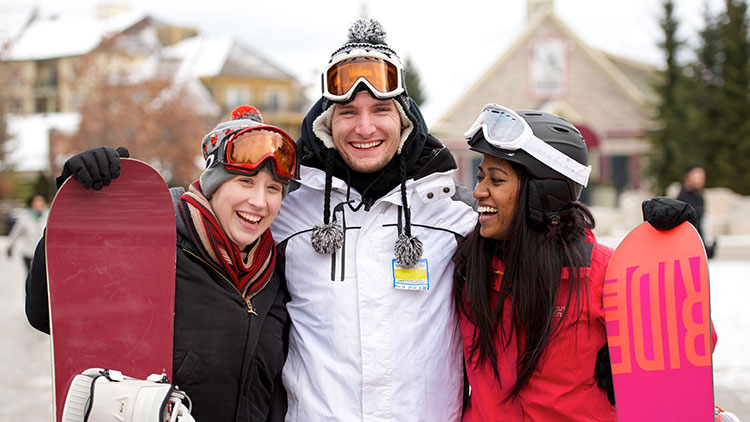 Come for The Campus. Stay for the Classes.
Bring your school spirit to the best campus in Ontario for the genuine Blue Mountain experience. Enjoy the finest skiing and snowboarding in the winter and myriad activities from zip lining to golf and tennis in the summer. Blue Mountain offers over 40 restaurants, shops, and bars featuring weekly events and entertainment.

Green Season
Minimum 16 participants
Save up to 30%

Winter Groups
Minimum 20 participants
Save up to 50%

Green Season at Blue Mountain



To access group savings of up to 30%, you must be a group of 16 or more and be pre-booked prior to arrival. Our most popular recreation option is to purchase a number of Base Camp tickets to distribute to your group. Unstructured and full of choice, ticket holders can choose one of 10 activity options. Depending on group size, budget, and structure, you can also organize one or more of our higher priced options as a group play which gives you a lot to think about.



University & College Day Group Rates Green Season 2017


One ticket valid at each attraction




Mon - Fri
SAVE 30%
Weekends & Holidays
SAVE 20%
Base Camp Tickets


Includes:

Apex Bagjump, Cascade Putting Course, Open-Air Gondola, The Rock Climbing Wall, Ridge Runner Mountain Coaster, Wind Rider Triple Zips, 3 Hours at Plunge! Aquatic Centre, 1 Hour Bike Rental, Millpond Activity Centre Rental
$11.20
$12.80
Mid-Station Tickets


Includes:

Woodlot Low Ropes Course, 1 Hour Scenic Bike Tour
$20.30
$23.20
1 Hour Guided Bike Tour
2 Hour Guided XC Tour, 1.5 Hour E-Bike
$34.30
$39.20
Summit Tickets


Includes:

Timber Challenge High Ropes Course, Mountaintop Segway Tours
$44.10
$50.40
Group Meal Plan
Choose from 3 Menu Pricing Platforms
$9.74
$15
$20
Please Note:
HST not included
Full payment due at time or purchase
One ticket valid at each attraction
Groups of 16 or more must be pre-booked 72 hrs prior to arrival
Age/Height/Weight/Clothing restrictions and guidelines apply
Outdoor activities are weather dependant
Group Services to finalize daily agenda and programs
WINTER AT BLUE MOUNTAIN
Sure, there are lots of other places you could ski this winter, but Blue Mountain offers so much more for your group. Here are just a few reasons why you should choose Blue Mountain for your winter day trip. When your group of 20 or more people book at Blue Mountain you will save over 25% Groups must pre-register 3 days prior to arrival. Overnight accommodation available by calling 877-445-0231 ext.6210 or e-mailing
sales@bluemountain.ca
.
University& College Day Group Rates Winter 2017/2018 COMING SOON!
All pricing includes applicable taxes.
Apres & Activities

Skiing and snowboarding is synonymous with Blue Mountain, but it's the rest of the resort that truly makes us a favourite four season destination.
Ontario's only mountain village with over 40 restaurants, shops and bars
3 Base Lodges with full food service from 9 am to 9 pm daily
New Ridge Runner Mountain Coaster allows you to enjoy another downhill thrill at night!
Weekly Events and entertainment
Booking Details & Registration
Bookings must be made 48 hours prior to arrival. To access group discount for a minimum of 20 people in the winter please contact Recreation Sales.
Telephone: 877-445-0231 ext. 6353
E-mail: groups@bluemountain.ca
We will need to know the following information
Contact Name
Date of Arrival
School Name
Group Size
Day Time Number
Approximate number of rentals and lessons you require
Call 877.445.0231 ext. 6353 to speak with a representative from Recreation Sales directly or email
groups@bluemountain.ca
to register your group.