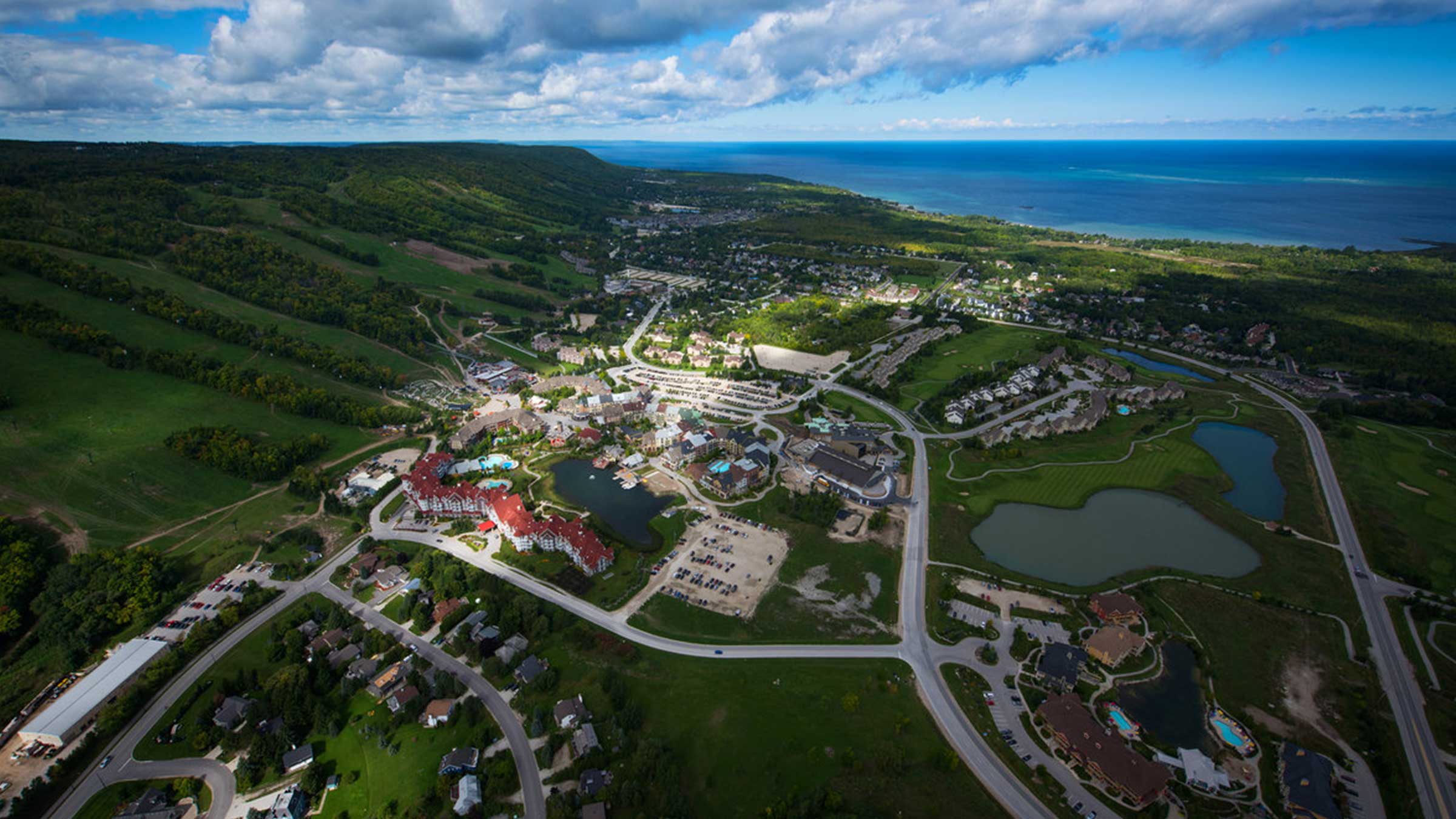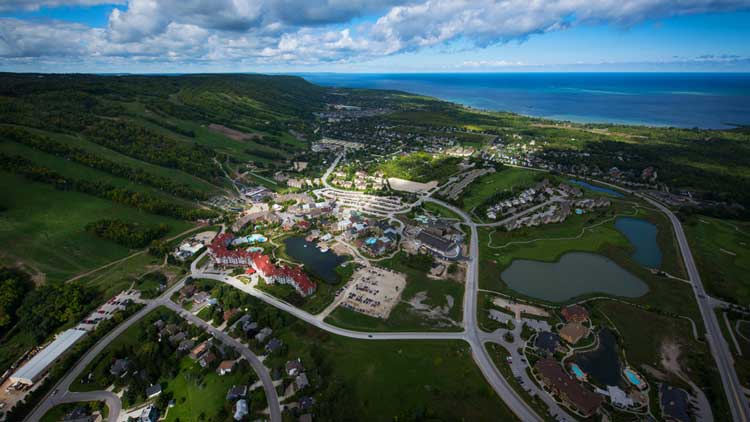 THE INSIDE SCOOP ON BLUE MOUNTAIN
NEW TO BLUE?
If you're looking for a getaway that truly has it all, look no further than Blue Mountain – Ontario's only four season mountain village resort. Regardless of your getaway itinerary, Blue Mountain provides plenty of ways to make the most of your days, from adrenaline pumping mountain attractions to family pleasing events and entertainment.

Tackle gravity fed fun on the slopes or sink into a relaxing spa experience. Blue Mountain's calendar is full year round with concerts, festivals and special events just waiting for your arrival.

Below are a few FAQs and tips to help you get the most of your Blue Mountain experience.

skiing at blue mountain
Where is the best place for me to ski?
lodging
What do I need to know about staying at Blue Mountain?
How do I get to Blue Mountain?
The Blue Mountain Resort is located at 108 Jozo Weider Blvd., Blue Mountains, Ontario L9Y 3Z2.
For those with the technology, we are providing our GPS coordinates for you to help make navigating your way to the resort a little easier.
Entrance 1 at Blue Mountain is located at
Lat: 44.507581
Long: -80.316120
View Details Directions
How do I check-in at Blue Mountain?
Village guests check-in at the Grand Georgian front desk (156 Jozo Weider Blvd), Mosaic guests check-in at the Mosaic front desk (190 Jozo Weider Blvd) and all other guests check-in at the Blue Mountain Inn (110 Jozo Weider Blvd).

Check-in begins at 4:00 p.m. All guarantees are subject to guests vacating their room on time and other circumstances that may be beyond our control. Please note that should you choose to ski/ride or play the day of arrival, that early check-in is not guaranteed and may not be available. At check-in a credit card authorization will be required for incidentals and for the security deposit ($500) Your credit card may be used for the security deposit; your PIN is required if you are using a chip card. If you wish to use cash, we will require the reservation balance to be paid in full at check in as well as the appropriate security deposit. This security deposit is refundable after inspection of the unit at check-out.

Check-in is not permitted without a valid credit card and photo ID matching the name on the reservation. Only guests 18-years of age or older and named on the reservation will be able to check in or receive extra room keys.

Please notify us of any additional guests prior to arrival. Additional guests will be required to present a valid photo ID (e.g. driver's license or passport) prior to being granted keys. If your additional guest is the first person in your party to check in, they will also be required to provide a valid credit card that will be authorized for incidentals in order to check in on your behalf.


When is Check-out?
Check-out is 11:00 a.m. Any outstanding reservation balance will be charged at checkout. Extended checkout is available as late as 7pm at competitive pricing, subject to availability. Please enquire with the front desk to confirm. Departures after 11 a.m. without prior arrangements may incur additional charges.
Is Blue Mountain dog friendly?
Blue Mountain has a limited inventory of pet-friendly accommodation at the
Blue Mountain Inn
. Pet-friendly units must be requested at time of booking and may not be made online. There is a one-time $50 pet fee per stay that includes a dog bed - small, medium or large, dog food & water dishes, dog treats & waste disposal bags. There is also a dog run outside of the Blue Mountain Inn. Dogs must not be left unattended while in the room.
What Housekeeping Services are provided?
It is our pleasure to provide you with a daily room refresh service that includes garbage removal, towel replacement and bed making. In order to keep Blue Mountain green, bed linens will be changed on the fourth day and towels are replaced only if left on the floor or in the shower. Daily full housekeeping is available by request for an additional fee. Please note that housekeeping services are not provided for stays in Cachet Crossing, Chateau Ridge, Mountain Walk and Wintergreen units.
Is internet available on resort?
Premium WiFi is available in guest rooms & conference centres at a cost of $9.95 +hst for 24 hours or $17.95 +hst for 72 hours and up to 3 device. Light WiFi is available complimentary in hotel lobbies
Does my stay include access to a pool or hot tub?
Village at Blue Mountain guests have access to a seasonal outdoor pool and year-round hot tub. Blue Mountain Inn, Resort Home guests have year-round access to the indoor pool, whirlpool and outdoor hot tubs of the Blue Mountain Inn. Seasonal outdoor pools are also available for Resort Home guests in Rivergrass and Historic Snowbridge. Mosaic guests have exclusive access to a year round pool and hot tub.
What room amenities are included?
Village Suites, Mosaic and Resort Homes are equipped with hair dryers, coffee makers, irons, ironing boards, and either kitchenettes or fully equipped kitchens depending on unit size. Hotel rooms are equipped with hair dryers and coffee makers.
Where can I store my skis, snowboard or bike equipment?
Outdoor equipment is not permitted in the rooms. Bike storage facilities are located in the village underground parking. Complimentary ski valet service is available. Please ask the front desk for further details upon arrival.
Are hotel rooms smoke free?
All of our lodging accommodations are smoke free. Smoking is permitted in designated areas throughout the resort.
Is Blue Mountain Resort accessible?
At Blue Mountain Resort, we strive to give every guest an unforgettable experience during every visit. It's our mission to promote an inclusive environment where all guests can enjoy their experience to the fullest.
In accordance with the Accessibility for Ontarians with Disabilities, Ontario Regulation 429/07, Accessibility Standards for Customer Service, Blue Mountain Resort (BMR) is committed to providing its goods and services in a way that respects the dignity and independence of people with disabilities. BMR is also committed to giving people with disabilities the same opportunity to access our goods and services and allowing them to benefit from the same services in the same place and the same way as other guests.
Learn More

lessons
Whether you're brand new or brushing up, learn a little about lessons at Blue 
Where do I go for Snow School Lessons?
There are two locations for lessons at Blue Mountain - The Village and South Base Lodge. All Kids at Blue programs take base out of South Base Lodge, drop off is located on the upper patio of the lodge. All private lessons and discover programs at South Base Lodge meet at the Gazebo on the south side of the building. P1 is the designated parking lot for South Base Lodge.
Private lessons and discover programs at the Village meet at the red school house on the North Side of Grand Central Lodge. P2 is the designated parking lot for the Village.
Learn More about Snow School

What do I need to bring?
Prior to arriving for your lesson, we recommend that guests check the weather forecasts and dress according to weather and conditions. We recommend wearing athletic clothing that is comfortable, breathable, and will wick away sweat. If possible, bring one pair of socks for your shoes, and a second pair to wear inside of your ski or snowboard boots. Tip: only wear socks inside of your boots, do not tuck other pants into your boots as it may create uncomfortable pressure points. Guests should wear snow pants, winter jacket, gloves, a scarf or neck warmer, and a thin hat without a pompom. Winter attire is available for rental at Blue Mountain. Helmets are mandatory for participants under the age of 18, we do recommend helmets on all participants at all times.

If you are planning on being on the hill all day, it is recommended that you bring portable snacks.


Tips for Snow School Guests
If you need rentals, there will be time required to fit and obtain your equipment. During peak periods please allocate at least 1 hour for getting your rentals. Peak periods include holidays, Christmas, family day, March break and some weekends.
Please arrive 5-10 minutes before your schedules lesson times to check in with Snow School staff who will assign an instructor for your lesson.
Lift tickets are not included in the price of private lessons. Please ensure you have purchased your lift ticket or pass before your lesson time.
Poles are not required for children in the early stages of learning
Adaptive Lessons are now available at Blue Mountain, we are able to provide equipment and instructors for guests with disabilities and all levels of experience.
equipment rentals
Don't have your gear? Borrow ours with rentals for many Blue Mountain activities. 
Where are the rental locations?
Rentals are available in the Village and at South Base Lodges These locations are open 8:30am – 9:00pm daily in the winter season.
What do you need to bring to rent equipment?
A valid driver's license is required for all rental equipment. Guests under the age of 18 will need a parent or guardian to sign a waiver.
What rental packages are available?
Ski packages
include skis, boots, poles, a helmet and valet service.
Snowboard packages
include snowboard, boots, helmet and valet service.
Snowshoe packages
include snowshoes, and a trail map.
Newbie package
includes a beginner lift ticket (valid for beginner green runs only) rentals, and drop-in lesson circuit.
Lift and Rental package
includes a full lift ticket, rentals and access to the Newbie circuit.
Winter jackets, snow pants, goggles, gloves and helmets are also available for rent.
Learn More
If you are interested in testing high-performance skis or snowboards, the Hillside Demo Centre allows you to test the latest downhill technology from brands like Elan, Rossignol, Burton, Salomon and more.
patrol services
Here to help, read some helpful safety tips and frequently asked questions about our Resort Patrol Services. 
About Blue Mountain Patrol Services
We want you to have a safe and enjoyable experience on our trails. Safety needs to be a priority for every guest at our resort. Please take a moment to review the Alpine Responsibility Code prior to your visit to Blue Mountain Resort.
View Alpine Responsibility Code
Please consider the following safety tips when you head out for a day of skiing or snowboarding:
Always wear a helmet!
Review a trail map. Ski each run according to your level.
Respect the different levels and abilities of others on the slopes.
Take a lesson.
Be aware of other skiers and snowboarders and keep a safe distance between you and others.
Stay focused and always concentrate on your next move.
Do not attempt another run if you are tired or injured.
Wear clothing appropriate to the weather and activity you are participating in.
Stay hydrated throughout the day and eat a light snack or meal before hitting the trails.
Maintain your equipment regularly to ensure that it is functioning properly.
What do I do if I become separated from friends or family?
We recommend that family and friends decide on a meeting place to go to if they do get separated, A cafeteria, bottom of a lift, rentals, or guest services as example. If you do happen to get separated Stay Calm, Stay Put and take note of the time when you first got separated or if you have a predetermined meeting place head to that location. If possible try to connect via cell phone to determine location and where to reconnect. If you have been separated for an extended period of time, the person is a child or if trails are closing you should notify Blue Mountain staff, lift operators, guest services or Patrol. Patrol Services will initiate the missing persons protocol and begin a search. If missing persons protocol is initiated its important for you to stay with Blue Mountain Resort staff until the missing person is found.
What to do if I come across closed terrain?
All terrain that is closed with a Fence, Ribbon, Closed sign or combination of are off limits to all guests. The reasons for a run being closed vary greatly but ultimately if a run is closed it is not safe.. Please stay off all closed runs. Guests caught on closed runs are subject to ticket and/or pass removal. ARC # 8 Keep off closed trails and obey area closures.
What to do if I start a hill but find the terrain too difficult?
We encourage all guests to ski/ride/bike within their ability. However if you ever find yourself on a run or in conditions that are too challenging for you the best option is to get to the side of the run, out of the way of other skiers/snowboarders/bikers. At the side of the run you can take your time to either side slip down to a location that is within your ability or have a friend or bystander call Patrol Services who will come and assist you down.
What to do if someone becomes injured?
If you or a friend become injured, Blue Mountain Patrol Services staff are always ready and willing to help. Alpine Responsibility Code(ARC) #5 If you are involved in or witness a collision/accident you must remain at the scene and identify yourself to Patrol Services.

The best way to alert Patrol Services staff of an injury on hill is to either report it to a lift operator, ski instructor or any other resort staff or call 1-705-445-0231 ext 6600. Do not call 911, 911 emergency services are not equipped to help injured guests on Blue Mountain Resort slopes and do not have direct contact with Blue Mountain Patrol Services staff.

If Emergency Medical Services are required Patrol Services staff will contact 911 on your behalf.
View Safety Tips
Alpine responsibility code
Always stay in control. You must be able to stop, or avoid other people or objects.
People ahead of you have the right-of-way. It is your responsibility to avoid them.
Do not stop where you obstruct a trail, or are not visible from above.
Before starting downhill or merging onto a trail, look uphill and yield to others.
Always use proper devices to help prevent runaway equipment.
Observe and obey all posted signs and warnings.
Learn More about Blue Mountain Safety
what can I do at Blue Mountain?
So you made it to Blue… now what to do? There is an attraction for everyone at Blue.
What summer attractions are available at Blue Mountain?
Blue Mountain offers a wide variety of attractions.
Base Camp Attractions

Climbing Wall, Open-Air Gondola, Cascade Putting Course, Ridge Runner Mountain Coaster, Wind Rider Triple Zips, Apex Bagjump, Mill Pond, Plunge! Aquatic Centre (3-hour admission only), Blue Mountain Beach Club
Mid-Station Attractions

Woodlot Low Ropes
Summit Attractions

Timber Challenge High Ropes, E-Bike Tours, Mountaintop Segway Tours
View Blue Mountain Attractions
Where can I buy attraction tickets?
Attraction tickets can be purchased in the Activity Central Building, Ridge Runner tickets can also be purchased at the ticket booth on the mountainside of the Grand Central Lodge
What should you bring/ wear?
Closed toe shoes are required for the majority of Blue Mountain attractions.
Attraction Restrictions
Age, weight and height restrictions are dependent on each attraction. Please visit bluemountain.ca or Guest Services for all attraction restrictions.
childcare
Safe, secure childcare is available year-round from private sitters to group camps. 
Where is Kids at Blue located?
Childcare is located at South Base Lodge on the upper patio
What do I need to bring to Kids at Blue childcare?
Please dress your children in appropriate clothing for the weather. Also pack a second change of clothing, a bathing suit, indoor and outdoor shoes, diapers and wipes if needed, and of course – listening ears and gentle hands.
What else do I need to know about Kids at Blue?
Blue Mountain offers a licensed childcare that runs year round. Weekend and Holiday care is offered during the winter months only. Space is limited.
parking
Learn where you can park your vehicle for day visits or overnight stays. 
Where can I park at Blue Mountain?
Outdoor parking lots are free of charge Village and Mosaic Lodging Guests may access underground parking at a fee of $15 per night.
View Accessible Parking Map
What Resort Transportation is available?
Please take advantage of our complimentary shuttle transportation system throughout the resort. Times and availability can vary depending on time of year.
Learn More