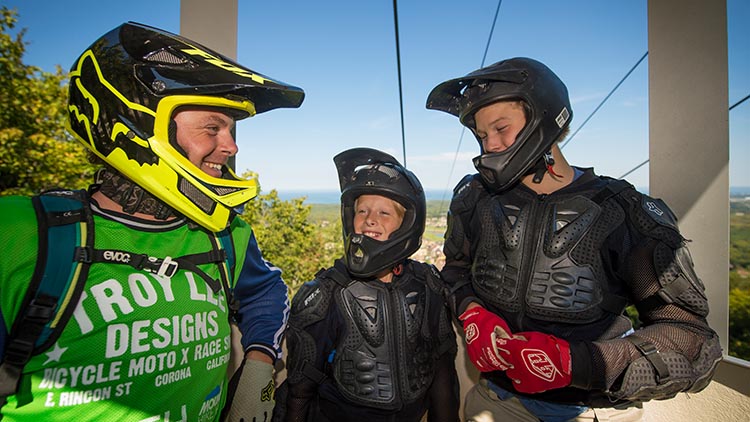 Blue Mountain Is Even Better Together

Bring everyone together for the genuine Blue Mountain experience. Enjoy the finest skiing and snowboarding in the winter and myriad activities from zip lining to golf and tennis in the summer. Blue Mountain offers over 40 restaurants, shops, and bars featuring weekly events and entertainment. You will receive dramatic discounts including up to 40% off regular lift ticket prices and lunch vouchers from as little as $11 per person. Choose Blue Mountain for great days in good company.

To access group savings of up to 30%, you must be a group of 16 or more and be pre-booked prior to arrival. Our most popular recreation option is to purchase a number of Base Camp tickets to distribute to your group. Unstructured and full of choice, ticket holders can choose one of 10 activity options. Depending on group size, budget, and structure, you can also organize one or more of our higher priced options as a group play which gives you a lot to think about.




Group Pricing
One ticket valid at each attraction




Midweek* Youth
(12 & under)
Midweek* Adult
(13+)
Weekend/Holidays*
All Ages
Apex Bagjump

$9
$10.50
$12
Cascade Putting Course
$9
$10.50
$12
Open-Air Gondola
$9
$10.50
$12
Climbing Wall
$9
$10.50
$12
Ridge Runner Mountain Coaster
$9
$10.50
$12
Wind Rider Triple Zip
$9
$10.50
$12
3 hour Plunge Aquatic Centre
$9
$10.50
$12
1 hour Bike Rental
$9
$10.50
$12
Dockside Activities**
$9
$10.50
$12
Woodlot Low Ropes

$16
$20.30
$23
1 Hour Guided Bike Tour
$16
$20.30
$23
Timber Challenge High Ropes
$33
$41.30
$47
Mountaintop Segway Tours
$33
$41.30
$47
2 Hour XC Bike
$33
$41.30
$47
Please Note:
HST not Included
Groups of 16 or more must be pre-booked 72 hrs prior to arrival
Age/Height/Weight/Clothing restrictions and guidelines apply
Outdoor activities are weather dependant
Group Services to finalize daily agenda and programs
**Dockside Activities open daily July and August


Details & Registration
Bookings must be made in advance. To access group discounts for groups of 16 or more please contact Recreation Sales.
Telephone: 877-445-0231 ext. 6353
E-mail:groups@bluemountain.ca

We will need to know the following information:

Date of Arrival
Group Name:
Group Size:
Group Mix: Adults and Youth
Group Contact:
Day Time Number:
Preferred recreation:

Call 877.445.0231 ext. 6353 to speak with a representative from Recreation Sales directly or email groups@bluemountain.ca to register your group.