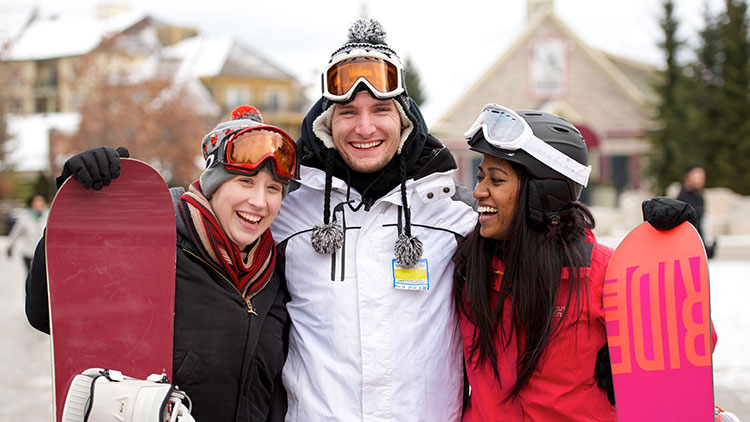 Come for The Campus. Stay for the Classes.
Bring your school spirit to the best campus in Ontario for the genuine Blue Mountain experience. Enjoy the finest skiing and snowboarding in the winter and myriad activities from zip lining to golf and tennis in the summer. Blue Mountain offers over 40 restaurants, shops, and bars featuring weekly events and entertainment. You will receive dramatic discounts including up to 53% off regular lift ticket prices and lunch vouchers from as little as $11 per person. Choose Blue Mountain for great days in good company. University and College Group pricing is valid for groups of 20 people or more.
University and College Group Rates 2016/17

All day pricing includes applicable taxes.
Winter 8 Hour Lift Ticket
Monday to Thursday
Friday
Saturday and Holiday
Sunday
8 Hour Lift Ticket
$33
$45
$64
$45
8 Hour Lift Ticket & Rentals
$62
$74
$118.24
$99.24
Student Bonus!
5 Step Ski or Snowboard Lesson
Complimentary
Complimentary
Complimentary
Complimentary
ESL Lesson Package
(Lift Ticket, Rentals with Helmet, Full Day Beginner Lesson)
Midweek
Weekends & Holidays
Beginner/ Newbie (Beginner Terrain Only)
Ages 13+
$77.97
$100.57
Base Lodge Meal Plan
Daily
Meal Voucher
(9 Food Combos to choose from)
$11
Rentals
Midweek
Weekends & Holidays
Ski or Snowboard package with Helmet
$29
$54.24
Snowshoes (half day)
$16.95
$16.95
Ski Jacket or Snow Pants
$22.60
$22.60
Helmet only
(For those not renting equipment)
$7.00
$11.30
Gloves or Goggles
$13.56
$16.95

Please Note:

All pricing includes taxes
Full payment due at time of purchase
Lift ticket valid for 8 hours from time of purchase/ pick-up
Holiday Rates Apply: Christmas (Dec 26-Jan 2) Family Day (Feb 20) March Break (March 13-17)
Valid for groups of 20 or more
Groups must be pre-registered 72 hours prior to arrival.
Student ID may be required at time of purchase
Weekend group discounts on rental and lesson packages not available
Meal vouchers are available to Groups only
Group Meal Plan

Planning a meal at Blue Mountain? Consider our Base Lodge combo food voucher. Great value, lots of choices and available at any of our three Base Lodges to groups of 20 or more. Vouchers can be purchased at the Groups portable when picking up lift tickets.
Your group will choose from the following meal options: $11.00 (per person, including HST)
•
Grilled Chicken Breast Sandwich with Fries
•
BBQ Crispy Chicken Sandwich with Fries
•
Chicken Fingers with Fries
•
Cheeseburger with Fries
•
Hot Dog with Fries
•
Slice of Pizza with Dipping Sauce
•
Bowl of Chili with Bun
•
Deli Sandwich
•
Poutine
All combos include a piece of fruit & 16 oz fountain beverage or 250 ml white/chocolate milk.
Apres & Activities

Skiing and snowboarding is synonymous with Blue Mountain, but it's the rest of the resort that truly makes us a favourite four season destination.
Ontario's only mountain village with over 40 restaurants, shops and bars
3 Base Lodges with full food service from 9 am to 9 pm daily
New Ridge Runner Mountain Coaster allows you to enjoy another downhill thrill at night!
Weekly Events and entertainment
Overnight Groups
If you decide to make your winter getaway a little longer, we have special Overnight Group Rates as well.
Midweek Ski Group Overnight Packages are available from $68* ppq.
Package Includes:
Nightly accommodation
One day/night lift ticket per person, per overnight stay
Convenor stays FREE
*Rates will vary based on demand and size of suite reserved. Accommodation/packages are subject to availability and stay requirements. Rates and dates are subject to change without notice. Package does not include applicable taxes, fees or gratuities. Cannot be combined with any other offers or discounts. Offer valid only at Blue Mountain operated properties. Other conditions apply.
Booking Details & Registration
Bookings must be made 48 hours prior to arrival. To access group discount for a minimum of 20 people in the winter please contact Recreation Sales.
Telephone: 877-445-0231 ext. 6353
E-mail: groups@bluemountain.ca
We will need to know the following information
Contact Name
Date of Arrival
School Name
Group Size
Day Time Number
Approximate number of rentals and lessons you require
Call 877.445.0231 ext. 6353 to speak with a representative from Recreation Sales directly or email
groups@bluemountain.ca
to register your group.