Biking at Blue
Diverse trails with breathtaking views!


 Included With Play All Day Ticket and Explore All Day ticket


Check Current Status



Explore Blue on two wheels!

Experience the thrill of achievement with the on-mountain riding experience at Blue.Take on the cross county trails at the top of Blue Mountain or enjoy a spin on the Georgian Trail and explore the region.

| | |
| --- | --- |
| As of Oct. 2 | Closed for the Season |
Cross Country Trails
The Explore Park's cross country trail network offers 7 trails including a variety of terrain with options for beginners and more experienced riders. Whether you prefer a leisurely ride to enjoy the scenic mountaintop surroundings or ride through forest trails, pedal your day away on the escarpment.

See the cross country trails on the Explore Park Map including:

Lower Mountain
🟢 Pathway to Village
🟦 Lower Green

Upper Mountain
🟢 Sunny Side Up
🟢 Time Line
🟢 Route 66
♦︎Cagey
♦︎Outer Limits

Downcountry Trails
Downcountry biking combines elements of cross country and downhill biking. Explore the downcountry trail network located in the Orchard area of the Explore Park which includes dynamic climbs and descents. Challenge your riding skills and abilities in our Little Rollers and High Rollers Bike Skills Area. The downcountry trails at Blue are a perfect choice for those seeking a balance between the adventure of downhill and the endurance of cross country biking.


See Downcountry Trail Map for all uphill and downcountry bike trails.


Lower Mountain
🟦 Cruise
🟦 Trail Mix
🟦 Fresh
🟦 Roller Derby
🟦 Little River Bend
🟦 Valley
🟦 Pitter Patter
🟦 Enchanted
Age
Participants ages 5-12 must be accompanied by an adult (18+)



Bikes
Cruiser bikes are best on paved and mostly flat terrain
Cross country bikes are ideal for our cross country trail network
The downcountry trails and skills bike areas require a bike with sufficient suspension to manage the ups and downs of our diverse downcountry trails
Bike rentals are available for purchase at Activity Central


Risk Awareness
Ride in control and within your ability
Ride with a buddy
Always wear a helmet
Stay hydrated
Stay on open, designated trails
Obey all sings and warnings
Respect the staff, other riders, and conditions
Carry a tool pack and spare tube
Follow posted hours
Please note, trails are not swept at the end of the day
Age and other restrictions apply, visit BlueMountain.ca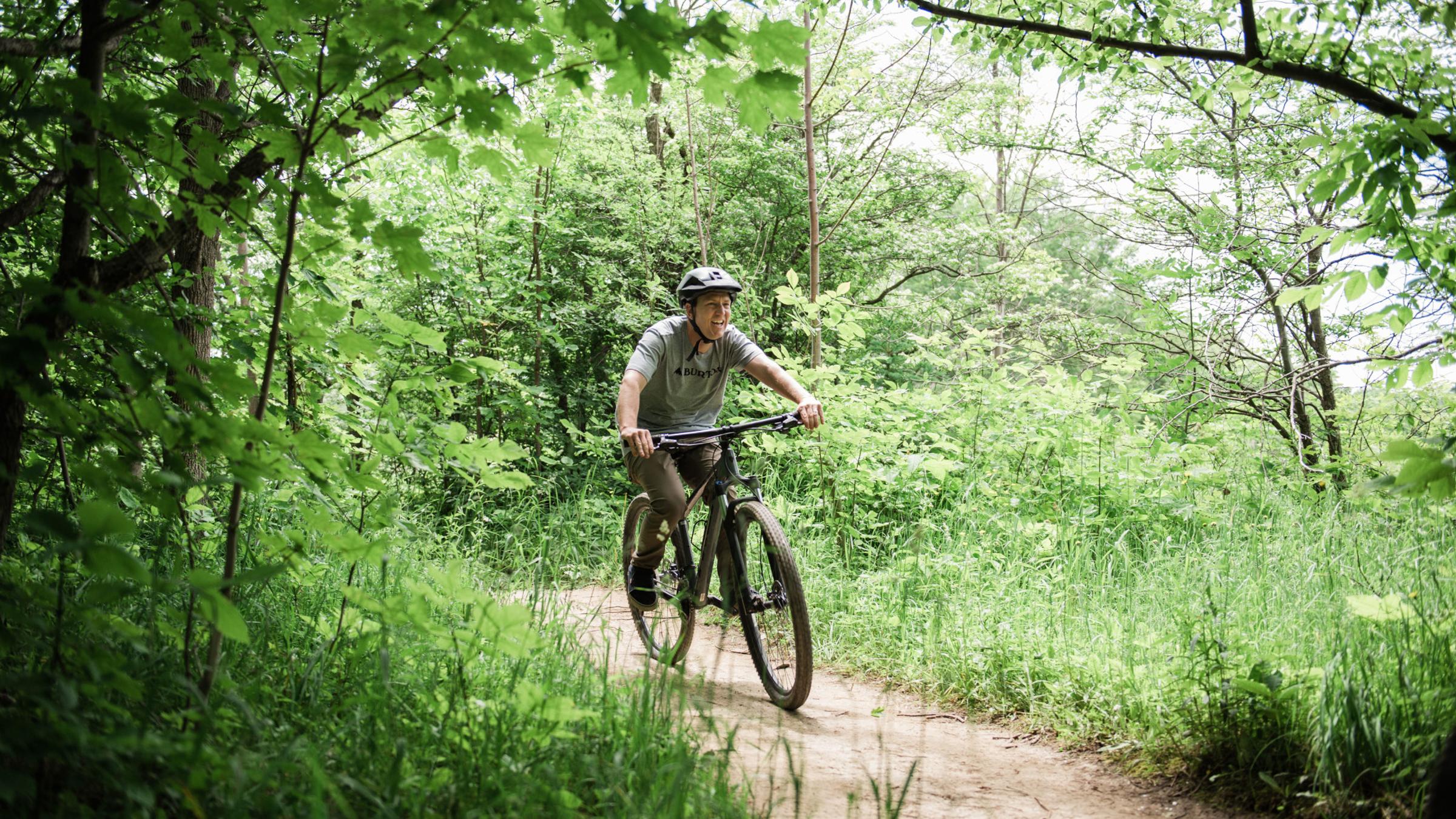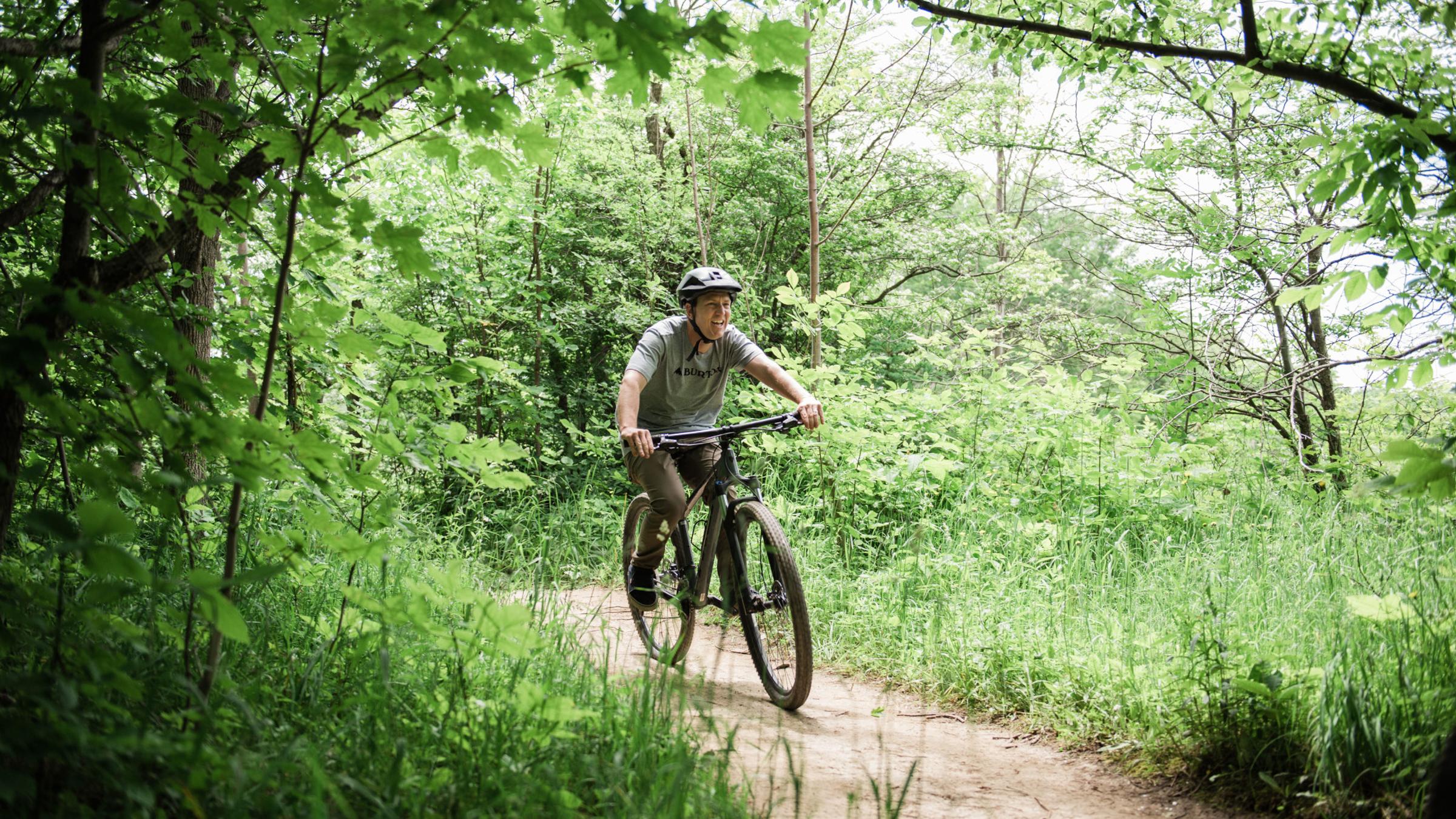 Frequently Asked Questions
How can I access the trails?
Guests can access the bike trails with one of the following products:

2023/24 5x7®️ or Ikon Pass

2023/24 Explore Season Pass

Play All Day ticket

Play All Evening ticket

Explore All Day ticket

Play As You Go Ticket
Does my Pass or Ticket include Bike Rentals?
No. Bike Rentals may be purchased for an additional fee at time of arrival from Activity Central.
Can I take my bike up the Gondola?
No. Bikes are no longer permitted on the Gondola. Guests that would like to ride the mountaintop trails are encouraged to drive their bikes to the top, and park in the designated lot. Blue Mountain rental bikes are not to be transported in personal vehicles.
Do the bike trails go top to bottom / bottom to top?
No. Climbing and descending bike trails do not go all the way down or up the mountain. The climbing and descending trails in The Orchard are only partially up the hill. Mountaintop trails run parallel across the top and do not offer significant climbs or descents.
Do you rent bikes for your bike trails?
Yes! Rental bikes may be purchased for an additional fee at time of arrival from Activity Central. Quantities are limited and are not guaranteed.
What kind of bike do I need? Does my bike need any special features or requirements?
We recommend riders have disc brakes and knobby tires. If you have a bike that does not fit these specifications, rentals are available at Activity Central.
Where can I bike?
There are 23 trails designated for cross country and downcountry biking. The majority of the trails are located in The Orchard and South Base area. There are 5 trails located at the top of the mountain. More information on each trail can be found on the Bike Trail Map.