Official Blue Mountain Resort App
Mobile Way-finding, Track your Hikes, Find your Friends, Earn Badges, and more!

We Have An App For That
The Blue Mountain App is your official guide to your next adventure at Blue Mountain Resort in Ontario, Canada. Discover everything there is to see and do while at Blue Mountain. Use our official app to plan your getaway in advance or book attractions, activities, and more while you're here to make the most out of your trip.
[Internal Header Item Not Set]
[No Associated Data Item]
[No Associated Data Item]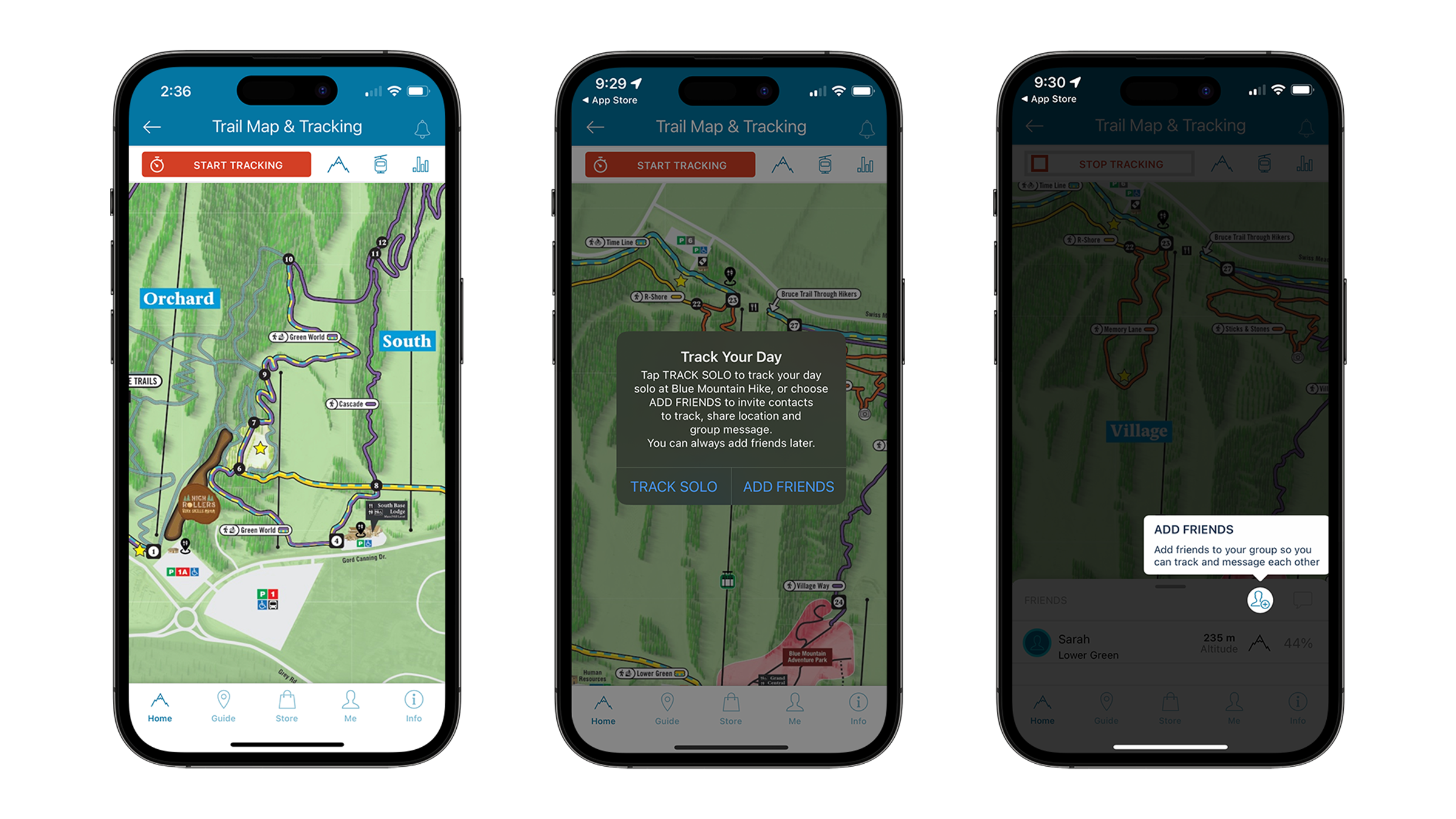 *NEW* Track your Hikes
Live hike tracking, including kilometres, vertical metres, and hours on the mountain. Track the number of days hiked, lifts ridden, and number of trails completed. Plus keep track of where your friends are on the mountain.


*NEW* Friend Finding
Never get left behind or feel the need to keep up with your above-average hiking friends with the newest feature within the app to find your friends on the mountain! Simply add your friends into a group tracking session and view where they are on the trails in real time.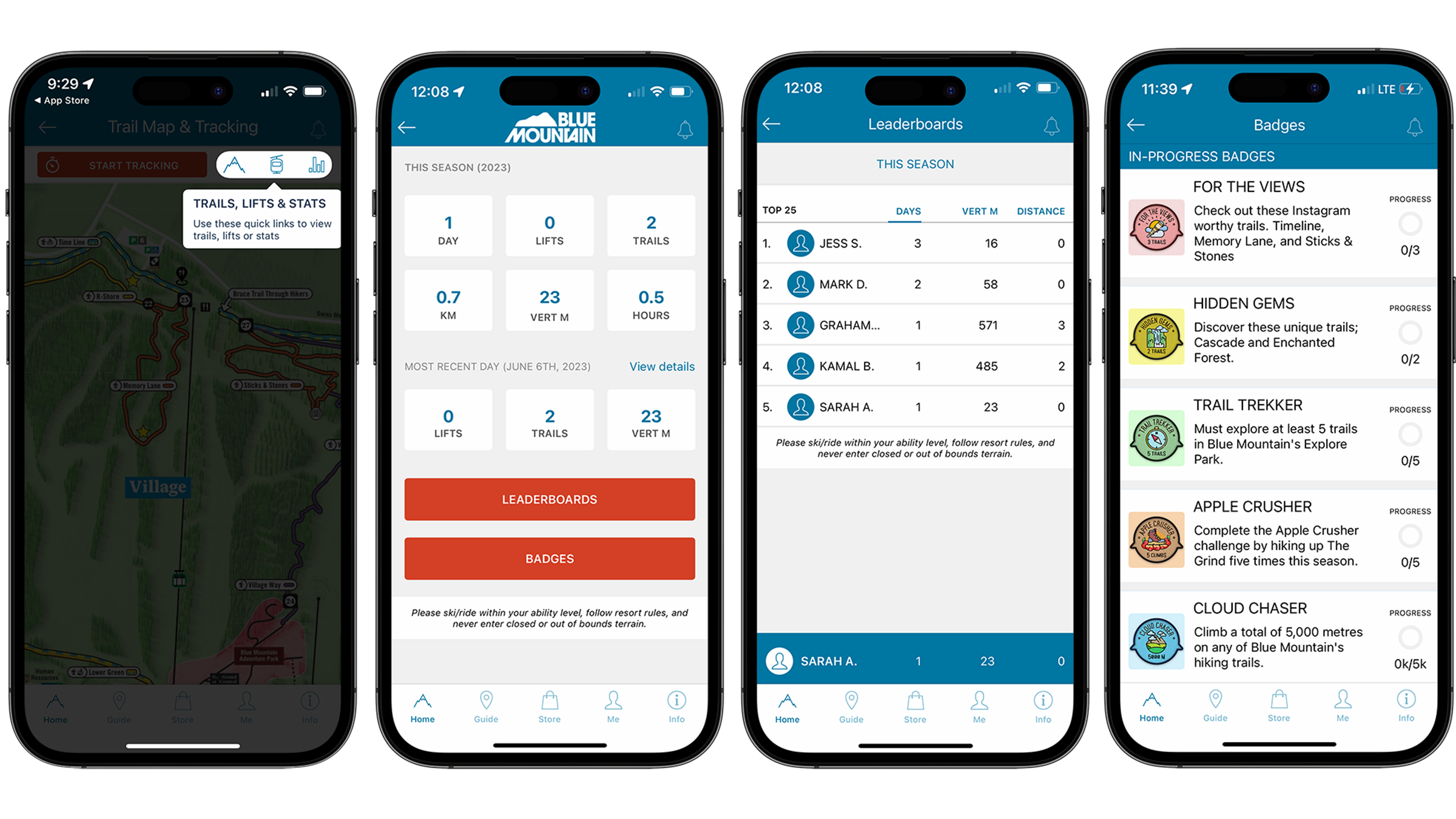 Personal Stats
Access personalized metrics within the Stats section to view days on the mountain, gondola rides ridden, trails hiked, kilometres travelled, vertical metres, and number of hours.
Leaderboards
Top the charts this season as you track your hiking days. Check out the top 25 hiking enthusiasts and get your name atop the leaderboard.


Earn Badges
Challenge yourself to something new by unlocking one or all of these five badges! Each one increasing in difficulty to unlock. Don't forget to track your hike to unlock the badges as you tackle the mountain trails!
Guide Map
Discover everything there is to see and do while at Blue Mountain with the handy guide map to help you choose your destination from shops to restaurants. Slide through the filter by icons to view more categories.
Point-to-Point Navigation
Use the app to assist in wayfinding so you'll never get lost again. Easily navigate from point to point with walking directions at the palm of your hands to restaurants, shops, lodging, conference spaces, attractions, hidden gems, and more around the Resort.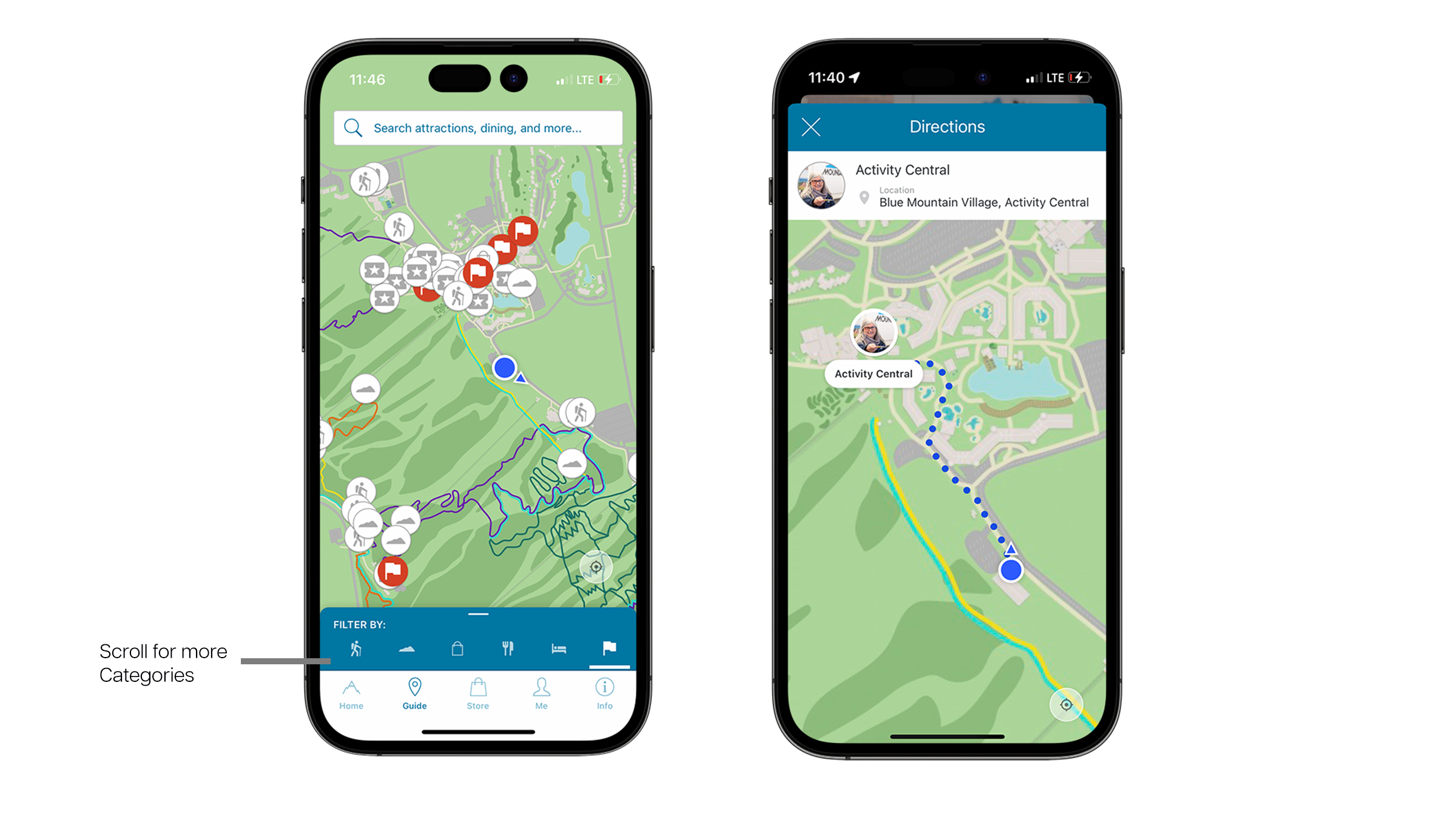 Hidden Gems
Navigate to many of the hidden gems of Blue Mountain scattered from the base to the summit. From the Big BLUE sign to the Mega Muskoka chairs or Rainbow Bridge, there's plenty to discover.
*NEW* Hiking Directions
Easily hike along the trails using GPS to point you in the correct direction and help you follow the right paths on the mountain.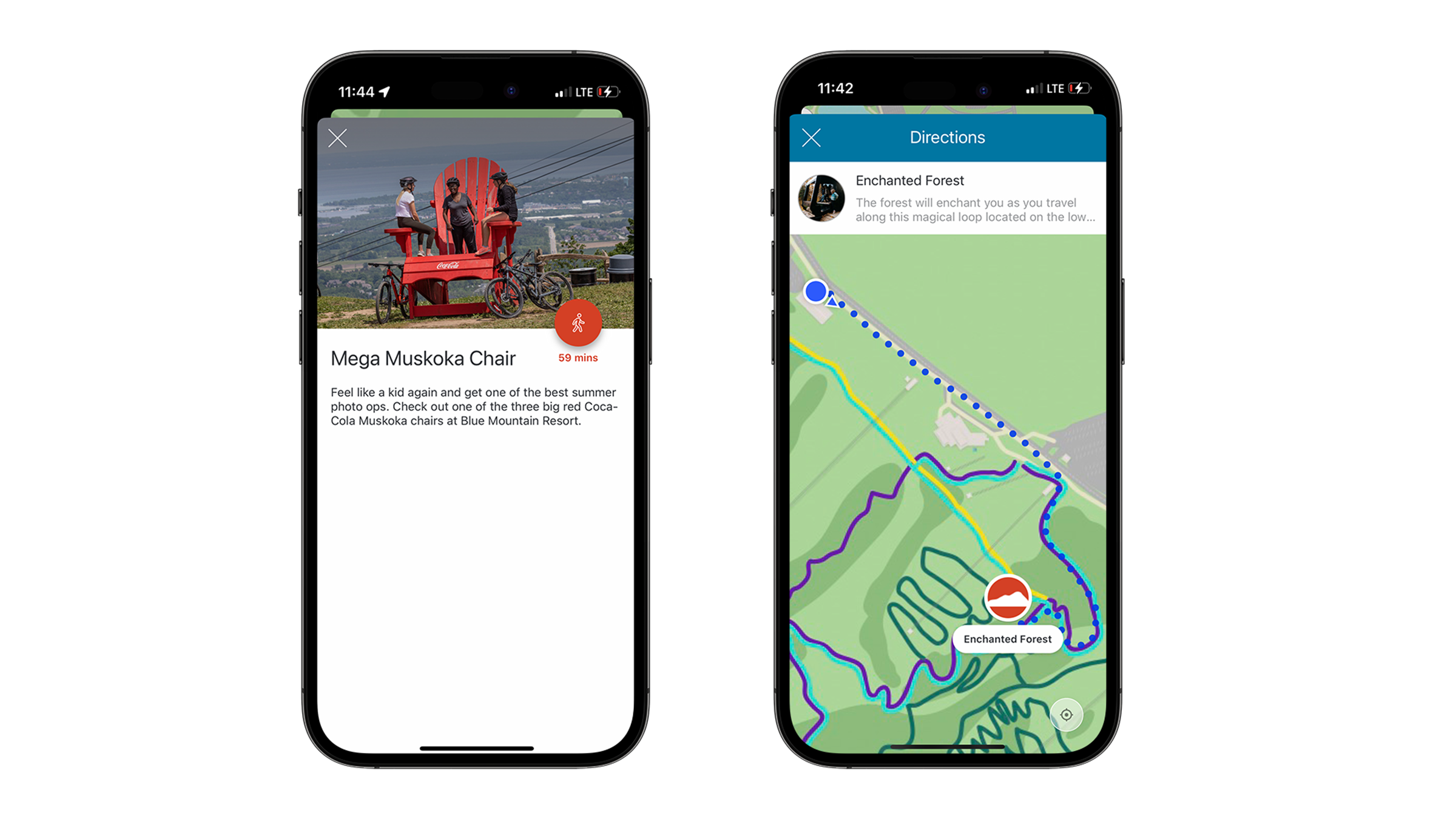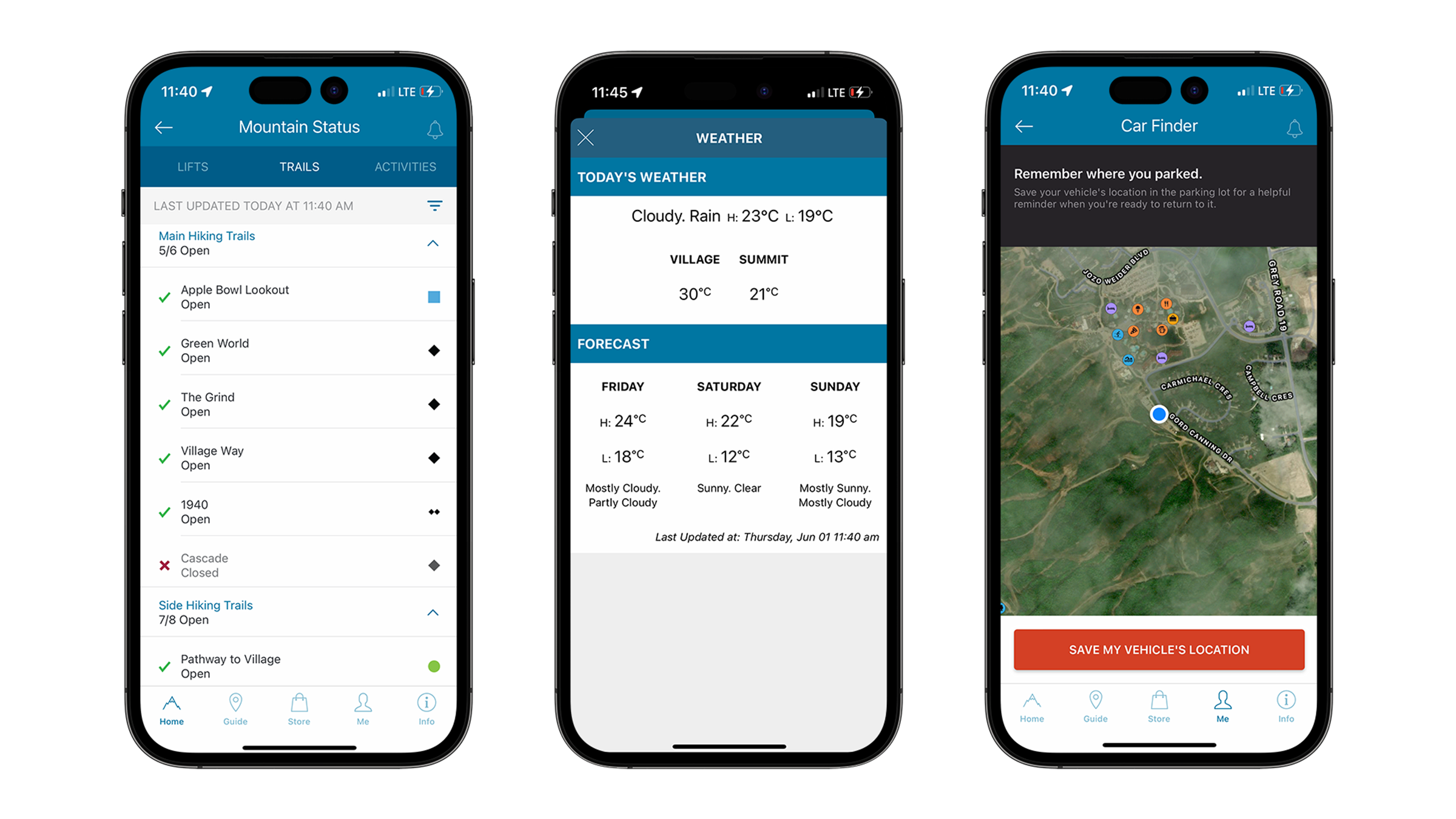 Mountain Status

Get real-time updates on trail, gondola, and attraction status to plan your day on the go.


Weather

Check out the current weather conditions in Blue Mountain Resort.

Mark your Parking Spot
Navigating to your car after a long day of exploring and adventuring has never been easier. Dont' forget to mark your car's location within your profile once you arrive to utilize this feature!