The season for gift-giving is here! What are you putting under the tree? Blue Mountain is all about creating memorable adventures and this season we are serving up a set up gifts that are sure to inspire. There is nothing better than gifting memorable experiences this holiday season and reap the rewards of watching someone dive into a new passion, explore the outdoors, or have their best day ever.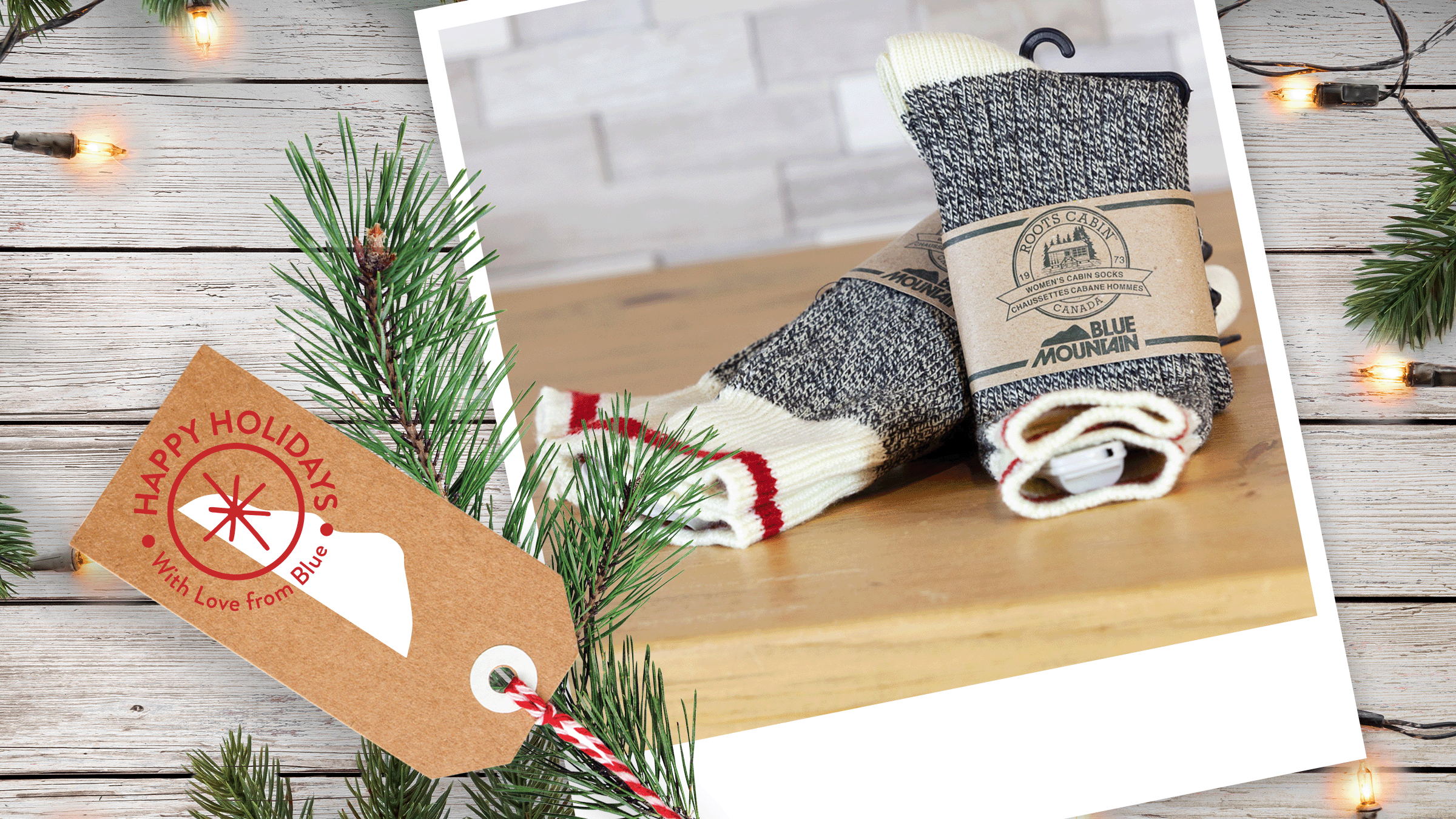 Blue Mountain Cabin Sock BOGO
There's no reason to get cold feet about the upcoming winter months with these classic Blue Mountain Cabin Sock by Roots™ featuring a signature cabin stripe, classic colours and a Blue Mountain logo on the sole. Available in Women, Men's and youth sizes - Buy one get one free now at Blue Mountain Supply Co. while supplies last! In-store offer only.

Social Contest Rules & Regulations
BLUE MOUNTAIN RESORTS LP
"BLUE MOUNTAIN RESORT GIFT GUIDE 2022 CONTEST"
OFFICIAL RULES

NO PURCHASE OR PAYMENT OF ANY KIND IS NECESSARY TO ENTER OR WIN THIS CONTEST. A PURCHASE OR PAYMENT WILL NOT INCREASE OR IMPROVE YOUR CHANCES OF WINNING.
CONTEST ORGANIZER: The "Blue Mountain Resort Gift Guide 2022 Contest" (the "Contest") is sponsored by Blue Mountain Resorts LP ("Contest Organizer") and the address at which Contest Organizer may be contacted is Blue Mountain Resorts LP, 190 Gord Canning Drive, Blue Mountains, Ontario L9Y 1C2.

ELIGIBILITY: The Contest is only open to entrants who, as of the date of entry, are: legal residents of Canada (excluding residents of the Province of Quebec) who are eighteen (18) years of age or older and have reached the age of majority in the province in which they reside. Entrants must also have internet access in order to enter. This Contest is void outside of eligible territories (including in Quebec). Employees of Contest Organizer, Alterra Mountain Company Canada, and each of their respective affiliates, sponsors, advertising and promotion agencies and members of the immediate family (parent, child, sibling and spouses) and of the household in which all such persons are domiciled are not eligible to enter. The Contest is subject to all applicable federal, provincial and local laws and regulations.

TIMING: The entry period for the Contest shall begin on Tuesday, November 15, 2022 at approximately 10:00:00am Eastern Time ("ET") and shall end on Thursday, November 24, 2022 at approximately 11:59:59pm ET (the "Entry Period"). Contest Organizer's computer is the official timekeeper for the Contest. Entries received other than during the Entry Period, and duplicate entries, will be determined ineligible and will be discarded.

HOW TO ENTER: There is only one (1) way to enter the Contest, which is online: During the Entry Period, log in to your Instagram Account and do the following: (a) go to the Contest post on Contest Organizer's Instagram website (@bluemtnresort), (b) like the Contest post, and (c) follow the @bluemtnresort Instagram account (Note: you can un-follow at any time after the Contest ends without impacting your chances of winning). When all required steps of the entry process are complete, you will automatically be eligible to earn one (1) entry in the Contest. TO EARN BONUS ENTRIES: tag one (1) or more Instagram accounts in the comments section of the Contest post and include the hashtag #BlueMountainGiftGuideGiveaway (each comment with one (1) @tag and one (1) hashtag will earn one (1) additional entry in the Contest). The Contest may only be entered by posting to Instagram, not to Contest Organizer's Facebook, Twitter or any other website. To post to Instagram, you must be a registered member of the Instagram website located at www.instagram.com and in compliance with the posted terms and conditions for the Instagram website. Membership on Instagram is free and can be obtained by visiting the Instagram website and following the onscreen instructions to register for and open an account. An entrant must be the rightful owner (or have authorized use) of the email address identified with the participant's Instagram account and your profile on Instagram must be public. Other information on entering the Contest is available at: https://www.bluemountain.ca/plan-your-trip/deals-and-packages/holiday-gift-guide (the "Contest Website", and together with the Instagram website, the "Entry WebsitesIn the event of a dispute as to the identity of an online entrant, the authorized account holder of the email address used to enter will be deemed to be the entrant. A potential winner may be required to show proof of being the authorized account holder. The "authorized account holder" is the natural person assigned to an email address by an Internet service provider, online service provider, or other organization responsible for assigning email addresses for the domain associated with the submitted email address. All entries will be deemed to have been made by the authorized account holder of the submitted email address. Submitting mass entries or entries generated by a script, macro or use of automated devices is prohibited and will result in disqualification. ELIGIBLE ENTRANTS MUST ENTER IN ACCORDANCE WITH THESE OFFICIAL RULES. NO OTHER METHOD OF ENTRY WILL BE ACCEPTED. Normal Internet access and usage charges imposed by entrant's online service will apply.

Contest Organizer will not be responsible for incomplete, lost, late, misdirected or illegible registration or failure to receive entry. Any entry that does not comply with any aspect of these Official Rules, as determined by Contest Organizer in its sole discretion, may be rejected by Contest Organizer and the entrant disqualified. Proof of submission will not be deemed proof of receipt of entry by Contest Organizer. All entrants and entries are subject to verification prior to the awarding of a prize, as are the eligibility, age and other claims of/information provided by a potential prize winner. Any entries attempted through the use of agencies or robotic, repetitive, automatic, programmed or similar methods will be void. Wireless carrier's data rates may apply if an entrant enters the Contest using a mobile device. All entries become the exclusive property of Contest Organizer and none will be acknowledged or returned. Entrants will cooperate with Contest Organizer and its representatives in connection with any and all verification activities. All entries that are incomplete, illegible, damaged, irregular, have been submitted through illicit means, or do not conform to or satisfy any condition of the Official Rules (defined below) may be disqualified by Contest Organizer.

AGREEMENT TO OFFICIAL RULES AND DECISIONS: The Contest will be run in accordance with these Official Rules, subject to amendment by Contest Organizer (the "Official Rules"). Entrants must comply with the Official Rules and will be deemed to have received and understood the Official Rules by participating in the Contest. The terms of the Contest, as set out in the Official Rules, are not subject to amendment or counter-offer, except as set out herein. Contest Organizer's decisions with respect to the Contest (including, without limitation, decisions regarding eligibility of entries, the selection of entrants and winners, and awarding of the Prize) are final and binding. If any provisions of the Official Rules are held to be invalid or unenforceable, all remaining provisions hereof will remain in full force and effect.

PRIZE DRAWING; ODDS; AWARDING OF PRIZE; PRIZE REDEMPTION: On or about November 25, 2022 at approximately 10:00:00a.m. ET, Contest Organizer will randomly select one (1) entrant from all qualified entries received by Contest Organizer during the Entry Period. An entrant's odds of winning the Prize depend on the total number of eligible entries received by Contest Organizer and the number of eligible entries received from the entrant. The potential winner selected must comply with all terms and conditions of these Official Rules and winning is contingent upon fulfilling all requirements set forth herein. The potential winner will be tagged in an Instagram story on Contest Organizer's Instagram website and notified by direct message on Contest Organizer's Instagram website and Contest Organizer will make arrangements for the winner to claim their Prize. The potential winner will first be required to execute and return to Contest Organizer a Declaration of Eligibility, a Release of Liability, and, except where prohibited by law, a Publicity Release (a "Declaration and Release") in the form(s) provided by Contest Organizer in order to claim his/her prize. The Declaration and Release must be returned to Contest Organizer by the date and/or time indicated within the Declaration and Release. The potential winner will also first be required to correctly answer, without assistance of any kind whatsoever mechanical or otherwise, a mathematical skill-testing question in no more than five (5) minutes, the test to be administered by telephone, in order to be eligible to win the Prize. If a potential winner cannot be contacted within seventy-two (72) hours of the first attempt to contact him/her, or if a potential winner fails to correctly answer the skill testing question in the manner prescribed, or if a potential winner fails to return the Declaration and Release within the specified time, or if any prize or prize notification is returned as undeliverable, or if a potential winner is found to be ineligible by Contest Organizer in its sole discretion, or if a potential winner does not comply with the Official Rules, then the potential winner may be disqualified and an alternate potential winner selected by Contest Organizer in his/her place at random from among all eligible non-winning entries received by Contest Organizer for the Contest. In such event, an alternate potential prize winner will be notified as described above and will be required to return the required documents to Contest Organizer as described above; provided, however, Contest Organizer may alter the above timing to meet its Contest schedule.


PRIZE: Subject to the terms and conditions of these Official Rules, one (1) prize will be awarded in this Contest. The prize consists of and is limited to: a 2-night midweek stay (arrival Sunday – Thursday) in a Blue Mountain Village studio or 1-bedroom room for winner and one (1) guest; two (2) lift tickets; two (2) ice skating tickets; two (2) Ridge Runner tickets; and one (1) $200 Blue Mountain gift card (subject to the terms, conditions and restrictions thereof) to be used between January 2 – March 19, 2023 (the "Prize"). AIRFARE IS NOT INCLUDED IN THE PRIZE. The approximate retail value ("ARV") of the prize is CDN$1,200.

The Prize is subject to the following additional requirements and restrictions: Winner must travel on dates and at times specified by Contest Organizer. Redemption is subject to availability and the following blackout dates will apply: February 19, 2023. Except as set forth below, trip must be completed by March 19, 2023. Winner will be notified of how to redeem the Prize and will be responsible for booking airfare, if applicable, and accommodations prior to and following the trip. Arrangements are all subject to space availability. Once confirmed, accommodation arrangements cannot be changed. The winner will be responsible for all costs, expenses and incidentals that are not specifically stated as being included in the Prize, including but not limited to, airfare, accommodations before and following the trip, personal items, food, alcohol purchases, massages, Blue Mountain shop purchases, gratuities, taxes, and insurance. The winner is responsible for ensuring that he/she has any and all required travel documentation and identification, including passports and visas as applicable, and to ensure that such travel documentation or identification is valid prior to and for the entire duration of travel, and to comply with any customs and immigration requirements. Use of the Prize is subject to weather, safety and other similar limitations and restrictions, as well as the duration of the 2022-23 ski season which may be affected by many factors, including but not limited to, the COVID-19 pandemic or other epidemic or pandemic, travel advisories, public health or government order, or any other event or occurrence, as determined by Contest Organizer in its sole discretion, which may result in limitation of Prize and/or which may limit or prohibit Blue Mountain Resort from conducting its operations. In the event of any such impacts on the use of the Prize, no cash or other consideration will be provided to winner, but winner may reschedule his/her use of the Prize to another time in the 2022-23 ski season or the 2023 summer season (with winter activity components of the Prize being replaced with summer activities in Contest Organizer's sole discretion). No compensation of any kind other than this optional rescheduling will be provided under any circumstances whatsoever and the Prize will expire and be forfeited if no such rescheduling is booked prior to March 31, 2023 and only one (1) such rebooking will be permitted. It is recommended that the winner obtain sufficient personal travel insurance prior to departure. If the winner decides not to travel due to reasons other than the foregoing, the Prize will be forfeited, no alternative prize will be awarded, and no credit or reimbursement will be awarded. Contest Organizer will not replace lost or stolen travel documents.

The Prize is non-transferable, non-assignable, nonnegotiable, and not redeemable for cash or credit, except as otherwise provided in these Official Rules. The Prize must be accepted as awarded. To the fullest extent permitted by applicable law, the Prize is awarded "AS IS" with no warranty, condition, representation, or guarantee, express or implied, in fact or in law, made by Contest Organizer or for which Contest Organizer shall be liable, including, without limitation, ANY IMPLIED WARRANTIES OR CONDITIONS OF MERCHANTABILITY, NON-INFRINGEMENT OR FITNESS FOR A PARTICULAR PURPOSE AND WINNER ASSUMES ANY AND ALL RISKS OF USING THE PRIZE, INCLUDING PERSONAL INJURY OR DEATH. No Prize substitutions, except by Contest Organizer, who reserves the right (but has no obligation) to substitute a prize (or a component thereof) with another prize of comparable or greater value (including cash) if the Prize (or a component thereof) is not available for any reason as determined by Contest Organizer in its sole discretion. Unused components of the Prize shall be forfeited and have no redeemable cash value. Winner is solely and fully responsible for any and all costs, fees, taxes, assessments and expenses associated with Prize award, redemption, receipt and use not specified in the Prize description above, including, without limitation, all international, federal, provincial, and local taxes on the Prize. Winner waives the right to assert as a cost of winning a prize any and all costs of verification and redemption. Non-compliance with any of the foregoing and any other condition of this Contest may result in disqualification and forfeiture of Prize, in which case, no consideration will be awarded.


PUBLICITY: Except where prohibited by law, acceptance of a prize constitutes a winner's consent to Contest Organizer's (and its successors' and assigns') use of a winner's name, biography, likeness, voice, photographs, video, opinions, statements, hometown and province for promotional purposes in any manner or media (including, without limitation, online), worldwide, in perpetuity, and without further payment, consideration, notice, review or consent.

GENERAL CONDITIONS: Contest Organizer reserves the right to require entrants to complete, execute and deliver to Contest Organizer additional documents at any time as required, in the forms provided, and within the timeframe required by Contest Organizer, or the entrant and participants may be disqualified. Contest Organizer reserves the right, in its sole discretion, to terminate, modify or suspend the Contest if, in Contest Organizer's opinion, there is any suspected or actual evidence of electronic or non-electronic tampering with any portion of the Contest, or if viruses, bugs, unauthorized intervention, fraud, technical difficulties or failures or any other factor beyond Contest Organizer's reasonable control corrupt or affect the administration, security, fairness, integrity or proper conduct of the Contest. In such event, Contest Organizer reserves the right (but does not have the obligation) in its sole discretion to award Prize at random. Contest Organizer reserves the right in its sole discretion to disqualify any individual it finds to be tampering with the entry process or the operation of the Contest or to be acting in violation of these Official Rules or in an unsportsmanlike or disruptive manner. Any attempt by any person to undermine the legitimate operation of this Contest is a violation of criminal and civil laws, and, should such an attempt be made, Contest Organizer reserves the right to seek damages and other remedies from any such person to the fullest extent permitted by law. Contest Organizer's failure to enforce any term of these Official Rules shall not constitute a waiver of that provision or any other provision of these Official Rules.

RELEASE: By entering the Contest, each entrant forever and irrevocably releases and holds harmless Contest Organizer, Blue Mountain Resorts GP Inc., Intrawest ULC dba Alterra Mountain Company Canada, Instagram and their respective subsidiaries and affiliates, and each of their respective directors, officers, employees, representatives, shareholders, successors-in-interest, and agents (collectively, the "Released Parties") from any claims, costs, injuries, losses, or damages of any kind arising out of or in connection with the Contest or with the acceptance, possession, or use of any prize (including, without limitation, claims, costs, injuries, losses and damages related to personal injuries, death, damage to, loss or destruction of property, rights of publicity or privacy, defamation, or portrayal in a false light). Entrant also agrees to fully indemnify the Released Parties from any and all claims by third parties relating to the Contest

LIMITATIONS OF LIABILITY: Contest Organizer, Alterra Mountain Company Canada and their agents are not responsible for: (a) technical failures of any kind, including but not limited to the malfunction of any telephone network or lines, computer online systems, servers, access providers, computer equipment, software, failure of any e-mail entry to be received by Contest Organizer or Alterra Mountain Company Canada on account of technical problems or traffic congestion on the Internet or any website, or any combination thereof, including any injury or damage to an entrant's or any other person's computer, related to or resulting from playing or downloading materials in this promotion; (b) any incomplete or inaccurate information, whether caused by the website users or by any equipment of programming associated with or utilized in the Contest, or by any technical or human error which may occur in the processing of entries; (c) the theft, destruction or unauthorized access to, or alteration of, entries or the website; or (d) any injury or damage to persons or property, including but not limited to entrant's computer, which may be caused, directly or indirectly, in whole or in part, from entrant's participation in the Contest or receipt or use of any prize, or from viewing, playing or downloading any material from Contest Organizer's website(s), regardless of whether the material was prepared by Contest Organizer or a third party, and regardless of whether the material is connected to Contest Organizer's websites by a hypertext link. Contest Organizer and Alterra Mountain Company Canada reserve the right, in their sole discretion, to cancel, modify or suspend the Contest should a virus or bug or other cause beyond the reasonable control of Contest Organizer and Alterra Mountain Company Canada or their agents corrupt the security or proper administration of the Contest. Any attempt to deliberately damage any website or to undermine the legitimate operation of this promotion is a violation of criminal and civil laws, and should such an attempt be made, Contest Organizer and Alterra Mountain Company Canada reserve the right to seek remedies and damages to the fullest extent permitted by law, including criminal prosecution. Alterra Mountain Company Canada and Contest Organizer reserve the right to forbid the framing of any of the contents of this site and, in their sole discretion, to disqualify any individual who tampers with the entry process.

DISPUTES: Entrant agrees that, except to the extent prohibited by law: (a) any and all disputes, claims, and causes of action arising out of or connected with this Contest or any prizes awarded shall be resolved individually, without resort to any form of class action, and solely and exclusively in the Province of Ontario; entrant submits to sole and exclusive personal jurisdiction to said courts in the Province of Ontario for any such dispute and irrevocably waives any and all rights to object to such jurisdiction; (b) any and all claims, judgments, and awards shall be limited to actual out-of-pocket costs incurred in connection with entering this Contest but in no event legal or attorneys' fees; and (c) under no circumstances will entrant be permitted to obtain awards for and entrant hereby waives all rights to claim punitive, incidental and consequential damages and any other damages, other than for actual out-of-pocket costs, and any and all rights to have damages multiplied or otherwise increased. SOME JURISDICTIONS DO NOT ALLOW THE LIMITATION OR EXCLUSION OF LIABILITY FOR INCIDENTAL OR CONSEQUENTIAL DAMAGES, SO THE ABOVE MAY NOT APPLY TO YOU. All issues and questions concerning the construction, validity, interpretation and enforceability of these Official Rules, or the rights and obligations of entrant or Contest Organizer in connection with the Contest shall be governed by, and construed in accordance with, the laws of the Province of Ontario and the Federals laws of Canada, without giving effect to any choice of law or conflict of law rules or provisions, which would cause the application of the laws of any jurisdiction other than the Province of Ontario.

PRIVACY: By entering the Contest, entrants consent to the collection, use and disclosure of their personal information solely for the purposes of administering the Contest and in accordance with Contest Organizer's privacy policy (available at: https://www.alterramtnco.com/privacy-policy/).

OFFICIAL RULES: These Official Rules are available at https://www.bluemountain.ca/plan-your-trip/deals-and-packages/holiday-gift-guide or by sending a self-addressed postage-stamped envelope to Blue Mountain Resort, Attention: Marketing, 190 Gord Canning Drive, Blue Mountains, Ontario, L9Y 1C2.

COVID-19: An inherent risk of exposure to COVID-19 exists in any public place. COVID-19 is an extremely contagious disease that can lead to severe illness and death, especially for senior citizens and individuals with underlying medical conditions. By visiting Blue Mountain Resort, you voluntarily assume all risks related to exposure to COVID-19.