Blue Mountain Village
ontario's largest mountain village resort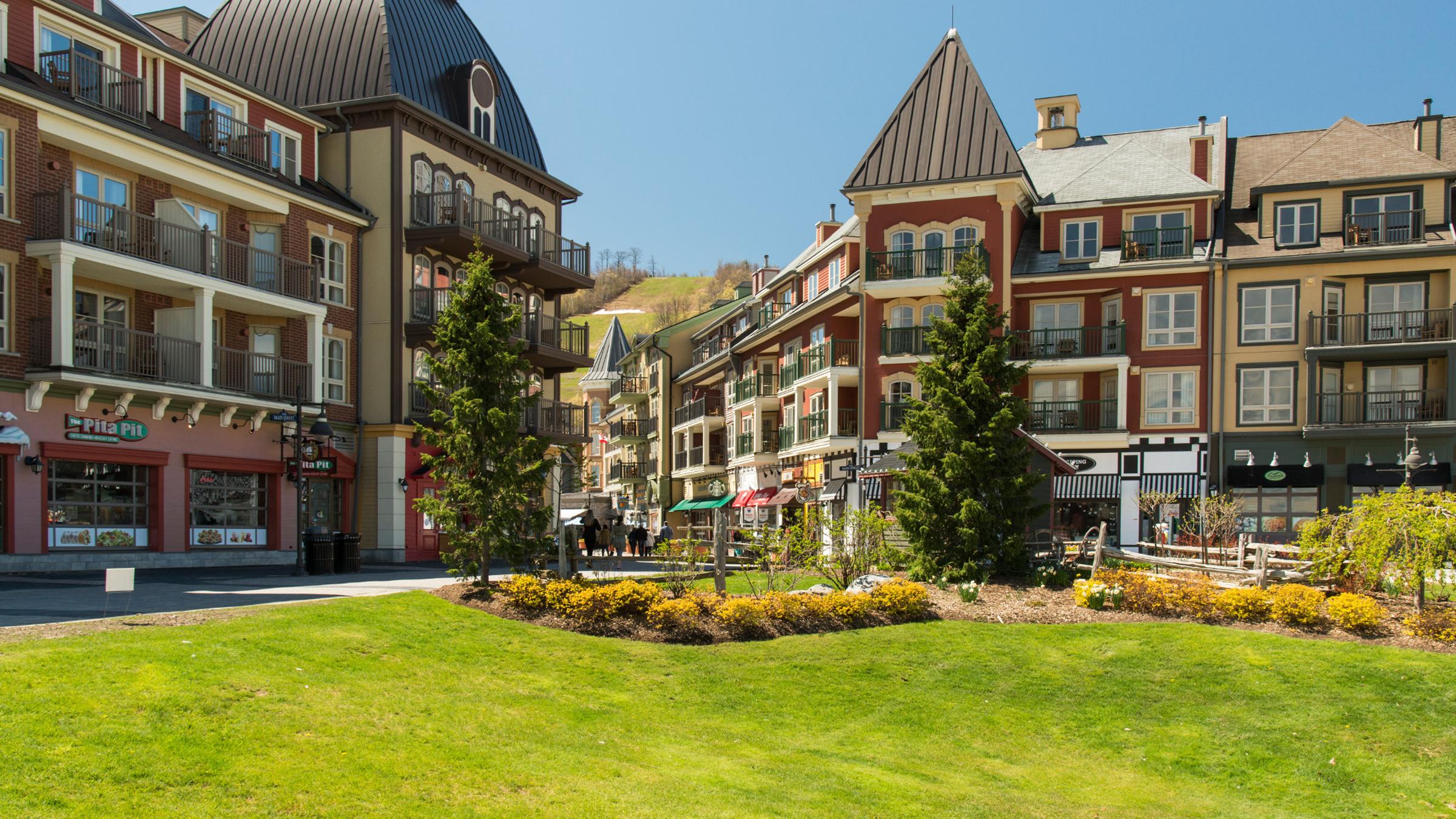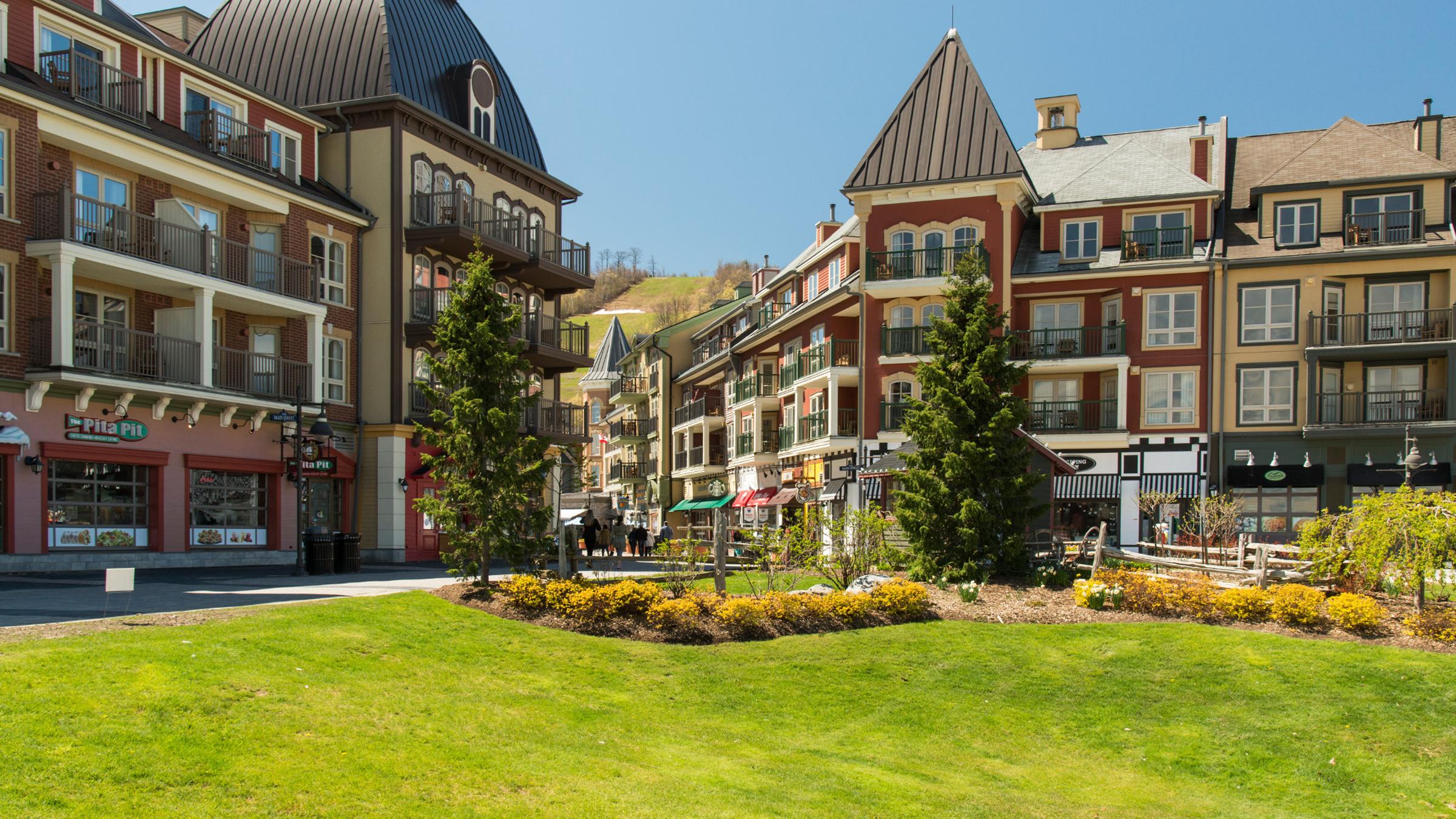 Ontario's Premiere Four-Season Destination

Between the foot of the Niagara Escarpment's scenic Blue Mountains and the rugged shores and crystal clear waters of Georgian Bay, the picturesque Blue Mountain Village is Southern Ontario's premiere four season destination. A cobblestoned pedestrian village framed by turn-of-the-century Ontario architecture, the Village offers a wide variety of family accommodations, activities, events and attractions including over 40 unique shops and restaurants, zip lines, ropes courses, hiking, biking, Segway tours and much more. An incredible natural retreat, the Village offers as much – or as little – as you'd like to do.

rich-text, responsive-table
Eateries and Nightlife
If you're looking for a way to please the taste buds, the Village eateries are the answer. Whether you're a family looking to enjoy a quick meal or a couple looking for dinner and drinks, this unique collection of restaurants and bars has something for everyone.
Shopping
Looking to take home a piece of Blue? From casual and fashion apparel to sports equipment, furniture and toys, you're sure to find what you're looking for in The Village Shops.
event-results-v2
No events found.
{"showMore":"show more events","showLess":"show less events","months":["January","February","March","April","May","June","July","August","September","October","November","December"],"weekDays":["Tues","Wed","Thur","Fri","Sat","Sun","Mon"]}
[{"pageId":"{9361ea66-96f4-4072-999c-3d12dbb62929}","subtitle":"June 1 - 4, 2023","targetUrl":"/things-to-do/events/blue-mountain-film-fest","target":null,"imageUrl":"/-/media/blue-mountain/image-slider-2400x1350/promos/bmff_2400x1350.png?rev=9ccf778caeeb4c2faedb3e38b8c578f7?h=1350&w=2400&hash=794F692F28E913A33C1EACC3902BF479","imageAlt":"Blue Mountain Film Festival","startDate":"06/01/2023","endDate":"06/04/2023","formattedDate":"Jun. 1, 2023 &mdash; Jun. 4, 2023","formattedDay":"1","formattedShortDayOfWeek":"Thu","formattedShortMonth":"Jun","recurrence":"Annual","locations":[{"name":"Village Town","description":"","class":"no-font-icon","displayName":"Village Town","sortOrder":100,"isHidden":false,"tagType":"","imageUrl":""}],"types":[],"goodForTags":[],"startDateDateTime":"2023-06-01T00:00:00","endDateDateTime":"2023-06-04T23:59:00","allDay":true,"mobileImageUrl":"/-/media/blue-mountain/image-slider-2400x1350/promos/bmff_2400x1350.png?w=480&rev=9ccf778caeeb4c2faedb3e38b8c578f7&hash=1BE816DBF56E58F0FBA0116655D5B3F5","tabletImageUrl":"/-/media/blue-mountain/image-slider-2400x1350/promos/bmff_2400x1350.png?w=1024&rev=9ccf778caeeb4c2faedb3e38b8c578f7&hash=E6DD3D91568856CFE86AF5A4B9ACCF1E","description":"<span class=\"paragraph-one\">See the World through Blue. Blue Mountain Film Festival invites film lovers and filmmakers to connect and be inspired as we celebrates the best in world cinema. This four day festival includes 20+ inspiring films including award-winning stories from around the globe and breakthrough Canadian films. Along with exceptional films and an industry creative forum, the festival goes beyond great cinema with events, parties, and outdoor activities.</span>","timeZoneServerOffset":1,"hasButtonCtaText":false,"buttonCtaText":"","name":"Blue Mountain Film Fest"},{"pageId":"{ab327294-193a-4707-b33a-29609c924dd4}","subtitle":"","targetUrl":"/things-to-do/events/live-music1","target":null,"imageUrl":"/-/media/blue-mountain/2400x1350/things-to-do/events/red_bull_blue_mountain/bmv_livemusic_thefreelabel.png?rev=67924f71b95d4505be7c78072b20dc0f?h=1350&w=2400&hash=3FAF85D1444D99B86AEBC61C4039F853","imageAlt":"","startDate":"06/02/2023","endDate":"06/02/2023","formattedDate":"Jun. 2, 2023","formattedDay":"2","formattedShortDayOfWeek":"Fri","formattedShortMonth":"Jun","recurrence":null,"locations":[{"name":"Village Town","description":"","class":"no-font-icon","displayName":"Village Town","sortOrder":100,"isHidden":false,"tagType":"","imageUrl":""}],"types":[{"name":"Concerts Live Music","description":"","class":"ico-music","displayName":"Concerts & Live Music","sortOrder":100,"isHidden":false,"tagType":"types","imageUrl":""}],"goodForTags":[{"name":"Adults","description":"","class":"ico-group","displayName":"Adults","sortOrder":100,"isHidden":false,"tagType":"goodForTags","imageUrl":""},{"name":"Teens","description":"","class":"ico-group","displayName":"Teens","sortOrder":50,"isHidden":false,"tagType":"goodForTags","imageUrl":""}],"startDateDateTime":"2023-06-02T20:00:00","endDateDateTime":"2023-06-02T22:00:00","allDay":false,"mobileImageUrl":"/-/media/blue-mountain/2400x1350/things-to-do/events/red_bull_blue_mountain/bmv_livemusic_thefreelabel.png?w=480&rev=67924f71b95d4505be7c78072b20dc0f&hash=5B4493BFF283259F0DA2B6C0A25E408F","tabletImageUrl":"/-/media/blue-mountain/2400x1350/things-to-do/events/red_bull_blue_mountain/bmv_livemusic_thefreelabel.png?w=1024&rev=67924f71b95d4505be7c78072b20dc0f&hash=14C018CEFD8DC637376ACC8FF2B3766E","description":"<p><strong><a href=\"https://www.thefreelabel.ca/\" class=\"ProsemirrorEditor-link\">Ain't no party like a Free Label party! Kick off Blue Mountain Film Festival weekend with Toronto Alt-Pop party band, The Free Label, live on the Subaru Stage at 8pm!</a></strong></p>","timeZoneServerOffset":1,"hasButtonCtaText":false,"buttonCtaText":"","name":"The Free Label "},{"pageId":"{5c892827-30aa-416c-884d-312a4a94aea2}","subtitle":"","targetUrl":"/things-to-do/events/live-music2","target":null,"imageUrl":"/-/media/blue-mountain/2400x1350/things-to-do/events/red_bull_blue_mountain/bmv_livemusic_moguzman/bmv_livemusic_rebeccarain/bmv_livemusic_mitchbeubequartet/bmv_livemusic_jessemurphytrio.png?rev=e7ab8c4383c74a6f8302031a683bd8e8?h=1350&w=2400&hash=37A4BDA31C0D5341452DF647810C51D4","imageAlt":"","startDate":"06/03/2023","endDate":"06/03/2023","formattedDate":"Jun. 3, 2023","formattedDay":"3","formattedShortDayOfWeek":"Sat","formattedShortMonth":"Jun","recurrence":null,"locations":[{"name":"Village Town","description":"","class":"no-font-icon","displayName":"Village Town","sortOrder":100,"isHidden":false,"tagType":"","imageUrl":""}],"types":[{"name":"Concerts Live Music","description":"","class":"ico-music","displayName":"Concerts & Live Music","sortOrder":100,"isHidden":false,"tagType":"types","imageUrl":""}],"goodForTags":[{"name":"Adults","description":"","class":"ico-group","displayName":"Adults","sortOrder":100,"isHidden":false,"tagType":"goodForTags","imageUrl":""},{"name":"Teens","description":"","class":"ico-group","displayName":"Teens","sortOrder":50,"isHidden":false,"tagType":"goodForTags","imageUrl":""},{"name":"Couples","description":"","class":"ico-heart","displayName":"Couples","sortOrder":100,"isHidden":false,"tagType":"goodForTags","imageUrl":""},{"name":"Group","description":"","class":"ico-group","displayName":"Group","sortOrder":100,"isHidden":false,"tagType":"goodForTags","imageUrl":""},{"name":"Families","description":"","class":"ico-parent_child","displayName":"Families","sortOrder":100,"isHidden":false,"tagType":"goodForTags","imageUrl":""},{"name":"Men","description":"","class":"ico-group","displayName":"Men","sortOrder":100,"isHidden":false,"tagType":"goodForTags","imageUrl":""},{"name":"Kids","description":"","class":"ico-parent_child","displayName":"Kids","sortOrder":0,"isHidden":false,"tagType":"goodForTags","imageUrl":""},{"name":"Women","description":"","class":"ico-group","displayName":"Women","sortOrder":100,"isHidden":false,"tagType":"goodForTags","imageUrl":""}],"startDateDateTime":"2023-06-03T15:00:00","endDateDateTime":"2023-06-03T18:00:00","allDay":false,"mobileImageUrl":"/-/media/blue-mountain/2400x1350/things-to-do/events/red_bull_blue_mountain/bmv_livemusic_moguzman/bmv_livemusic_rebeccarain/bmv_livemusic_mitchbeubequartet/bmv_livemusic_jessemurphytrio.png?w=480&rev=e7ab8c4383c74a6f8302031a683bd8e8&hash=282A3F68A41DAAC1598DA3CBC349A7B2","tabletImageUrl":"/-/media/blue-mountain/2400x1350/things-to-do/events/red_bull_blue_mountain/bmv_livemusic_moguzman/bmv_livemusic_rebeccarain/bmv_livemusic_mitchbeubequartet/bmv_livemusic_jessemurphytrio.png?w=1024&rev=e7ab8c4383c74a6f8302031a683bd8e8&hash=815927230F96F53142B1FF65D582599F","description":"<p /><p>The Jesse Murphy Trio is a musical powerhouse from southern Ontario, Canada! Catch their live performance from 3-6pm on the Subaru Stage and rock out to cover songs from the likes of everything from BB King and Little Richard to Prince and Stevie Wonder.</p><p />","timeZoneServerOffset":1,"hasButtonCtaText":false,"buttonCtaText":"","name":"Jesse Murphy Trio"},{"pageId":"{494d0b54-9fb6-45fb-beff-96657daae721}","subtitle":"","targetUrl":"/things-to-do/events/live-music3","target":null,"imageUrl":"/-/media/blue-mountain/2400x1350/things-to-do/events/red_bull_blue_mountain/bmv_livemusic_moguzman/bmv_livemusic_rebeccarain/bmv_livemusic_mitchbeubequartet.png?rev=97cbf6256b194489a33e9c7f9b40ad99?h=1350&w=2400&hash=B63EAA6EF5EA61AF2714EA7DEED7A8B3","imageAlt":"","startDate":"06/04/2023","endDate":"06/04/2023","formattedDate":"Jun. 4, 2023","formattedDay":"4","formattedShortDayOfWeek":"Sun","formattedShortMonth":"Jun","recurrence":null,"locations":[{"name":"Village Town","description":"","class":"no-font-icon","displayName":"Village Town","sortOrder":100,"isHidden":false,"tagType":"","imageUrl":""}],"types":[{"name":"Concerts Live Music","description":"","class":"ico-music","displayName":"Concerts & Live Music","sortOrder":100,"isHidden":false,"tagType":"types","imageUrl":""}],"goodForTags":[{"name":"Adults","description":"","class":"ico-group","displayName":"Adults","sortOrder":100,"isHidden":false,"tagType":"goodForTags","imageUrl":""},{"name":"Teens","description":"","class":"ico-group","displayName":"Teens","sortOrder":50,"isHidden":false,"tagType":"goodForTags","imageUrl":""},{"name":"Couples","description":"","class":"ico-heart","displayName":"Couples","sortOrder":100,"isHidden":false,"tagType":"goodForTags","imageUrl":""},{"name":"Group","description":"","class":"ico-group","displayName":"Group","sortOrder":100,"isHidden":false,"tagType":"goodForTags","imageUrl":""},{"name":"Families","description":"","class":"ico-parent_child","displayName":"Families","sortOrder":100,"isHidden":false,"tagType":"goodForTags","imageUrl":""},{"name":"Men","description":"","class":"ico-group","displayName":"Men","sortOrder":100,"isHidden":false,"tagType":"goodForTags","imageUrl":""},{"name":"Kids","description":"","class":"ico-parent_child","displayName":"Kids","sortOrder":0,"isHidden":false,"tagType":"goodForTags","imageUrl":""},{"name":"Women","description":"","class":"ico-group","displayName":"Women","sortOrder":100,"isHidden":false,"tagType":"goodForTags","imageUrl":""}],"startDateDateTime":"2023-06-04T11:00:00","endDateDateTime":"2023-06-04T14:00:00","allDay":false,"mobileImageUrl":"/-/media/blue-mountain/2400x1350/things-to-do/events/red_bull_blue_mountain/bmv_livemusic_moguzman/bmv_livemusic_rebeccarain/bmv_livemusic_mitchbeubequartet.png?w=480&rev=97cbf6256b194489a33e9c7f9b40ad99&hash=BE9BFEFD871D8F2276FA55176982C6CE","tabletImageUrl":"/-/media/blue-mountain/2400x1350/things-to-do/events/red_bull_blue_mountain/bmv_livemusic_moguzman/bmv_livemusic_rebeccarain/bmv_livemusic_mitchbeubequartet.png?w=1024&rev=97cbf6256b194489a33e9c7f9b40ad99&hash=4F5E0D079B1E51E166C54B0DB1BB56FC","description":"<p>For over four decades, The Mitch Beube Quartet have been performing Jazz, Blues and Swing in Muskoka and Central Ontario. Slip into serenity with the symphony of sounds performed live by Robert Gasidlo (keys), Bruce Rumble (bass), Bruce Cambell (drums) and Mitch (saxophones),</p>","timeZoneServerOffset":1,"hasButtonCtaText":false,"buttonCtaText":"","name":"Mitch Beube Quartet"},{"pageId":"{f90d5d6c-f6bb-4f14-83f7-e05b1d7c46e3}","subtitle":"June 23, 2023 - June 25, 2023","targetUrl":"/things-to-do/events/salsa-at-blue","target":null,"imageUrl":"/-/media/blue-mountain/2400x1350/things-to-do/events/salsa_bmr_2400x1350.png?rev=3532535ccbcc47ccb4c8280c8ddf7403?h=1350&w=2400&hash=5632E953A60BA282095658E92767E93B","imageAlt":"Salsa at Blue mountain","startDate":"06/23/2023","endDate":"06/25/2023","formattedDate":"Jun. 23, 2023 &mdash; Jun. 25, 2023","formattedDay":"23","formattedShortDayOfWeek":"Fri","formattedShortMonth":"Jun","recurrence":"Annual","locations":[{"name":"Village Town","description":"","class":"no-font-icon","displayName":"Village Town","sortOrder":100,"isHidden":false,"tagType":"","imageUrl":""}],"types":[{"name":"Festivals","description":"","class":"ico-group","displayName":"Festivals","sortOrder":100,"isHidden":false,"tagType":"types","imageUrl":""},{"name":"Free","description":"","class":"ico-star","displayName":"Free","sortOrder":100,"isHidden":false,"tagType":"types","imageUrl":""}],"goodForTags":[{"name":"Adults","description":"","class":"ico-group","displayName":"Adults","sortOrder":100,"isHidden":false,"tagType":"goodForTags","imageUrl":""},{"name":"Couples","description":"","class":"ico-heart","displayName":"Couples","sortOrder":100,"isHidden":false,"tagType":"goodForTags","imageUrl":""}],"startDateDateTime":"2023-06-23T00:00:00","endDateDateTime":"2023-06-25T23:59:00","allDay":true,"mobileImageUrl":"/-/media/blue-mountain/2400x1350/things-to-do/events/salsa_bmr_2400x1350.png?w=480&rev=3532535ccbcc47ccb4c8280c8ddf7403&hash=12DD59F46D73194F237CA593648BC609","tabletImageUrl":"/-/media/blue-mountain/2400x1350/things-to-do/events/salsa_bmr_2400x1350.png?w=1024&rev=3532535ccbcc47ccb4c8280c8ddf7403&hash=75A99301E9F1C1906CAA42A6FE0C66AF","description":"<span class=\"heading-two\">Salsa is Back!<br /><span class=\"paragraph-one\"></span></span><span class=\"paragraph-one\">A family street party transforms the entire Village into a showcase of Latin life with pulsating music, passionate dancing, and vibrant culture!</span><br />","timeZoneServerOffset":1,"hasButtonCtaText":false,"buttonCtaText":"","name":"Salsa at Blue"},{"pageId":"{12d5e93d-73f6-4127-b723-b58b2e57cce0}","subtitle":"","targetUrl":"/things-to-do/events/live-music5","target":null,"imageUrl":"/-/media/blue-mountain/2400x1350/things-to-do/events/red_bull_blue_mountain/bmv_livemusic_moguzman/bmv_livemusic_rebeccarain.png?rev=ea21462f84374a6bb353561f9802e0d9?h=1350&w=2400&hash=BC69EA0D5E7874B0FA1CF011B0883FDC","imageAlt":"","startDate":"06/29/2023","endDate":"06/29/2023","formattedDate":"Jun. 29, 2023","formattedDay":"29","formattedShortDayOfWeek":"Thu","formattedShortMonth":"Jun","recurrence":null,"locations":[{"name":"Village Town","description":"","class":"no-font-icon","displayName":"Village Town","sortOrder":100,"isHidden":false,"tagType":"","imageUrl":""}],"types":[{"name":"Concerts Live Music","description":"","class":"ico-music","displayName":"Concerts & Live Music","sortOrder":100,"isHidden":false,"tagType":"types","imageUrl":""}],"goodForTags":[{"name":"Adults","description":"","class":"ico-group","displayName":"Adults","sortOrder":100,"isHidden":false,"tagType":"goodForTags","imageUrl":""},{"name":"Couples","description":"","class":"ico-heart","displayName":"Couples","sortOrder":100,"isHidden":false,"tagType":"goodForTags","imageUrl":""},{"name":"Families","description":"","class":"ico-parent_child","displayName":"Families","sortOrder":100,"isHidden":false,"tagType":"goodForTags","imageUrl":""},{"name":"Group","description":"","class":"ico-group","displayName":"Group","sortOrder":100,"isHidden":false,"tagType":"goodForTags","imageUrl":""},{"name":"Kids","description":"","class":"ico-parent_child","displayName":"Kids","sortOrder":0,"isHidden":false,"tagType":"goodForTags","imageUrl":""},{"name":"Men","description":"","class":"ico-group","displayName":"Men","sortOrder":100,"isHidden":false,"tagType":"goodForTags","imageUrl":""},{"name":"Teens","description":"","class":"ico-group","displayName":"Teens","sortOrder":50,"isHidden":false,"tagType":"goodForTags","imageUrl":""},{"name":"Women","description":"","class":"ico-group","displayName":"Women","sortOrder":100,"isHidden":false,"tagType":"goodForTags","imageUrl":""}],"startDateDateTime":"2023-06-29T19:00:00","endDateDateTime":"2023-06-29T21:00:00","allDay":false,"mobileImageUrl":"/-/media/blue-mountain/2400x1350/things-to-do/events/red_bull_blue_mountain/bmv_livemusic_moguzman/bmv_livemusic_rebeccarain.png?w=480&rev=ea21462f84374a6bb353561f9802e0d9&hash=435AAD3C7634A46FD66029D39C273DBF","tabletImageUrl":"/-/media/blue-mountain/2400x1350/things-to-do/events/red_bull_blue_mountain/bmv_livemusic_moguzman/bmv_livemusic_rebeccarain.png?w=1024&rev=ea21462f84374a6bb353561f9802e0d9&hash=D57736693805E9F00F3F542179B1DB2F","description":"<p /><p>Congratulations Class of 2023! In celebration of Collingwood Collegiate Institute's graduating class, enjoy a special live performance by Rebecca Rain from 7-9pm on the Subaru Stage! Drawing influences from childhood favourites like Loretta Lynn and Patsy Cline, Rebecca has crafted a sound that is equally modern and traditional - definitely a crowd favourite!</p><p />","timeZoneServerOffset":1,"hasButtonCtaText":false,"buttonCtaText":"","name":"Rebecca Rain"},{"pageId":"{e0941397-5078-4114-8b56-f519c0eddb1f}","subtitle":"July 1- July 3,2023","targetUrl":"/things-to-do/events/canada-day","target":null,"imageUrl":"/-/media/blue-mountain/2400x1350/things-to-do/events/201708_blue_mountain_summer_chair.jpg?rev=ac397f7980594ebd981d9c11179ee8e6?h=1350&w=2400&hash=AB10724E0ACBC97D942655864C163893","imageAlt":"Couple sitting in giant Muskoka chair at Blue Mountain","startDate":"07/01/2023","endDate":"07/03/2023","formattedDate":"Jul. 1, 2023 &mdash; Jul. 3, 2023","formattedDay":"1","formattedShortDayOfWeek":"Sat","formattedShortMonth":"Jul","recurrence":"Annual","locations":[{"name":"Village Town","description":"","class":"no-font-icon","displayName":"Village Town","sortOrder":100,"isHidden":false,"tagType":"","imageUrl":""}],"types":[{"name":"Free","description":"","class":"ico-star","displayName":"Free","sortOrder":100,"isHidden":false,"tagType":"types","imageUrl":""},{"name":"Concerts Live Music","description":"","class":"ico-music","displayName":"Concerts & Live Music","sortOrder":100,"isHidden":false,"tagType":"types","imageUrl":""},{"name":"Local Community","description":"","class":"ico-group","displayName":"Local Community","sortOrder":100,"isHidden":false,"tagType":"types","imageUrl":""}],"goodForTags":[{"name":"Families","description":"","class":"ico-parent_child","displayName":"Families","sortOrder":100,"isHidden":false,"tagType":"goodForTags","imageUrl":""},{"name":"Adults","description":"","class":"ico-group","displayName":"Adults","sortOrder":100,"isHidden":false,"tagType":"goodForTags","imageUrl":""},{"name":"Teens","description":"","class":"ico-group","displayName":"Teens","sortOrder":50,"isHidden":false,"tagType":"goodForTags","imageUrl":""}],"startDateDateTime":"2023-07-01T00:00:00","endDateDateTime":"2023-07-03T00:00:00","allDay":false,"mobileImageUrl":"/-/media/blue-mountain/2400x1350/things-to-do/events/201708_blue_mountain_summer_chair.jpg?w=480&rev=ac397f7980594ebd981d9c11179ee8e6&hash=077CBA6909A9A69477761EFF61DF32A7","tabletImageUrl":"/-/media/blue-mountain/2400x1350/things-to-do/events/201708_blue_mountain_summer_chair.jpg?w=1024&rev=ac397f7980594ebd981d9c11179ee8e6&hash=BDA8E0D6F1E8DB9ACB904B2DB2295A7A","description":"<span class=\"paragraph-one\"></span><span class=\"paragraph-one\">Join us this Canada Day. Wear your best red and white gear and join us for a day of fun in the heart of the Blue Mountain Village, and Mountaintop fireworks!</span>","timeZoneServerOffset":1,"hasButtonCtaText":false,"buttonCtaText":"","name":"Canada Day Weekend"},{"pageId":"{4380d5cf-a0b8-49ef-a2bf-8e2890ed5775}","subtitle":"","targetUrl":"/things-to-do/events/live-music6","target":null,"imageUrl":"/-/media/blue-mountain/2400x1350/things-to-do/events/red_bull_blue_mountain/bmv_livemusic_moguzman.png?rev=2e8dfa92dc0f4744aa9af5c55c2245ac?h=1350&w=2400&hash=5B96DB211E5AB2379FAAD8BD53DC1814","imageAlt":"","startDate":"07/01/2023","endDate":"07/01/2023","formattedDate":"Jul. 1, 2023","formattedDay":"1","formattedShortDayOfWeek":"Sat","formattedShortMonth":"Jul","recurrence":null,"locations":[{"name":"Village Town","description":"","class":"no-font-icon","displayName":"Village Town","sortOrder":100,"isHidden":false,"tagType":"","imageUrl":""}],"types":[{"name":"Concerts Live Music","description":"","class":"ico-music","displayName":"Concerts & Live Music","sortOrder":100,"isHidden":false,"tagType":"types","imageUrl":""}],"goodForTags":[],"startDateDateTime":"2023-07-01T18:00:00","endDateDateTime":"2023-07-01T00:00:00","allDay":false,"mobileImageUrl":"/-/media/blue-mountain/2400x1350/things-to-do/events/red_bull_blue_mountain/bmv_livemusic_moguzman.png?w=480&rev=2e8dfa92dc0f4744aa9af5c55c2245ac&hash=A0A5789068C1E7F52EE20DAA3FBA5541","tabletImageUrl":"/-/media/blue-mountain/2400x1350/things-to-do/events/red_bull_blue_mountain/bmv_livemusic_moguzman.png?w=1024&rev=2e8dfa92dc0f4744aa9af5c55c2245ac&hash=FD0E358D0D0C29A07E7CBD4259885DCD","description":"<p>Mo Guzman returns to his home on Subaru Stage at 6pm to celebrate Canada Day Weekend! His gift of raw vulnerability transcends his audience in a heartfelt experience,catering to a variety of different occasions. Mo's unique vocal style encompasses a broad range of music.</p>","timeZoneServerOffset":1,"hasButtonCtaText":false,"buttonCtaText":"","name":"Mo Guzman"},{"pageId":"{4d8fb76f-5b32-4be5-9d51-791323758d8e}","subtitle":"","targetUrl":"/things-to-do/events/live-music10","target":null,"imageUrl":"/-/media/blue-mountain/2400x1350/things-to-do/events/livemusic_bernadetteandconnorsbrothers.png?rev=77d1defebc234b6da292b2ba38788fe2?h=1350&w=2400&hash=64872BFA763D13720349BDA69110CCD7","imageAlt":"Bernadette And Connors Brothers Band photo","startDate":"07/01/2023","endDate":"07/01/2023","formattedDate":"Jul. 1, 2023","formattedDay":"1","formattedShortDayOfWeek":"Sat","formattedShortMonth":"Jul","recurrence":null,"locations":[{"name":"Village Town","description":"","class":"no-font-icon","displayName":"Village Town","sortOrder":100,"isHidden":false,"tagType":"","imageUrl":""}],"types":[{"name":"Concerts Live Music","description":"","class":"ico-music","displayName":"Concerts & Live Music","sortOrder":100,"isHidden":false,"tagType":"types","imageUrl":""},{"name":"Free","description":"","class":"ico-star","displayName":"Free","sortOrder":100,"isHidden":false,"tagType":"types","imageUrl":""}],"goodForTags":[{"name":"Adults","description":"","class":"ico-group","displayName":"Adults","sortOrder":100,"isHidden":false,"tagType":"goodForTags","imageUrl":""},{"name":"Couples","description":"","class":"ico-heart","displayName":"Couples","sortOrder":100,"isHidden":false,"tagType":"goodForTags","imageUrl":""},{"name":"Families","description":"","class":"ico-parent_child","displayName":"Families","sortOrder":100,"isHidden":false,"tagType":"goodForTags","imageUrl":""},{"name":"Group","description":"","class":"ico-group","displayName":"Group","sortOrder":100,"isHidden":false,"tagType":"goodForTags","imageUrl":""},{"name":"Kids","description":"","class":"ico-parent_child","displayName":"Kids","sortOrder":0,"isHidden":false,"tagType":"goodForTags","imageUrl":""},{"name":"Men","description":"","class":"ico-group","displayName":"Men","sortOrder":100,"isHidden":false,"tagType":"goodForTags","imageUrl":""},{"name":"Teens","description":"","class":"ico-group","displayName":"Teens","sortOrder":50,"isHidden":false,"tagType":"goodForTags","imageUrl":""},{"name":"Women","description":"","class":"ico-group","displayName":"Women","sortOrder":100,"isHidden":false,"tagType":"goodForTags","imageUrl":""}],"startDateDateTime":"2023-07-01T20:15:00","endDateDateTime":"2023-07-01T21:30:00","allDay":false,"mobileImageUrl":"/-/media/blue-mountain/2400x1350/things-to-do/events/livemusic_bernadetteandconnorsbrothers.png?w=480&rev=77d1defebc234b6da292b2ba38788fe2&hash=4EC2AB419F0AD02CF808B064B6D9E6B7","tabletImageUrl":"/-/media/blue-mountain/2400x1350/things-to-do/events/livemusic_bernadetteandconnorsbrothers.png?w=1024&rev=77d1defebc234b6da292b2ba38788fe2&hash=F6367DFDA5306E28751AA75ACA2439D5","description":"<p>The Connors' family are a wildly talented clan, including the incredible vocals of the youngest sibling, Bernadette - her musical style is truly authentic and pays no attention to what conformities the industry demands. Joined by The Connors Brothers, you're invited to join in on the family affair and celebrate Canada Day. Catch them live on the Subaru Stage, starting at 8:15PM.</p><p /><p /><p />","timeZoneServerOffset":1,"hasButtonCtaText":false,"buttonCtaText":"","name":"Bernadette & The Connors Brothers"},{"pageId":"{3f06f820-4a54-4ecc-b19c-c894bb8bd3d3}","subtitle":"","targetUrl":"/things-to-do/events/live-music7","target":null,"imageUrl":"/-/media/blue-mountain/2400x1350/things-to-do/events/red_bull_blue_mountain/bmv_livemusic_emmawright.png?rev=81d26e89d92742a3809753d0a53d50d9?h=1350&w=2400&hash=14C0A62D409FB609C4705BC047425279","imageAlt":"","startDate":"07/03/2023","endDate":"08/28/2023","formattedDate":"Jul. 3, 2023 &mdash; Aug. 28, 2023","formattedDay":"3","formattedShortDayOfWeek":"Mon","formattedShortMonth":"Jul","recurrence":"Weekly","locations":[{"name":"Village Town","description":"","class":"no-font-icon","displayName":"Village Town","sortOrder":100,"isHidden":false,"tagType":"","imageUrl":""}],"types":[{"name":"Concerts Live Music","description":"","class":"ico-music","displayName":"Concerts & Live Music","sortOrder":100,"isHidden":false,"tagType":"types","imageUrl":""}],"goodForTags":[{"name":"Adults","description":"","class":"ico-group","displayName":"Adults","sortOrder":100,"isHidden":false,"tagType":"goodForTags","imageUrl":""},{"name":"Couples","description":"","class":"ico-heart","displayName":"Couples","sortOrder":100,"isHidden":false,"tagType":"goodForTags","imageUrl":""},{"name":"Families","description":"","class":"ico-parent_child","displayName":"Families","sortOrder":100,"isHidden":false,"tagType":"goodForTags","imageUrl":""},{"name":"Group","description":"","class":"ico-group","displayName":"Group","sortOrder":100,"isHidden":false,"tagType":"goodForTags","imageUrl":""},{"name":"Kids","description":"","class":"ico-parent_child","displayName":"Kids","sortOrder":0,"isHidden":false,"tagType":"goodForTags","imageUrl":""},{"name":"Men","description":"","class":"ico-group","displayName":"Men","sortOrder":100,"isHidden":false,"tagType":"goodForTags","imageUrl":""},{"name":"Teens","description":"","class":"ico-group","displayName":"Teens","sortOrder":50,"isHidden":false,"tagType":"goodForTags","imageUrl":""},{"name":"Women","description":"","class":"ico-group","displayName":"Women","sortOrder":100,"isHidden":false,"tagType":"goodForTags","imageUrl":""}],"startDateDateTime":"2023-07-03T17:00:00","endDateDateTime":"2023-08-28T20:00:00","allDay":false,"mobileImageUrl":"/-/media/blue-mountain/2400x1350/things-to-do/events/red_bull_blue_mountain/bmv_livemusic_emmawright.png?w=480&rev=81d26e89d92742a3809753d0a53d50d9&hash=95650C6B383256C1FBF6CD9085E4DDC4","tabletImageUrl":"/-/media/blue-mountain/2400x1350/things-to-do/events/red_bull_blue_mountain/bmv_livemusic_emmawright.png?w=1024&rev=81d26e89d92742a3809753d0a53d50d9&hash=E7DA6D3A94636400DF2EF7028BBD2364","description":"<p /><p>End off your Mondays the Wright way! Local vocal powerhouse Emily Wright kicks off our Mountain Music Series every Monday from 5-8pm on the Subaru Stage.</p><p />","timeZoneServerOffset":1,"hasButtonCtaText":false,"buttonCtaText":"","name":"Emma Wright"},{"pageId":"{ad3c89c2-e5b9-4727-b01b-5053bd4cd2bf}","subtitle":"","targetUrl":"/things-to-do/events/live-music20","target":null,"imageUrl":"/-/media/blue-mountain/2400x1350/things-to-do/events/livemusic_alexbarber.png?rev=4339abb9e1e74226821188542bf4fc74?h=1350&w=2400&hash=F78225B589514BA47313F3EEFA753509","imageAlt":"Alex Barber sitting outside with guitar","startDate":"07/04/2023","endDate":"07/04/2023","formattedDate":"Jul. 4, 2023","formattedDay":"4","formattedShortDayOfWeek":"Tue","formattedShortMonth":"Jul","recurrence":"Weekly","locations":[{"name":"Village Town","description":"","class":"no-font-icon","displayName":"Village Town","sortOrder":100,"isHidden":false,"tagType":"","imageUrl":""}],"types":[{"name":"Concerts Live Music","description":"","class":"ico-music","displayName":"Concerts & Live Music","sortOrder":100,"isHidden":false,"tagType":"types","imageUrl":""},{"name":"Free","description":"","class":"ico-star","displayName":"Free","sortOrder":100,"isHidden":false,"tagType":"types","imageUrl":""}],"goodForTags":[{"name":"Adults","description":"","class":"ico-group","displayName":"Adults","sortOrder":100,"isHidden":false,"tagType":"goodForTags","imageUrl":""},{"name":"Couples","description":"","class":"ico-heart","displayName":"Couples","sortOrder":100,"isHidden":false,"tagType":"goodForTags","imageUrl":""},{"name":"Families","description":"","class":"ico-parent_child","displayName":"Families","sortOrder":100,"isHidden":false,"tagType":"goodForTags","imageUrl":""},{"name":"Group","description":"","class":"ico-group","displayName":"Group","sortOrder":100,"isHidden":false,"tagType":"goodForTags","imageUrl":""},{"name":"Kids","description":"","class":"ico-parent_child","displayName":"Kids","sortOrder":0,"isHidden":false,"tagType":"goodForTags","imageUrl":""},{"name":"Men","description":"","class":"ico-group","displayName":"Men","sortOrder":100,"isHidden":false,"tagType":"goodForTags","imageUrl":""},{"name":"Teens","description":"","class":"ico-group","displayName":"Teens","sortOrder":50,"isHidden":false,"tagType":"goodForTags","imageUrl":""},{"name":"Women","description":"","class":"ico-group","displayName":"Women","sortOrder":100,"isHidden":false,"tagType":"goodForTags","imageUrl":""}],"startDateDateTime":"2023-07-04T17:00:00","endDateDateTime":"2023-07-04T20:00:00","allDay":false,"mobileImageUrl":"/-/media/blue-mountain/2400x1350/things-to-do/events/livemusic_alexbarber.png?w=480&rev=4339abb9e1e74226821188542bf4fc74&hash=4B182A13A425020C7BBFCE25ABB303D6","tabletImageUrl":"/-/media/blue-mountain/2400x1350/things-to-do/events/livemusic_alexbarber.png?w=1024&rev=4339abb9e1e74226821188542bf4fc74&hash=DA98ABC38C175CF1FE852A317069C769","description":"<p>Alex Barber is a singer-guitarist who performs at weddings, events and private parties all around southern Ontario. You're guaranteed to know and love about 98% of the songs he plays. If you're into Whitney Houston and Post Malone, you wont want to miss his weekly set, every Tuesday at 5PM!</p>","timeZoneServerOffset":1,"hasButtonCtaText":false,"buttonCtaText":"","name":"Alex Barber"},{"pageId":"{81062b6f-f12f-49df-9d10-fc0bc0996399}","subtitle":"Playing: Turning Red (PG)","targetUrl":"/things-to-do/events/subaru-movies-under-the-stars","target":null,"imageUrl":"/-/media/blue-mountain/2400x1350/things-to-do/events/bmr_subaru_movies_under_stars.jpg?rev=a28d91214edc44e3a140b4212f879554?h=1350&w=2400&hash=FCCD520507467EC60CE15F26E81722EE","imageAlt":"Group of people sitting outside in the Village Plaza watching movies","startDate":"07/04/2023","endDate":"07/04/2023","formattedDate":"Jul. 4, 2023","formattedDay":"4","formattedShortDayOfWeek":"Tue","formattedShortMonth":"Jul","recurrence":"Weekly","locations":[{"name":"Village Town","description":"","class":"no-font-icon","displayName":"Village Town","sortOrder":100,"isHidden":false,"tagType":"","imageUrl":""}],"types":[{"name":"Free","description":"","class":"ico-star","displayName":"Free","sortOrder":100,"isHidden":false,"tagType":"types","imageUrl":""}],"goodForTags":[{"name":"Adults","description":"","class":"ico-group","displayName":"Adults","sortOrder":100,"isHidden":false,"tagType":"goodForTags","imageUrl":""},{"name":"Couples","description":"","class":"ico-heart","displayName":"Couples","sortOrder":100,"isHidden":false,"tagType":"goodForTags","imageUrl":""},{"name":"Families","description":"","class":"ico-parent_child","displayName":"Families","sortOrder":100,"isHidden":false,"tagType":"goodForTags","imageUrl":""},{"name":"Group","description":"","class":"ico-group","displayName":"Group","sortOrder":100,"isHidden":false,"tagType":"goodForTags","imageUrl":""},{"name":"Kids","description":"","class":"ico-parent_child","displayName":"Kids","sortOrder":0,"isHidden":false,"tagType":"goodForTags","imageUrl":""},{"name":"Men","description":"","class":"ico-group","displayName":"Men","sortOrder":100,"isHidden":false,"tagType":"goodForTags","imageUrl":""},{"name":"Teens","description":"","class":"ico-group","displayName":"Teens","sortOrder":50,"isHidden":false,"tagType":"goodForTags","imageUrl":""},{"name":"Women","description":"","class":"ico-group","displayName":"Women","sortOrder":100,"isHidden":false,"tagType":"goodForTags","imageUrl":""}],"startDateDateTime":"2023-07-04T21:00:00","endDateDateTime":"2023-07-04T22:30:00","allDay":false,"mobileImageUrl":"/-/media/blue-mountain/2400x1350/things-to-do/events/bmr_subaru_movies_under_stars.jpg?w=480&rev=a28d91214edc44e3a140b4212f879554&hash=92F2F44DB7EFCF5F6A43706923C050BB","tabletImageUrl":"/-/media/blue-mountain/2400x1350/things-to-do/events/bmr_subaru_movies_under_stars.jpg?w=1024&rev=a28d91214edc44e3a140b4212f879554&hash=B6238D3BA903DDB1DAB1960FFDC754D0","description":"<span class=\"paragraph-one\">Enjoy a family night out with outdoor movie screenings in the Village, every Tuesday night starting at dusk! Check out the film schedule.</span>","timeZoneServerOffset":1,"hasButtonCtaText":false,"buttonCtaText":"","name":"Subaru Movies Under The Stars"},{"pageId":"{17f7561d-772d-4879-bc8c-db1e7f9c0bf9}","subtitle":"","targetUrl":"/things-to-do/events/live-music11","target":null,"imageUrl":"/-/media/blue-mountain/2400x1350/things-to-do/events/livemusic_emilypower.png?rev=83f3a152d17e409eaabbd5e4f8e990bb?h=1350&w=2400&hash=DD795B8EF733D3E7309134273DB476A6","imageAlt":"Emily Power singing at Blue Mountain Resort","startDate":"07/06/2023","endDate":"07/06/2023","formattedDate":"Jul. 6, 2023","formattedDay":"6","formattedShortDayOfWeek":"Thu","formattedShortMonth":"Jul","recurrence":null,"locations":[{"name":"Village Town","description":"","class":"no-font-icon","displayName":"Village Town","sortOrder":100,"isHidden":false,"tagType":"","imageUrl":""}],"types":[{"name":"Concerts Live Music","description":"","class":"ico-music","displayName":"Concerts & Live Music","sortOrder":100,"isHidden":false,"tagType":"types","imageUrl":""},{"name":"Free","description":"","class":"ico-star","displayName":"Free","sortOrder":100,"isHidden":false,"tagType":"types","imageUrl":""}],"goodForTags":[{"name":"Adults","description":"","class":"ico-group","displayName":"Adults","sortOrder":100,"isHidden":false,"tagType":"goodForTags","imageUrl":""},{"name":"Couples","description":"","class":"ico-heart","displayName":"Couples","sortOrder":100,"isHidden":false,"tagType":"goodForTags","imageUrl":""},{"name":"Families","description":"","class":"ico-parent_child","displayName":"Families","sortOrder":100,"isHidden":false,"tagType":"goodForTags","imageUrl":""},{"name":"Group","description":"","class":"ico-group","displayName":"Group","sortOrder":100,"isHidden":false,"tagType":"goodForTags","imageUrl":""},{"name":"Kids","description":"","class":"ico-parent_child","displayName":"Kids","sortOrder":0,"isHidden":false,"tagType":"goodForTags","imageUrl":""},{"name":"Men","description":"","class":"ico-group","displayName":"Men","sortOrder":100,"isHidden":false,"tagType":"goodForTags","imageUrl":""},{"name":"Teens","description":"","class":"ico-group","displayName":"Teens","sortOrder":50,"isHidden":false,"tagType":"goodForTags","imageUrl":""},{"name":"Women","description":"","class":"ico-group","displayName":"Women","sortOrder":100,"isHidden":false,"tagType":"goodForTags","imageUrl":""}],"startDateDateTime":"2023-07-06T17:00:00","endDateDateTime":"2023-07-06T20:00:00","allDay":false,"mobileImageUrl":"/-/media/blue-mountain/2400x1350/things-to-do/events/livemusic_emilypower.png?w=480&rev=83f3a152d17e409eaabbd5e4f8e990bb&hash=3E6186DA3BB52275526A6FCAC420438D","tabletImageUrl":"/-/media/blue-mountain/2400x1350/things-to-do/events/livemusic_emilypower.png?w=1024&rev=83f3a152d17e409eaabbd5e4f8e990bb&hash=E464899E7B2403424C8DB4F7215E0053","description":"<p>If you're looking for an 'M-Power'-ing experience, don't miss Emily Power on the Subaru Stage from 5PM- 8PM every Thursday night! Singing both covers and original songs, Emily is a vocal powerhouse that pushes the Village energy to the max.</p>","timeZoneServerOffset":1,"hasButtonCtaText":false,"buttonCtaText":"","name":"Emily Power"},{"pageId":"{b5557ed8-5c00-45e3-8b75-18dd3bf56f4e}","subtitle":"","targetUrl":"/things-to-do/events/live-music21","target":null,"imageUrl":"/-/media/blue-mountain/2400x1350/things-to-do/events/livemusic_alexbarber.png?rev=4339abb9e1e74226821188542bf4fc74?h=1350&w=2400&hash=F78225B589514BA47313F3EEFA753509","imageAlt":"Alex Barber sitting outside with guitar","startDate":"07/11/2023","endDate":"07/11/2023","formattedDate":"Jul. 11, 2023","formattedDay":"11","formattedShortDayOfWeek":"Tue","formattedShortMonth":"Jul","recurrence":"Weekly","locations":[{"name":"Village Town","description":"","class":"no-font-icon","displayName":"Village Town","sortOrder":100,"isHidden":false,"tagType":"","imageUrl":""}],"types":[{"name":"Concerts Live Music","description":"","class":"ico-music","displayName":"Concerts & Live Music","sortOrder":100,"isHidden":false,"tagType":"types","imageUrl":""},{"name":"Free","description":"","class":"ico-star","displayName":"Free","sortOrder":100,"isHidden":false,"tagType":"types","imageUrl":""}],"goodForTags":[{"name":"Adults","description":"","class":"ico-group","displayName":"Adults","sortOrder":100,"isHidden":false,"tagType":"goodForTags","imageUrl":""},{"name":"Couples","description":"","class":"ico-heart","displayName":"Couples","sortOrder":100,"isHidden":false,"tagType":"goodForTags","imageUrl":""},{"name":"Families","description":"","class":"ico-parent_child","displayName":"Families","sortOrder":100,"isHidden":false,"tagType":"goodForTags","imageUrl":""},{"name":"Group","description":"","class":"ico-group","displayName":"Group","sortOrder":100,"isHidden":false,"tagType":"goodForTags","imageUrl":""},{"name":"Kids","description":"","class":"ico-parent_child","displayName":"Kids","sortOrder":0,"isHidden":false,"tagType":"goodForTags","imageUrl":""},{"name":"Men","description":"","class":"ico-group","displayName":"Men","sortOrder":100,"isHidden":false,"tagType":"goodForTags","imageUrl":""},{"name":"Teens","description":"","class":"ico-group","displayName":"Teens","sortOrder":50,"isHidden":false,"tagType":"goodForTags","imageUrl":""},{"name":"Women","description":"","class":"ico-group","displayName":"Women","sortOrder":100,"isHidden":false,"tagType":"goodForTags","imageUrl":""}],"startDateDateTime":"2023-07-11T17:00:00","endDateDateTime":"2023-07-11T20:00:00","allDay":false,"mobileImageUrl":"/-/media/blue-mountain/2400x1350/things-to-do/events/livemusic_alexbarber.png?w=480&rev=4339abb9e1e74226821188542bf4fc74&hash=4B182A13A425020C7BBFCE25ABB303D6","tabletImageUrl":"/-/media/blue-mountain/2400x1350/things-to-do/events/livemusic_alexbarber.png?w=1024&rev=4339abb9e1e74226821188542bf4fc74&hash=DA98ABC38C175CF1FE852A317069C769","description":"<p>Alex Barber is a singer-guitarist who performs at weddings, events and private parties all around southern Ontario. You're guaranteed to know and love about 98% of the songs he plays. If you're into Whitney Houston and Post Malone, you wont want to miss his weekly set, every Tuesday at 5PM!</p>","timeZoneServerOffset":1,"hasButtonCtaText":false,"buttonCtaText":"","name":"Alex Barber"},{"pageId":"{19cd9e4d-9ee4-48f3-b867-44a9204be001}","subtitle":"Playing: Mulan (PG-13)","targetUrl":"/things-to-do/events/subaru-movies-under-the-stars2","target":null,"imageUrl":"/-/media/blue-mountain/2400x1350/things-to-do/events/bmr_subaru_movies_under_stars.jpg?rev=a28d91214edc44e3a140b4212f879554?h=1350&w=2400&hash=FCCD520507467EC60CE15F26E81722EE","imageAlt":"Group of people sitting outside in the Village Plaza watching movies","startDate":"07/11/2023","endDate":"07/11/2023","formattedDate":"Jul. 11, 2023","formattedDay":"11","formattedShortDayOfWeek":"Tue","formattedShortMonth":"Jul","recurrence":"Weekly","locations":[{"name":"Village Town","description":"","class":"no-font-icon","displayName":"Village Town","sortOrder":100,"isHidden":false,"tagType":"","imageUrl":""}],"types":[{"name":"Free","description":"","class":"ico-star","displayName":"Free","sortOrder":100,"isHidden":false,"tagType":"types","imageUrl":""}],"goodForTags":[{"name":"Adults","description":"","class":"ico-group","displayName":"Adults","sortOrder":100,"isHidden":false,"tagType":"goodForTags","imageUrl":""},{"name":"Couples","description":"","class":"ico-heart","displayName":"Couples","sortOrder":100,"isHidden":false,"tagType":"goodForTags","imageUrl":""},{"name":"Families","description":"","class":"ico-parent_child","displayName":"Families","sortOrder":100,"isHidden":false,"tagType":"goodForTags","imageUrl":""},{"name":"Group","description":"","class":"ico-group","displayName":"Group","sortOrder":100,"isHidden":false,"tagType":"goodForTags","imageUrl":""},{"name":"Kids","description":"","class":"ico-parent_child","displayName":"Kids","sortOrder":0,"isHidden":false,"tagType":"goodForTags","imageUrl":""},{"name":"Men","description":"","class":"ico-group","displayName":"Men","sortOrder":100,"isHidden":false,"tagType":"goodForTags","imageUrl":""},{"name":"Teens","description":"","class":"ico-group","displayName":"Teens","sortOrder":50,"isHidden":false,"tagType":"goodForTags","imageUrl":""},{"name":"Women","description":"","class":"ico-group","displayName":"Women","sortOrder":100,"isHidden":false,"tagType":"goodForTags","imageUrl":""}],"startDateDateTime":"2023-07-11T21:00:00","endDateDateTime":"2023-07-11T22:30:00","allDay":false,"mobileImageUrl":"/-/media/blue-mountain/2400x1350/things-to-do/events/bmr_subaru_movies_under_stars.jpg?w=480&rev=a28d91214edc44e3a140b4212f879554&hash=92F2F44DB7EFCF5F6A43706923C050BB","tabletImageUrl":"/-/media/blue-mountain/2400x1350/things-to-do/events/bmr_subaru_movies_under_stars.jpg?w=1024&rev=a28d91214edc44e3a140b4212f879554&hash=B6238D3BA903DDB1DAB1960FFDC754D0","description":"<span class=\"paragraph-one\">Enjoy a family night out with outdoor movie screenings in the Village, every Tuesday night starting at dusk! Check out the film schedule.</span>","timeZoneServerOffset":1,"hasButtonCtaText":false,"buttonCtaText":"","name":"Subaru Movies Under The Stars"},{"pageId":"{f52e8ea7-2c3d-4060-8fbc-aa217aeb14a4}","subtitle":"July 12, 2023","targetUrl":"/things-to-do/events/opera-under-the-stars","target":null,"imageUrl":"/-/media/blue-mountain/2400x1350/things-to-do/events/bmv_event_operauts.png?rev=5d32a5a83acb4c8bb679d9702211b2f1?h=1350&w=2400&hash=56758D7DE42E3A28598810C2E42EBFD1","imageAlt":"2023 Opera Under the Stars at Blue Mountain","startDate":"07/12/2023","endDate":"07/12/2023","formattedDate":"Jul. 12, 2023","formattedDay":"12","formattedShortDayOfWeek":"Wed","formattedShortMonth":"Jul","recurrence":null,"locations":[{"name":"Village Town","description":"","class":"no-font-icon","displayName":"Village Town","sortOrder":100,"isHidden":false,"tagType":"","imageUrl":""}],"types":[{"name":"Free","description":"","class":"ico-star","displayName":"Free","sortOrder":100,"isHidden":false,"tagType":"types","imageUrl":""},{"name":"Concerts Live Music","description":"","class":"ico-music","displayName":"Concerts & Live Music","sortOrder":100,"isHidden":false,"tagType":"types","imageUrl":""}],"goodForTags":[{"name":"Adults","description":"","class":"ico-group","displayName":"Adults","sortOrder":100,"isHidden":false,"tagType":"goodForTags","imageUrl":""}],"startDateDateTime":"2023-07-12T20:00:00","endDateDateTime":"2023-07-12T22:00:00","allDay":false,"mobileImageUrl":"/-/media/blue-mountain/2400x1350/things-to-do/events/bmv_event_operauts.png?w=480&rev=5d32a5a83acb4c8bb679d9702211b2f1&hash=92DC75B935FE1B2387532D097F820E70","tabletImageUrl":"/-/media/blue-mountain/2400x1350/things-to-do/events/bmv_event_operauts.png?w=1024&rev=5d32a5a83acb4c8bb679d9702211b2f1&hash=92152813DD88ABDCE541230B8941101D","description":"<span class=\"paragraph-one\"><span>Celebrated local operatic tenor, Craig Ashton, brings together a talented group of artists from the opera and musical theatre stages. Come and join soprano Caitlin Wood, mezzo-soprano Katie Knapp, baritone Gene Wu and pianist Anne Barnshaw for a free performance and romantic night under the stars, starting at 8pm on the Subaru Stage.</span></span>","timeZoneServerOffset":1,"hasButtonCtaText":false,"buttonCtaText":"","name":"Opera Under the Stars"},{"pageId":"{6b38945e-5f2f-4883-93ef-aeed58470633}","subtitle":"","targetUrl":"/things-to-do/events/live-music12","target":null,"imageUrl":"/-/media/blue-mountain/2400x1350/things-to-do/events/livemusic_emilypower.png?rev=83f3a152d17e409eaabbd5e4f8e990bb?h=1350&w=2400&hash=DD795B8EF733D3E7309134273DB476A6","imageAlt":"Emily Power singing at Blue Mountain Resort","startDate":"07/13/2023","endDate":"07/13/2023","formattedDate":"Jul. 13, 2023","formattedDay":"13","formattedShortDayOfWeek":"Thu","formattedShortMonth":"Jul","recurrence":null,"locations":[{"name":"Village Town","description":"","class":"no-font-icon","displayName":"Village Town","sortOrder":100,"isHidden":false,"tagType":"","imageUrl":""}],"types":[{"name":"Concerts Live Music","description":"","class":"ico-music","displayName":"Concerts & Live Music","sortOrder":100,"isHidden":false,"tagType":"types","imageUrl":""},{"name":"Free","description":"","class":"ico-star","displayName":"Free","sortOrder":100,"isHidden":false,"tagType":"types","imageUrl":""}],"goodForTags":[{"name":"Adults","description":"","class":"ico-group","displayName":"Adults","sortOrder":100,"isHidden":false,"tagType":"goodForTags","imageUrl":""},{"name":"Couples","description":"","class":"ico-heart","displayName":"Couples","sortOrder":100,"isHidden":false,"tagType":"goodForTags","imageUrl":""},{"name":"Families","description":"","class":"ico-parent_child","displayName":"Families","sortOrder":100,"isHidden":false,"tagType":"goodForTags","imageUrl":""},{"name":"Group","description":"","class":"ico-group","displayName":"Group","sortOrder":100,"isHidden":false,"tagType":"goodForTags","imageUrl":""},{"name":"Kids","description":"","class":"ico-parent_child","displayName":"Kids","sortOrder":0,"isHidden":false,"tagType":"goodForTags","imageUrl":""},{"name":"Men","description":"","class":"ico-group","displayName":"Men","sortOrder":100,"isHidden":false,"tagType":"goodForTags","imageUrl":""},{"name":"Teens","description":"","class":"ico-group","displayName":"Teens","sortOrder":50,"isHidden":false,"tagType":"goodForTags","imageUrl":""},{"name":"Women","description":"","class":"ico-group","displayName":"Women","sortOrder":100,"isHidden":false,"tagType":"goodForTags","imageUrl":""}],"startDateDateTime":"2023-07-13T17:00:00","endDateDateTime":"2023-07-13T20:00:00","allDay":false,"mobileImageUrl":"/-/media/blue-mountain/2400x1350/things-to-do/events/livemusic_emilypower.png?w=480&rev=83f3a152d17e409eaabbd5e4f8e990bb&hash=3E6186DA3BB52275526A6FCAC420438D","tabletImageUrl":"/-/media/blue-mountain/2400x1350/things-to-do/events/livemusic_emilypower.png?w=1024&rev=83f3a152d17e409eaabbd5e4f8e990bb&hash=E464899E7B2403424C8DB4F7215E0053","description":"<p>If you're looking for an 'M-Power'-ing experience, don't miss Emily Power on the Subaru Stage from 5PM- 8PM every Thursday night! Singing both covers and original songs, Emily is a vocal powerhouse that pushes the Village energy to the max.</p>","timeZoneServerOffset":1,"hasButtonCtaText":false,"buttonCtaText":"","name":"Emily Power"},{"pageId":"{6e8ee822-4523-4c34-ad6f-6794b7d6684b}","subtitle":"","targetUrl":"/things-to-do/events/live-music22","target":null,"imageUrl":"/-/media/blue-mountain/2400x1350/things-to-do/events/livemusic_alexbarber.png?rev=4339abb9e1e74226821188542bf4fc74?h=1350&w=2400&hash=F78225B589514BA47313F3EEFA753509","imageAlt":"Alex Barber sitting outside with guitar","startDate":"07/18/2023","endDate":"07/18/2023","formattedDate":"Jul. 18, 2023","formattedDay":"18","formattedShortDayOfWeek":"Tue","formattedShortMonth":"Jul","recurrence":"Weekly","locations":[{"name":"Village Town","description":"","class":"no-font-icon","displayName":"Village Town","sortOrder":100,"isHidden":false,"tagType":"","imageUrl":""}],"types":[{"name":"Concerts Live Music","description":"","class":"ico-music","displayName":"Concerts & Live Music","sortOrder":100,"isHidden":false,"tagType":"types","imageUrl":""},{"name":"Free","description":"","class":"ico-star","displayName":"Free","sortOrder":100,"isHidden":false,"tagType":"types","imageUrl":""}],"goodForTags":[{"name":"Adults","description":"","class":"ico-group","displayName":"Adults","sortOrder":100,"isHidden":false,"tagType":"goodForTags","imageUrl":""},{"name":"Couples","description":"","class":"ico-heart","displayName":"Couples","sortOrder":100,"isHidden":false,"tagType":"goodForTags","imageUrl":""},{"name":"Families","description":"","class":"ico-parent_child","displayName":"Families","sortOrder":100,"isHidden":false,"tagType":"goodForTags","imageUrl":""},{"name":"Group","description":"","class":"ico-group","displayName":"Group","sortOrder":100,"isHidden":false,"tagType":"goodForTags","imageUrl":""},{"name":"Kids","description":"","class":"ico-parent_child","displayName":"Kids","sortOrder":0,"isHidden":false,"tagType":"goodForTags","imageUrl":""},{"name":"Men","description":"","class":"ico-group","displayName":"Men","sortOrder":100,"isHidden":false,"tagType":"goodForTags","imageUrl":""},{"name":"Teens","description":"","class":"ico-group","displayName":"Teens","sortOrder":50,"isHidden":false,"tagType":"goodForTags","imageUrl":""},{"name":"Women","description":"","class":"ico-group","displayName":"Women","sortOrder":100,"isHidden":false,"tagType":"goodForTags","imageUrl":""}],"startDateDateTime":"2023-07-18T17:00:00","endDateDateTime":"2023-07-18T20:00:00","allDay":false,"mobileImageUrl":"/-/media/blue-mountain/2400x1350/things-to-do/events/livemusic_alexbarber.png?w=480&rev=4339abb9e1e74226821188542bf4fc74&hash=4B182A13A425020C7BBFCE25ABB303D6","tabletImageUrl":"/-/media/blue-mountain/2400x1350/things-to-do/events/livemusic_alexbarber.png?w=1024&rev=4339abb9e1e74226821188542bf4fc74&hash=DA98ABC38C175CF1FE852A317069C769","description":"<p>Alex Barber is a singer-guitarist who performs at weddings, events and private parties all around southern Ontario. You're guaranteed to know and love about 98% of the songs he plays. If you're into Whitney Houston and Post Malone, you wont want to miss his weekly set, every Tuesday at 5PM!</p>","timeZoneServerOffset":1,"hasButtonCtaText":false,"buttonCtaText":"","name":"Alex Barber"},{"pageId":"{0f704887-5d8f-4830-a17c-7e8708be6840}","subtitle":"Playing: Encanto (PG)","targetUrl":"/things-to-do/events/subaru-movies-under-the-stars3","target":null,"imageUrl":"/-/media/blue-mountain/2400x1350/things-to-do/events/bmr_subaru_movies_under_stars.jpg?rev=a28d91214edc44e3a140b4212f879554?h=1350&w=2400&hash=FCCD520507467EC60CE15F26E81722EE","imageAlt":"Group of people sitting outside in the Village Plaza watching movies","startDate":"07/18/2023","endDate":"07/18/2023","formattedDate":"Jul. 18, 2023","formattedDay":"18","formattedShortDayOfWeek":"Tue","formattedShortMonth":"Jul","recurrence":"Weekly","locations":[{"name":"Village Town","description":"","class":"no-font-icon","displayName":"Village Town","sortOrder":100,"isHidden":false,"tagType":"","imageUrl":""}],"types":[{"name":"Free","description":"","class":"ico-star","displayName":"Free","sortOrder":100,"isHidden":false,"tagType":"types","imageUrl":""}],"goodForTags":[{"name":"Adults","description":"","class":"ico-group","displayName":"Adults","sortOrder":100,"isHidden":false,"tagType":"goodForTags","imageUrl":""},{"name":"Couples","description":"","class":"ico-heart","displayName":"Couples","sortOrder":100,"isHidden":false,"tagType":"goodForTags","imageUrl":""},{"name":"Families","description":"","class":"ico-parent_child","displayName":"Families","sortOrder":100,"isHidden":false,"tagType":"goodForTags","imageUrl":""},{"name":"Group","description":"","class":"ico-group","displayName":"Group","sortOrder":100,"isHidden":false,"tagType":"goodForTags","imageUrl":""},{"name":"Kids","description":"","class":"ico-parent_child","displayName":"Kids","sortOrder":0,"isHidden":false,"tagType":"goodForTags","imageUrl":""},{"name":"Men","description":"","class":"ico-group","displayName":"Men","sortOrder":100,"isHidden":false,"tagType":"goodForTags","imageUrl":""},{"name":"Teens","description":"","class":"ico-group","displayName":"Teens","sortOrder":50,"isHidden":false,"tagType":"goodForTags","imageUrl":""},{"name":"Women","description":"","class":"ico-group","displayName":"Women","sortOrder":100,"isHidden":false,"tagType":"goodForTags","imageUrl":""}],"startDateDateTime":"2023-07-18T21:00:00","endDateDateTime":"2023-07-18T22:30:00","allDay":false,"mobileImageUrl":"/-/media/blue-mountain/2400x1350/things-to-do/events/bmr_subaru_movies_under_stars.jpg?w=480&rev=a28d91214edc44e3a140b4212f879554&hash=92F2F44DB7EFCF5F6A43706923C050BB","tabletImageUrl":"/-/media/blue-mountain/2400x1350/things-to-do/events/bmr_subaru_movies_under_stars.jpg?w=1024&rev=a28d91214edc44e3a140b4212f879554&hash=B6238D3BA903DDB1DAB1960FFDC754D0","description":"<span class=\"paragraph-one\">Enjoy a family night out with outdoor movie screenings in the Village, every Tuesday night starting at dusk! Check out the film schedule.</span>","timeZoneServerOffset":1,"hasButtonCtaText":false,"buttonCtaText":"","name":"Subaru Movies Under The Stars"},{"pageId":"{36dcafd4-d309-428b-9a20-efa6118c4139}","subtitle":"","targetUrl":"/things-to-do/events/live-music13","target":null,"imageUrl":"/-/media/blue-mountain/2400x1350/things-to-do/events/livemusic_emilypower.png?rev=83f3a152d17e409eaabbd5e4f8e990bb?h=1350&w=2400&hash=DD795B8EF733D3E7309134273DB476A6","imageAlt":"Emily Power singing at Blue Mountain Resort","startDate":"07/20/2023","endDate":"07/20/2023","formattedDate":"Jul. 20, 2023","formattedDay":"20","formattedShortDayOfWeek":"Thu","formattedShortMonth":"Jul","recurrence":null,"locations":[{"name":"Village Town","description":"","class":"no-font-icon","displayName":"Village Town","sortOrder":100,"isHidden":false,"tagType":"","imageUrl":""}],"types":[{"name":"Concerts Live Music","description":"","class":"ico-music","displayName":"Concerts & Live Music","sortOrder":100,"isHidden":false,"tagType":"types","imageUrl":""},{"name":"Free","description":"","class":"ico-star","displayName":"Free","sortOrder":100,"isHidden":false,"tagType":"types","imageUrl":""}],"goodForTags":[{"name":"Adults","description":"","class":"ico-group","displayName":"Adults","sortOrder":100,"isHidden":false,"tagType":"goodForTags","imageUrl":""},{"name":"Couples","description":"","class":"ico-heart","displayName":"Couples","sortOrder":100,"isHidden":false,"tagType":"goodForTags","imageUrl":""},{"name":"Families","description":"","class":"ico-parent_child","displayName":"Families","sortOrder":100,"isHidden":false,"tagType":"goodForTags","imageUrl":""},{"name":"Group","description":"","class":"ico-group","displayName":"Group","sortOrder":100,"isHidden":false,"tagType":"goodForTags","imageUrl":""},{"name":"Kids","description":"","class":"ico-parent_child","displayName":"Kids","sortOrder":0,"isHidden":false,"tagType":"goodForTags","imageUrl":""},{"name":"Men","description":"","class":"ico-group","displayName":"Men","sortOrder":100,"isHidden":false,"tagType":"goodForTags","imageUrl":""},{"name":"Teens","description":"","class":"ico-group","displayName":"Teens","sortOrder":50,"isHidden":false,"tagType":"goodForTags","imageUrl":""},{"name":"Women","description":"","class":"ico-group","displayName":"Women","sortOrder":100,"isHidden":false,"tagType":"goodForTags","imageUrl":""}],"startDateDateTime":"2023-07-20T17:00:00","endDateDateTime":"2023-07-20T20:00:00","allDay":false,"mobileImageUrl":"/-/media/blue-mountain/2400x1350/things-to-do/events/livemusic_emilypower.png?w=480&rev=83f3a152d17e409eaabbd5e4f8e990bb&hash=3E6186DA3BB52275526A6FCAC420438D","tabletImageUrl":"/-/media/blue-mountain/2400x1350/things-to-do/events/livemusic_emilypower.png?w=1024&rev=83f3a152d17e409eaabbd5e4f8e990bb&hash=E464899E7B2403424C8DB4F7215E0053","description":"<p>If you're looking for an 'M-Power'-ing experience, don't miss Emily Power on the Subaru Stage from 5PM- 8PM every Thursday night! Singing both covers and original songs, Emily is a vocal powerhouse that pushes the Village energy to the max.</p>","timeZoneServerOffset":1,"hasButtonCtaText":false,"buttonCtaText":"","name":"Emily Power"},{"pageId":"{38e543b4-5190-485a-afc5-6144a1c0cafc}","subtitle":"","targetUrl":"/things-to-do/events/live-music23","target":null,"imageUrl":"/-/media/blue-mountain/2400x1350/things-to-do/events/livemusic_alexbarber.png?rev=4339abb9e1e74226821188542bf4fc74?h=1350&w=2400&hash=F78225B589514BA47313F3EEFA753509","imageAlt":"Alex Barber sitting outside with guitar","startDate":"07/25/2023","endDate":"07/25/2023","formattedDate":"Jul. 25, 2023","formattedDay":"25","formattedShortDayOfWeek":"Tue","formattedShortMonth":"Jul","recurrence":"Weekly","locations":[{"name":"Village Town","description":"","class":"no-font-icon","displayName":"Village Town","sortOrder":100,"isHidden":false,"tagType":"","imageUrl":""}],"types":[{"name":"Concerts Live Music","description":"","class":"ico-music","displayName":"Concerts & Live Music","sortOrder":100,"isHidden":false,"tagType":"types","imageUrl":""},{"name":"Free","description":"","class":"ico-star","displayName":"Free","sortOrder":100,"isHidden":false,"tagType":"types","imageUrl":""}],"goodForTags":[{"name":"Adults","description":"","class":"ico-group","displayName":"Adults","sortOrder":100,"isHidden":false,"tagType":"goodForTags","imageUrl":""},{"name":"Couples","description":"","class":"ico-heart","displayName":"Couples","sortOrder":100,"isHidden":false,"tagType":"goodForTags","imageUrl":""},{"name":"Families","description":"","class":"ico-parent_child","displayName":"Families","sortOrder":100,"isHidden":false,"tagType":"goodForTags","imageUrl":""},{"name":"Group","description":"","class":"ico-group","displayName":"Group","sortOrder":100,"isHidden":false,"tagType":"goodForTags","imageUrl":""},{"name":"Kids","description":"","class":"ico-parent_child","displayName":"Kids","sortOrder":0,"isHidden":false,"tagType":"goodForTags","imageUrl":""},{"name":"Men","description":"","class":"ico-group","displayName":"Men","sortOrder":100,"isHidden":false,"tagType":"goodForTags","imageUrl":""},{"name":"Teens","description":"","class":"ico-group","displayName":"Teens","sortOrder":50,"isHidden":false,"tagType":"goodForTags","imageUrl":""},{"name":"Women","description":"","class":"ico-group","displayName":"Women","sortOrder":100,"isHidden":false,"tagType":"goodForTags","imageUrl":""}],"startDateDateTime":"2023-07-25T17:00:00","endDateDateTime":"2023-07-25T20:00:00","allDay":false,"mobileImageUrl":"/-/media/blue-mountain/2400x1350/things-to-do/events/livemusic_alexbarber.png?w=480&rev=4339abb9e1e74226821188542bf4fc74&hash=4B182A13A425020C7BBFCE25ABB303D6","tabletImageUrl":"/-/media/blue-mountain/2400x1350/things-to-do/events/livemusic_alexbarber.png?w=1024&rev=4339abb9e1e74226821188542bf4fc74&hash=DA98ABC38C175CF1FE852A317069C769","description":"<p>Alex Barber is a singer-guitarist who performs at weddings, events and private parties all around southern Ontario. You're guaranteed to know and love about 98% of the songs he plays. If you're into Whitney Houston and Post Malone, you wont want to miss his weekly set, every Tuesday at 5PM!</p>","timeZoneServerOffset":1,"hasButtonCtaText":false,"buttonCtaText":"","name":"Alex Barber"},{"pageId":"{19057541-78a7-4ac9-974e-c6edce26e537}","subtitle":"Playing: DC: League of Super Pets (PG)","targetUrl":"/things-to-do/events/subaru-movies-under-the-stars1","target":null,"imageUrl":"/-/media/blue-mountain/2400x1350/things-to-do/events/bmr_subaru_movies_under_stars.jpg?rev=a28d91214edc44e3a140b4212f879554?h=1350&w=2400&hash=FCCD520507467EC60CE15F26E81722EE","imageAlt":"Group of people sitting outside in the Village Plaza watching movies","startDate":"07/25/2023","endDate":"07/25/2023","formattedDate":"Jul. 25, 2023","formattedDay":"25","formattedShortDayOfWeek":"Tue","formattedShortMonth":"Jul","recurrence":"Weekly","locations":[{"name":"Village Town","description":"","class":"no-font-icon","displayName":"Village Town","sortOrder":100,"isHidden":false,"tagType":"","imageUrl":""}],"types":[{"name":"Free","description":"","class":"ico-star","displayName":"Free","sortOrder":100,"isHidden":false,"tagType":"types","imageUrl":""}],"goodForTags":[{"name":"Adults","description":"","class":"ico-group","displayName":"Adults","sortOrder":100,"isHidden":false,"tagType":"goodForTags","imageUrl":""},{"name":"Couples","description":"","class":"ico-heart","displayName":"Couples","sortOrder":100,"isHidden":false,"tagType":"goodForTags","imageUrl":""},{"name":"Families","description":"","class":"ico-parent_child","displayName":"Families","sortOrder":100,"isHidden":false,"tagType":"goodForTags","imageUrl":""},{"name":"Group","description":"","class":"ico-group","displayName":"Group","sortOrder":100,"isHidden":false,"tagType":"goodForTags","imageUrl":""},{"name":"Kids","description":"","class":"ico-parent_child","displayName":"Kids","sortOrder":0,"isHidden":false,"tagType":"goodForTags","imageUrl":""},{"name":"Men","description":"","class":"ico-group","displayName":"Men","sortOrder":100,"isHidden":false,"tagType":"goodForTags","imageUrl":""},{"name":"Teens","description":"","class":"ico-group","displayName":"Teens","sortOrder":50,"isHidden":false,"tagType":"goodForTags","imageUrl":""},{"name":"Women","description":"","class":"ico-group","displayName":"Women","sortOrder":100,"isHidden":false,"tagType":"goodForTags","imageUrl":""}],"startDateDateTime":"2023-07-25T20:50:00","endDateDateTime":"2023-07-25T22:30:00","allDay":false,"mobileImageUrl":"/-/media/blue-mountain/2400x1350/things-to-do/events/bmr_subaru_movies_under_stars.jpg?w=480&rev=a28d91214edc44e3a140b4212f879554&hash=92F2F44DB7EFCF5F6A43706923C050BB","tabletImageUrl":"/-/media/blue-mountain/2400x1350/things-to-do/events/bmr_subaru_movies_under_stars.jpg?w=1024&rev=a28d91214edc44e3a140b4212f879554&hash=B6238D3BA903DDB1DAB1960FFDC754D0","description":"<span class=\"paragraph-one\">Enjoy a family night out with outdoor movie screenings in the Village, every Tuesday night starting at dusk! Check out the film schedule.</span>","timeZoneServerOffset":1,"hasButtonCtaText":false,"buttonCtaText":"","name":"Subaru Movies Under The Stars"},{"pageId":"{fc61d7a9-3750-47ad-a8ba-f84527653ea7}","subtitle":"","targetUrl":"/things-to-do/events/live-music14","target":null,"imageUrl":"/-/media/blue-mountain/2400x1350/things-to-do/events/livemusic_emilypower.png?rev=83f3a152d17e409eaabbd5e4f8e990bb?h=1350&w=2400&hash=DD795B8EF733D3E7309134273DB476A6","imageAlt":"Emily Power singing at Blue Mountain Resort","startDate":"07/27/2023","endDate":"07/27/2023","formattedDate":"Jul. 27, 2023","formattedDay":"27","formattedShortDayOfWeek":"Thu","formattedShortMonth":"Jul","recurrence":null,"locations":[{"name":"Village Town","description":"","class":"no-font-icon","displayName":"Village Town","sortOrder":100,"isHidden":false,"tagType":"","imageUrl":""}],"types":[{"name":"Concerts Live Music","description":"","class":"ico-music","displayName":"Concerts & Live Music","sortOrder":100,"isHidden":false,"tagType":"types","imageUrl":""},{"name":"Free","description":"","class":"ico-star","displayName":"Free","sortOrder":100,"isHidden":false,"tagType":"types","imageUrl":""}],"goodForTags":[{"name":"Adults","description":"","class":"ico-group","displayName":"Adults","sortOrder":100,"isHidden":false,"tagType":"goodForTags","imageUrl":""},{"name":"Couples","description":"","class":"ico-heart","displayName":"Couples","sortOrder":100,"isHidden":false,"tagType":"goodForTags","imageUrl":""},{"name":"Families","description":"","class":"ico-parent_child","displayName":"Families","sortOrder":100,"isHidden":false,"tagType":"goodForTags","imageUrl":""},{"name":"Group","description":"","class":"ico-group","displayName":"Group","sortOrder":100,"isHidden":false,"tagType":"goodForTags","imageUrl":""},{"name":"Kids","description":"","class":"ico-parent_child","displayName":"Kids","sortOrder":0,"isHidden":false,"tagType":"goodForTags","imageUrl":""},{"name":"Men","description":"","class":"ico-group","displayName":"Men","sortOrder":100,"isHidden":false,"tagType":"goodForTags","imageUrl":""},{"name":"Teens","description":"","class":"ico-group","displayName":"Teens","sortOrder":50,"isHidden":false,"tagType":"goodForTags","imageUrl":""},{"name":"Women","description":"","class":"ico-group","displayName":"Women","sortOrder":100,"isHidden":false,"tagType":"goodForTags","imageUrl":""}],"startDateDateTime":"2023-07-27T17:00:00","endDateDateTime":"2023-07-27T20:00:00","allDay":false,"mobileImageUrl":"/-/media/blue-mountain/2400x1350/things-to-do/events/livemusic_emilypower.png?w=480&rev=83f3a152d17e409eaabbd5e4f8e990bb&hash=3E6186DA3BB52275526A6FCAC420438D","tabletImageUrl":"/-/media/blue-mountain/2400x1350/things-to-do/events/livemusic_emilypower.png?w=1024&rev=83f3a152d17e409eaabbd5e4f8e990bb&hash=E464899E7B2403424C8DB4F7215E0053","description":"<p>If you're looking for an 'M-Power'-ing experience, don't miss Emily Power on the Subaru Stage from 5PM- 8PM every Thursday night! Singing both covers and original songs, Emily is a vocal powerhouse that pushes the Village energy to the max.</p>","timeZoneServerOffset":1,"hasButtonCtaText":false,"buttonCtaText":"","name":"Emily Power"},{"pageId":"{d7ba382a-6569-478b-88ba-473278c8ac6f}","subtitle":"","targetUrl":"/things-to-do/events/live-music24","target":null,"imageUrl":"/-/media/blue-mountain/2400x1350/things-to-do/events/livemusic_alexbarber.png?rev=4339abb9e1e74226821188542bf4fc74?h=1350&w=2400&hash=F78225B589514BA47313F3EEFA753509","imageAlt":"Alex Barber sitting outside with guitar","startDate":"08/01/2023","endDate":"08/01/2023","formattedDate":"Aug. 1, 2023","formattedDay":"1","formattedShortDayOfWeek":"Tue","formattedShortMonth":"Aug","recurrence":"Weekly","locations":[{"name":"Village Town","description":"","class":"no-font-icon","displayName":"Village Town","sortOrder":100,"isHidden":false,"tagType":"","imageUrl":""}],"types":[{"name":"Concerts Live Music","description":"","class":"ico-music","displayName":"Concerts & Live Music","sortOrder":100,"isHidden":false,"tagType":"types","imageUrl":""},{"name":"Free","description":"","class":"ico-star","displayName":"Free","sortOrder":100,"isHidden":false,"tagType":"types","imageUrl":""}],"goodForTags":[{"name":"Adults","description":"","class":"ico-group","displayName":"Adults","sortOrder":100,"isHidden":false,"tagType":"goodForTags","imageUrl":""},{"name":"Couples","description":"","class":"ico-heart","displayName":"Couples","sortOrder":100,"isHidden":false,"tagType":"goodForTags","imageUrl":""},{"name":"Families","description":"","class":"ico-parent_child","displayName":"Families","sortOrder":100,"isHidden":false,"tagType":"goodForTags","imageUrl":""},{"name":"Group","description":"","class":"ico-group","displayName":"Group","sortOrder":100,"isHidden":false,"tagType":"goodForTags","imageUrl":""},{"name":"Kids","description":"","class":"ico-parent_child","displayName":"Kids","sortOrder":0,"isHidden":false,"tagType":"goodForTags","imageUrl":""},{"name":"Men","description":"","class":"ico-group","displayName":"Men","sortOrder":100,"isHidden":false,"tagType":"goodForTags","imageUrl":""},{"name":"Teens","description":"","class":"ico-group","displayName":"Teens","sortOrder":50,"isHidden":false,"tagType":"goodForTags","imageUrl":""},{"name":"Women","description":"","class":"ico-group","displayName":"Women","sortOrder":100,"isHidden":false,"tagType":"goodForTags","imageUrl":""}],"startDateDateTime":"2023-08-01T17:00:00","endDateDateTime":"2023-08-01T20:00:00","allDay":false,"mobileImageUrl":"/-/media/blue-mountain/2400x1350/things-to-do/events/livemusic_alexbarber.png?w=480&rev=4339abb9e1e74226821188542bf4fc74&hash=4B182A13A425020C7BBFCE25ABB303D6","tabletImageUrl":"/-/media/blue-mountain/2400x1350/things-to-do/events/livemusic_alexbarber.png?w=1024&rev=4339abb9e1e74226821188542bf4fc74&hash=DA98ABC38C175CF1FE852A317069C769","description":"<p>Alex Barber is a singer-guitarist who performs at weddings, events and private parties all around southern Ontario. You're guaranteed to know and love about 98% of the songs he plays. If you're into Whitney Houston and Post Malone, you wont want to miss his weekly set, every Tuesday at 5PM!</p>","timeZoneServerOffset":1,"hasButtonCtaText":false,"buttonCtaText":"","name":"Alex Barber"},{"pageId":"{2928eb48-cf14-4f87-af39-8a536cd195f8}","subtitle":"Playing: Free Guy (PG-13)","targetUrl":"/things-to-do/events/subaru-movies-under-the-stars4","target":null,"imageUrl":"/-/media/blue-mountain/2400x1350/things-to-do/events/bmr_subaru_movies_under_stars.jpg?rev=a28d91214edc44e3a140b4212f879554?h=1350&w=2400&hash=FCCD520507467EC60CE15F26E81722EE","imageAlt":"Group of people sitting outside in the Village Plaza watching movies","startDate":"08/01/2023","endDate":"08/01/2023","formattedDate":"Aug. 1, 2023","formattedDay":"1","formattedShortDayOfWeek":"Tue","formattedShortMonth":"Aug","recurrence":"Weekly","locations":[{"name":"Village Town","description":"","class":"no-font-icon","displayName":"Village Town","sortOrder":100,"isHidden":false,"tagType":"","imageUrl":""}],"types":[{"name":"Free","description":"","class":"ico-star","displayName":"Free","sortOrder":100,"isHidden":false,"tagType":"types","imageUrl":""}],"goodForTags":[{"name":"Adults","description":"","class":"ico-group","displayName":"Adults","sortOrder":100,"isHidden":false,"tagType":"goodForTags","imageUrl":""},{"name":"Couples","description":"","class":"ico-heart","displayName":"Couples","sortOrder":100,"isHidden":false,"tagType":"goodForTags","imageUrl":""},{"name":"Families","description":"","class":"ico-parent_child","displayName":"Families","sortOrder":100,"isHidden":false,"tagType":"goodForTags","imageUrl":""},{"name":"Group","description":"","class":"ico-group","displayName":"Group","sortOrder":100,"isHidden":false,"tagType":"goodForTags","imageUrl":""},{"name":"Kids","description":"","class":"ico-parent_child","displayName":"Kids","sortOrder":0,"isHidden":false,"tagType":"goodForTags","imageUrl":""},{"name":"Men","description":"","class":"ico-group","displayName":"Men","sortOrder":100,"isHidden":false,"tagType":"goodForTags","imageUrl":""},{"name":"Teens","description":"","class":"ico-group","displayName":"Teens","sortOrder":50,"isHidden":false,"tagType":"goodForTags","imageUrl":""},{"name":"Women","description":"","class":"ico-group","displayName":"Women","sortOrder":100,"isHidden":false,"tagType":"goodForTags","imageUrl":""}],"startDateDateTime":"2023-08-01T20:45:00","endDateDateTime":"2023-08-01T22:30:00","allDay":false,"mobileImageUrl":"/-/media/blue-mountain/2400x1350/things-to-do/events/bmr_subaru_movies_under_stars.jpg?w=480&rev=a28d91214edc44e3a140b4212f879554&hash=92F2F44DB7EFCF5F6A43706923C050BB","tabletImageUrl":"/-/media/blue-mountain/2400x1350/things-to-do/events/bmr_subaru_movies_under_stars.jpg?w=1024&rev=a28d91214edc44e3a140b4212f879554&hash=B6238D3BA903DDB1DAB1960FFDC754D0","description":"<span class=\"paragraph-one\">Enjoy a family night out with outdoor movie screenings in the Village, every Tuesday night starting at dusk! Check out the film schedule.</span>","timeZoneServerOffset":1,"hasButtonCtaText":false,"buttonCtaText":"","name":"Subaru Movies Under The Stars"},{"pageId":"{d6280c2b-87b8-4cbb-9a97-864c1cd22f1e}","subtitle":"","targetUrl":"/things-to-do/events/live-music15","target":null,"imageUrl":"/-/media/blue-mountain/2400x1350/things-to-do/events/livemusic_emilypower.png?rev=83f3a152d17e409eaabbd5e4f8e990bb?h=1350&w=2400&hash=DD795B8EF733D3E7309134273DB476A6","imageAlt":"Emily Power singing at Blue Mountain Resort","startDate":"08/03/2023","endDate":"08/03/2023","formattedDate":"Aug. 3, 2023","formattedDay":"3","formattedShortDayOfWeek":"Thu","formattedShortMonth":"Aug","recurrence":null,"locations":[{"name":"Village Town","description":"","class":"no-font-icon","displayName":"Village Town","sortOrder":100,"isHidden":false,"tagType":"","imageUrl":""}],"types":[{"name":"Concerts Live Music","description":"","class":"ico-music","displayName":"Concerts & Live Music","sortOrder":100,"isHidden":false,"tagType":"types","imageUrl":""},{"name":"Free","description":"","class":"ico-star","displayName":"Free","sortOrder":100,"isHidden":false,"tagType":"types","imageUrl":""}],"goodForTags":[{"name":"Adults","description":"","class":"ico-group","displayName":"Adults","sortOrder":100,"isHidden":false,"tagType":"goodForTags","imageUrl":""},{"name":"Couples","description":"","class":"ico-heart","displayName":"Couples","sortOrder":100,"isHidden":false,"tagType":"goodForTags","imageUrl":""},{"name":"Families","description":"","class":"ico-parent_child","displayName":"Families","sortOrder":100,"isHidden":false,"tagType":"goodForTags","imageUrl":""},{"name":"Group","description":"","class":"ico-group","displayName":"Group","sortOrder":100,"isHidden":false,"tagType":"goodForTags","imageUrl":""},{"name":"Kids","description":"","class":"ico-parent_child","displayName":"Kids","sortOrder":0,"isHidden":false,"tagType":"goodForTags","imageUrl":""},{"name":"Men","description":"","class":"ico-group","displayName":"Men","sortOrder":100,"isHidden":false,"tagType":"goodForTags","imageUrl":""},{"name":"Teens","description":"","class":"ico-group","displayName":"Teens","sortOrder":50,"isHidden":false,"tagType":"goodForTags","imageUrl":""},{"name":"Women","description":"","class":"ico-group","displayName":"Women","sortOrder":100,"isHidden":false,"tagType":"goodForTags","imageUrl":""}],"startDateDateTime":"2023-08-03T17:00:00","endDateDateTime":"2023-08-03T20:00:00","allDay":false,"mobileImageUrl":"/-/media/blue-mountain/2400x1350/things-to-do/events/livemusic_emilypower.png?w=480&rev=83f3a152d17e409eaabbd5e4f8e990bb&hash=3E6186DA3BB52275526A6FCAC420438D","tabletImageUrl":"/-/media/blue-mountain/2400x1350/things-to-do/events/livemusic_emilypower.png?w=1024&rev=83f3a152d17e409eaabbd5e4f8e990bb&hash=E464899E7B2403424C8DB4F7215E0053","description":"<p>If you're looking for an 'M-Power'-ing experience, don't miss Emily Power on the Subaru Stage from 5PM- 8PM every Thursday night! Singing both covers and original songs, Emily is a vocal powerhouse that pushes the Village energy to the max.</p>","timeZoneServerOffset":1,"hasButtonCtaText":false,"buttonCtaText":"","name":"Emily Power"},{"pageId":"{ff344d15-ffbd-451f-853b-3e6d0d7c3e42}","subtitle":"","targetUrl":"/things-to-do/events/live-music8","target":null,"imageUrl":"/-/media/blue-mountain/2400x1350/things-to-do/events/red_bull_blue_mountain/bmv_livemusic_genevievefisher.png?rev=935f3bbef5c34fe0bf450f3827d062d8?h=1350&w=2400&hash=73483F02960575E1C89EAAAA9A5AF015","imageAlt":"","startDate":"08/05/2023","endDate":"08/05/2023","formattedDate":"Aug. 5, 2023","formattedDay":"5","formattedShortDayOfWeek":"Sat","formattedShortMonth":"Aug","recurrence":null,"locations":[{"name":"Village Town","description":"","class":"no-font-icon","displayName":"Village Town","sortOrder":100,"isHidden":false,"tagType":"","imageUrl":""}],"types":[{"name":"Concerts Live Music","description":"","class":"ico-music","displayName":"Concerts & Live Music","sortOrder":100,"isHidden":false,"tagType":"types","imageUrl":""}],"goodForTags":[{"name":"Adults","description":"","class":"ico-group","displayName":"Adults","sortOrder":100,"isHidden":false,"tagType":"goodForTags","imageUrl":""},{"name":"Couples","description":"","class":"ico-heart","displayName":"Couples","sortOrder":100,"isHidden":false,"tagType":"goodForTags","imageUrl":""},{"name":"Families","description":"","class":"ico-parent_child","displayName":"Families","sortOrder":100,"isHidden":false,"tagType":"goodForTags","imageUrl":""},{"name":"Group","description":"","class":"ico-group","displayName":"Group","sortOrder":100,"isHidden":false,"tagType":"goodForTags","imageUrl":""},{"name":"Kids","description":"","class":"ico-parent_child","displayName":"Kids","sortOrder":0,"isHidden":false,"tagType":"goodForTags","imageUrl":""},{"name":"Men","description":"","class":"ico-group","displayName":"Men","sortOrder":100,"isHidden":false,"tagType":"goodForTags","imageUrl":""},{"name":"Teens","description":"","class":"ico-group","displayName":"Teens","sortOrder":50,"isHidden":false,"tagType":"goodForTags","imageUrl":""},{"name":"Women","description":"","class":"ico-group","displayName":"Women","sortOrder":100,"isHidden":false,"tagType":"goodForTags","imageUrl":""}],"startDateDateTime":"2023-08-05T20:15:00","endDateDateTime":"2023-08-05T00:00:00","allDay":false,"mobileImageUrl":"/-/media/blue-mountain/2400x1350/things-to-do/events/red_bull_blue_mountain/bmv_livemusic_genevievefisher.png?w=480&rev=935f3bbef5c34fe0bf450f3827d062d8&hash=5ABF0DA9140DCB8FD4DD2BCA9107E484","tabletImageUrl":"/-/media/blue-mountain/2400x1350/things-to-do/events/red_bull_blue_mountain/bmv_livemusic_genevievefisher.png?w=1024&rev=935f3bbef5c34fe0bf450f3827d062d8&hash=8A6929677CA1400F580ED96389DFC46D","description":"<p /><p>London born and raised, Genevieve Fisher, has earned 9 top 50 hits on both Billboard's BDS and Mediabase Canadian National Country Charts. Get ready to stomp your feet and feel the Village vibe through the beat, live on the Subaru Stage at 8:15pm!</p><p /><p />","timeZoneServerOffset":1,"hasButtonCtaText":false,"buttonCtaText":"","name":"Genevieve Fisher"},{"pageId":"{a044a1aa-f009-40b3-a14e-f49386bae0d5}","subtitle":"","targetUrl":"/things-to-do/events/live-music25","target":null,"imageUrl":"/-/media/blue-mountain/2400x1350/things-to-do/events/livemusic_alexbarber.png?rev=4339abb9e1e74226821188542bf4fc74?h=1350&w=2400&hash=F78225B589514BA47313F3EEFA753509","imageAlt":"Alex Barber sitting outside with guitar","startDate":"08/08/2023","endDate":"08/08/2023","formattedDate":"Aug. 8, 2023","formattedDay":"8","formattedShortDayOfWeek":"Tue","formattedShortMonth":"Aug","recurrence":"Weekly","locations":[{"name":"Village Town","description":"","class":"no-font-icon","displayName":"Village Town","sortOrder":100,"isHidden":false,"tagType":"","imageUrl":""}],"types":[{"name":"Concerts Live Music","description":"","class":"ico-music","displayName":"Concerts & Live Music","sortOrder":100,"isHidden":false,"tagType":"types","imageUrl":""},{"name":"Free","description":"","class":"ico-star","displayName":"Free","sortOrder":100,"isHidden":false,"tagType":"types","imageUrl":""}],"goodForTags":[{"name":"Adults","description":"","class":"ico-group","displayName":"Adults","sortOrder":100,"isHidden":false,"tagType":"goodForTags","imageUrl":""},{"name":"Couples","description":"","class":"ico-heart","displayName":"Couples","sortOrder":100,"isHidden":false,"tagType":"goodForTags","imageUrl":""},{"name":"Families","description":"","class":"ico-parent_child","displayName":"Families","sortOrder":100,"isHidden":false,"tagType":"goodForTags","imageUrl":""},{"name":"Group","description":"","class":"ico-group","displayName":"Group","sortOrder":100,"isHidden":false,"tagType":"goodForTags","imageUrl":""},{"name":"Kids","description":"","class":"ico-parent_child","displayName":"Kids","sortOrder":0,"isHidden":false,"tagType":"goodForTags","imageUrl":""},{"name":"Men","description":"","class":"ico-group","displayName":"Men","sortOrder":100,"isHidden":false,"tagType":"goodForTags","imageUrl":""},{"name":"Teens","description":"","class":"ico-group","displayName":"Teens","sortOrder":50,"isHidden":false,"tagType":"goodForTags","imageUrl":""},{"name":"Women","description":"","class":"ico-group","displayName":"Women","sortOrder":100,"isHidden":false,"tagType":"goodForTags","imageUrl":""}],"startDateDateTime":"2023-08-08T17:00:00","endDateDateTime":"2023-08-08T20:00:00","allDay":false,"mobileImageUrl":"/-/media/blue-mountain/2400x1350/things-to-do/events/livemusic_alexbarber.png?w=480&rev=4339abb9e1e74226821188542bf4fc74&hash=4B182A13A425020C7BBFCE25ABB303D6","tabletImageUrl":"/-/media/blue-mountain/2400x1350/things-to-do/events/livemusic_alexbarber.png?w=1024&rev=4339abb9e1e74226821188542bf4fc74&hash=DA98ABC38C175CF1FE852A317069C769","description":"<p>Alex Barber is a singer-guitarist who performs at weddings, events and private parties all around southern Ontario. You're guaranteed to know and love about 98% of the songs he plays. If you're into Whitney Houston and Post Malone, you wont want to miss his weekly set, every Tuesday at 5PM!</p>","timeZoneServerOffset":1,"hasButtonCtaText":false,"buttonCtaText":"","name":"Alex Barber"},{"pageId":"{598b5420-59b8-4ed0-bbd0-c998bd965c90}","subtitle":"Playing: SCOOB! (PG)","targetUrl":"/things-to-do/events/subaru-movies-under-the-stars5","target":null,"imageUrl":"/-/media/blue-mountain/2400x1350/things-to-do/events/bmr_subaru_movies_under_stars.jpg?rev=a28d91214edc44e3a140b4212f879554?h=1350&w=2400&hash=FCCD520507467EC60CE15F26E81722EE","imageAlt":"Group of people sitting outside in the Village Plaza watching movies","startDate":"08/08/2023","endDate":"08/08/2023","formattedDate":"Aug. 8, 2023","formattedDay":"8","formattedShortDayOfWeek":"Tue","formattedShortMonth":"Aug","recurrence":"Weekly","locations":[{"name":"Village Town","description":"","class":"no-font-icon","displayName":"Village Town","sortOrder":100,"isHidden":false,"tagType":"","imageUrl":""}],"types":[{"name":"Free","description":"","class":"ico-star","displayName":"Free","sortOrder":100,"isHidden":false,"tagType":"types","imageUrl":""}],"goodForTags":[{"name":"Adults","description":"","class":"ico-group","displayName":"Adults","sortOrder":100,"isHidden":false,"tagType":"goodForTags","imageUrl":""},{"name":"Couples","description":"","class":"ico-heart","displayName":"Couples","sortOrder":100,"isHidden":false,"tagType":"goodForTags","imageUrl":""},{"name":"Families","description":"","class":"ico-parent_child","displayName":"Families","sortOrder":100,"isHidden":false,"tagType":"goodForTags","imageUrl":""},{"name":"Group","description":"","class":"ico-group","displayName":"Group","sortOrder":100,"isHidden":false,"tagType":"goodForTags","imageUrl":""},{"name":"Kids","description":"","class":"ico-parent_child","displayName":"Kids","sortOrder":0,"isHidden":false,"tagType":"goodForTags","imageUrl":""},{"name":"Men","description":"","class":"ico-group","displayName":"Men","sortOrder":100,"isHidden":false,"tagType":"goodForTags","imageUrl":""},{"name":"Teens","description":"","class":"ico-group","displayName":"Teens","sortOrder":50,"isHidden":false,"tagType":"goodForTags","imageUrl":""},{"name":"Women","description":"","class":"ico-group","displayName":"Women","sortOrder":100,"isHidden":false,"tagType":"goodForTags","imageUrl":""}],"startDateDateTime":"2023-08-08T20:30:00","endDateDateTime":"2023-08-08T22:00:00","allDay":false,"mobileImageUrl":"/-/media/blue-mountain/2400x1350/things-to-do/events/bmr_subaru_movies_under_stars.jpg?w=480&rev=a28d91214edc44e3a140b4212f879554&hash=92F2F44DB7EFCF5F6A43706923C050BB","tabletImageUrl":"/-/media/blue-mountain/2400x1350/things-to-do/events/bmr_subaru_movies_under_stars.jpg?w=1024&rev=a28d91214edc44e3a140b4212f879554&hash=B6238D3BA903DDB1DAB1960FFDC754D0","description":"<span class=\"paragraph-one\">Enjoy a family night out with outdoor movie screenings in the Village, every Tuesday night starting at dusk! Check out the film schedule.</span>","timeZoneServerOffset":1,"hasButtonCtaText":false,"buttonCtaText":"","name":"Subaru Movies Under The Stars"},{"pageId":"{2793192b-a5ab-4eda-a1d4-5a2e5cd301fc}","subtitle":"","targetUrl":"/things-to-do/events/live-music16","target":null,"imageUrl":"/-/media/blue-mountain/2400x1350/things-to-do/events/livemusic_emilypower.png?rev=83f3a152d17e409eaabbd5e4f8e990bb?h=1350&w=2400&hash=DD795B8EF733D3E7309134273DB476A6","imageAlt":"Emily Power singing at Blue Mountain Resort","startDate":"08/10/2023","endDate":"08/10/2023","formattedDate":"Aug. 10, 2023","formattedDay":"10","formattedShortDayOfWeek":"Thu","formattedShortMonth":"Aug","recurrence":null,"locations":[{"name":"Village Town","description":"","class":"no-font-icon","displayName":"Village Town","sortOrder":100,"isHidden":false,"tagType":"","imageUrl":""}],"types":[{"name":"Concerts Live Music","description":"","class":"ico-music","displayName":"Concerts & Live Music","sortOrder":100,"isHidden":false,"tagType":"types","imageUrl":""},{"name":"Free","description":"","class":"ico-star","displayName":"Free","sortOrder":100,"isHidden":false,"tagType":"types","imageUrl":""}],"goodForTags":[{"name":"Adults","description":"","class":"ico-group","displayName":"Adults","sortOrder":100,"isHidden":false,"tagType":"goodForTags","imageUrl":""},{"name":"Couples","description":"","class":"ico-heart","displayName":"Couples","sortOrder":100,"isHidden":false,"tagType":"goodForTags","imageUrl":""},{"name":"Families","description":"","class":"ico-parent_child","displayName":"Families","sortOrder":100,"isHidden":false,"tagType":"goodForTags","imageUrl":""},{"name":"Group","description":"","class":"ico-group","displayName":"Group","sortOrder":100,"isHidden":false,"tagType":"goodForTags","imageUrl":""},{"name":"Kids","description":"","class":"ico-parent_child","displayName":"Kids","sortOrder":0,"isHidden":false,"tagType":"goodForTags","imageUrl":""},{"name":"Men","description":"","class":"ico-group","displayName":"Men","sortOrder":100,"isHidden":false,"tagType":"goodForTags","imageUrl":""},{"name":"Teens","description":"","class":"ico-group","displayName":"Teens","sortOrder":50,"isHidden":false,"tagType":"goodForTags","imageUrl":""},{"name":"Women","description":"","class":"ico-group","displayName":"Women","sortOrder":100,"isHidden":false,"tagType":"goodForTags","imageUrl":""}],"startDateDateTime":"2023-08-10T17:00:00","endDateDateTime":"2023-08-10T20:00:00","allDay":false,"mobileImageUrl":"/-/media/blue-mountain/2400x1350/things-to-do/events/livemusic_emilypower.png?w=480&rev=83f3a152d17e409eaabbd5e4f8e990bb&hash=3E6186DA3BB52275526A6FCAC420438D","tabletImageUrl":"/-/media/blue-mountain/2400x1350/things-to-do/events/livemusic_emilypower.png?w=1024&rev=83f3a152d17e409eaabbd5e4f8e990bb&hash=E464899E7B2403424C8DB4F7215E0053","description":"<p>If you're looking for an 'M-Power'-ing experience, don't miss Emily Power on the Subaru Stage from 5PM- 8PM every Thursday night! Singing both covers and original songs, Emily is a vocal powerhouse that pushes the Village energy to the max.</p>","timeZoneServerOffset":1,"hasButtonCtaText":false,"buttonCtaText":"","name":"Emily Power"},{"pageId":"{7948a3b3-dc2e-4016-8b51-5006a5fdec35}","subtitle":"","targetUrl":"/things-to-do/events/live-music9","target":null,"imageUrl":"/-/media/blue-mountain/2400x1350/things-to-do/events/red_bull_blue_mountain/bmv_livemusic_bentleycollective.png?rev=ad81039061694b3f8afa863acd1f9ee7?h=1350&w=2400&hash=02F99DA72BEFC20C88AF04FDEF5D9E09","imageAlt":"","startDate":"08/11/2023","endDate":"08/11/2023","formattedDate":"Aug. 11, 2023","formattedDay":"11","formattedShortDayOfWeek":"Fri","formattedShortMonth":"Aug","recurrence":null,"locations":[{"name":"Village Town","description":"","class":"no-font-icon","displayName":"Village Town","sortOrder":100,"isHidden":false,"tagType":"","imageUrl":""}],"types":[{"name":"Concerts Live Music","description":"","class":"ico-music","displayName":"Concerts & Live Music","sortOrder":100,"isHidden":false,"tagType":"types","imageUrl":""}],"goodForTags":[{"name":"Adults","description":"","class":"ico-group","displayName":"Adults","sortOrder":100,"isHidden":false,"tagType":"goodForTags","imageUrl":""},{"name":"Couples","description":"","class":"ico-heart","displayName":"Couples","sortOrder":100,"isHidden":false,"tagType":"goodForTags","imageUrl":""},{"name":"Families","description":"","class":"ico-parent_child","displayName":"Families","sortOrder":100,"isHidden":false,"tagType":"goodForTags","imageUrl":""},{"name":"Group","description":"","class":"ico-group","displayName":"Group","sortOrder":100,"isHidden":false,"tagType":"goodForTags","imageUrl":""},{"name":"Kids","description":"","class":"ico-parent_child","displayName":"Kids","sortOrder":0,"isHidden":false,"tagType":"goodForTags","imageUrl":""},{"name":"Men","description":"","class":"ico-group","displayName":"Men","sortOrder":100,"isHidden":false,"tagType":"goodForTags","imageUrl":""},{"name":"Teens","description":"","class":"ico-group","displayName":"Teens","sortOrder":50,"isHidden":false,"tagType":"goodForTags","imageUrl":""},{"name":"Women","description":"","class":"ico-group","displayName":"Women","sortOrder":100,"isHidden":false,"tagType":"goodForTags","imageUrl":""}],"startDateDateTime":"2023-08-11T18:00:00","endDateDateTime":"2023-08-11T21:00:00","allDay":false,"mobileImageUrl":"/-/media/blue-mountain/2400x1350/things-to-do/events/red_bull_blue_mountain/bmv_livemusic_bentleycollective.png?w=480&rev=ad81039061694b3f8afa863acd1f9ee7&hash=031DA319E13FAAE322C303962A806F08","tabletImageUrl":"/-/media/blue-mountain/2400x1350/things-to-do/events/red_bull_blue_mountain/bmv_livemusic_bentleycollective.png?w=1024&rev=ad81039061694b3f8afa863acd1f9ee7&hash=AED96E894DC3040FEE21052BB5992AAA","description":"<p>Watch Brooke Bentley Blackburn, the Composer &amp; Guitar player of the Juno nominated, Maple Blues winning Toronto based Soul Blues band, \"Blackburn\", live on the Subaru Stage at 6pm! Performing for 30+ years as a Canadian musician, Brooke has accumulated a vast repertoire of original compositions, embodying principles of roots, jazz, folk, and the blues.<br /></p><p /><p /><p />","timeZoneServerOffset":1,"hasButtonCtaText":false,"buttonCtaText":"","name":"The Bentley Collective"},{"pageId":"{bef0470f-2cb1-4e83-a351-551d2fe985d1}","subtitle":"","targetUrl":"/things-to-do/events/live-music26","target":null,"imageUrl":"/-/media/blue-mountain/2400x1350/things-to-do/events/livemusic_alexbarber.png?rev=4339abb9e1e74226821188542bf4fc74?h=1350&w=2400&hash=F78225B589514BA47313F3EEFA753509","imageAlt":"Alex Barber sitting outside with guitar","startDate":"08/15/2023","endDate":"08/15/2023","formattedDate":"Aug. 15, 2023","formattedDay":"15","formattedShortDayOfWeek":"Tue","formattedShortMonth":"Aug","recurrence":"Weekly","locations":[{"name":"Village Town","description":"","class":"no-font-icon","displayName":"Village Town","sortOrder":100,"isHidden":false,"tagType":"","imageUrl":""}],"types":[{"name":"Concerts Live Music","description":"","class":"ico-music","displayName":"Concerts & Live Music","sortOrder":100,"isHidden":false,"tagType":"types","imageUrl":""},{"name":"Free","description":"","class":"ico-star","displayName":"Free","sortOrder":100,"isHidden":false,"tagType":"types","imageUrl":""}],"goodForTags":[{"name":"Adults","description":"","class":"ico-group","displayName":"Adults","sortOrder":100,"isHidden":false,"tagType":"goodForTags","imageUrl":""},{"name":"Couples","description":"","class":"ico-heart","displayName":"Couples","sortOrder":100,"isHidden":false,"tagType":"goodForTags","imageUrl":""},{"name":"Families","description":"","class":"ico-parent_child","displayName":"Families","sortOrder":100,"isHidden":false,"tagType":"goodForTags","imageUrl":""},{"name":"Group","description":"","class":"ico-group","displayName":"Group","sortOrder":100,"isHidden":false,"tagType":"goodForTags","imageUrl":""},{"name":"Kids","description":"","class":"ico-parent_child","displayName":"Kids","sortOrder":0,"isHidden":false,"tagType":"goodForTags","imageUrl":""},{"name":"Men","description":"","class":"ico-group","displayName":"Men","sortOrder":100,"isHidden":false,"tagType":"goodForTags","imageUrl":""},{"name":"Teens","description":"","class":"ico-group","displayName":"Teens","sortOrder":50,"isHidden":false,"tagType":"goodForTags","imageUrl":""},{"name":"Women","description":"","class":"ico-group","displayName":"Women","sortOrder":100,"isHidden":false,"tagType":"goodForTags","imageUrl":""}],"startDateDateTime":"2023-08-15T17:00:00","endDateDateTime":"2023-08-15T20:00:00","allDay":false,"mobileImageUrl":"/-/media/blue-mountain/2400x1350/things-to-do/events/livemusic_alexbarber.png?w=480&rev=4339abb9e1e74226821188542bf4fc74&hash=4B182A13A425020C7BBFCE25ABB303D6","tabletImageUrl":"/-/media/blue-mountain/2400x1350/things-to-do/events/livemusic_alexbarber.png?w=1024&rev=4339abb9e1e74226821188542bf4fc74&hash=DA98ABC38C175CF1FE852A317069C769","description":"<p>Alex Barber is a singer-guitarist who performs at weddings, events and private parties all around southern Ontario. You're guaranteed to know and love about 98% of the songs he plays. If you're into Whitney Houston and Post Malone, you wont want to miss his weekly set, every Tuesday at 5PM!</p>","timeZoneServerOffset":1,"hasButtonCtaText":false,"buttonCtaText":"","name":"Alex Barber"},{"pageId":"{aa42e23f-6276-4b3c-b9ab-6df170f2ec42}","subtitle":"Playing: Fantastic Beasts: The Secrets of Dumbledore (PG-13)","targetUrl":"/things-to-do/events/subaru-movies-under-the-stars6","target":null,"imageUrl":"/-/media/blue-mountain/2400x1350/things-to-do/events/bmr_subaru_movies_under_stars.jpg?rev=a28d91214edc44e3a140b4212f879554?h=1350&w=2400&hash=FCCD520507467EC60CE15F26E81722EE","imageAlt":"Group of people sitting outside in the Village Plaza watching movies","startDate":"08/15/2023","endDate":"08/15/2023","formattedDate":"Aug. 15, 2023","formattedDay":"15","formattedShortDayOfWeek":"Tue","formattedShortMonth":"Aug","recurrence":"Weekly","locations":[{"name":"Village Town","description":"","class":"no-font-icon","displayName":"Village Town","sortOrder":100,"isHidden":false,"tagType":"","imageUrl":""}],"types":[{"name":"Free","description":"","class":"ico-star","displayName":"Free","sortOrder":100,"isHidden":false,"tagType":"types","imageUrl":""}],"goodForTags":[{"name":"Adults","description":"","class":"ico-group","displayName":"Adults","sortOrder":100,"isHidden":false,"tagType":"goodForTags","imageUrl":""},{"name":"Couples","description":"","class":"ico-heart","displayName":"Couples","sortOrder":100,"isHidden":false,"tagType":"goodForTags","imageUrl":""},{"name":"Families","description":"","class":"ico-parent_child","displayName":"Families","sortOrder":100,"isHidden":false,"tagType":"goodForTags","imageUrl":""},{"name":"Group","description":"","class":"ico-group","displayName":"Group","sortOrder":100,"isHidden":false,"tagType":"goodForTags","imageUrl":""},{"name":"Kids","description":"","class":"ico-parent_child","displayName":"Kids","sortOrder":0,"isHidden":false,"tagType":"goodForTags","imageUrl":""},{"name":"Men","description":"","class":"ico-group","displayName":"Men","sortOrder":100,"isHidden":false,"tagType":"goodForTags","imageUrl":""},{"name":"Teens","description":"","class":"ico-group","displayName":"Teens","sortOrder":50,"isHidden":false,"tagType":"goodForTags","imageUrl":""},{"name":"Women","description":"","class":"ico-group","displayName":"Women","sortOrder":100,"isHidden":false,"tagType":"goodForTags","imageUrl":""}],"startDateDateTime":"2023-08-15T20:00:00","endDateDateTime":"2023-08-15T22:00:00","allDay":false,"mobileImageUrl":"/-/media/blue-mountain/2400x1350/things-to-do/events/bmr_subaru_movies_under_stars.jpg?w=480&rev=a28d91214edc44e3a140b4212f879554&hash=92F2F44DB7EFCF5F6A43706923C050BB","tabletImageUrl":"/-/media/blue-mountain/2400x1350/things-to-do/events/bmr_subaru_movies_under_stars.jpg?w=1024&rev=a28d91214edc44e3a140b4212f879554&hash=B6238D3BA903DDB1DAB1960FFDC754D0","description":"<span class=\"paragraph-one\">Enjoy a family night out with outdoor movie screenings in the Village, every Tuesday night starting at dusk! Check out the film schedule.</span>","timeZoneServerOffset":1,"hasButtonCtaText":false,"buttonCtaText":"","name":"Subaru Movies Under The Stars"},{"pageId":"{5670d336-098d-4dc7-9f62-b6aad773927f}","subtitle":"","targetUrl":"/things-to-do/events/live-music17","target":null,"imageUrl":"/-/media/blue-mountain/2400x1350/things-to-do/events/livemusic_emilypower.png?rev=83f3a152d17e409eaabbd5e4f8e990bb?h=1350&w=2400&hash=DD795B8EF733D3E7309134273DB476A6","imageAlt":"Emily Power singing at Blue Mountain Resort","startDate":"08/17/2023","endDate":"08/17/2023","formattedDate":"Aug. 17, 2023","formattedDay":"17","formattedShortDayOfWeek":"Thu","formattedShortMonth":"Aug","recurrence":null,"locations":[{"name":"Village Town","description":"","class":"no-font-icon","displayName":"Village Town","sortOrder":100,"isHidden":false,"tagType":"","imageUrl":""}],"types":[{"name":"Concerts Live Music","description":"","class":"ico-music","displayName":"Concerts & Live Music","sortOrder":100,"isHidden":false,"tagType":"types","imageUrl":""},{"name":"Free","description":"","class":"ico-star","displayName":"Free","sortOrder":100,"isHidden":false,"tagType":"types","imageUrl":""}],"goodForTags":[{"name":"Adults","description":"","class":"ico-group","displayName":"Adults","sortOrder":100,"isHidden":false,"tagType":"goodForTags","imageUrl":""},{"name":"Couples","description":"","class":"ico-heart","displayName":"Couples","sortOrder":100,"isHidden":false,"tagType":"goodForTags","imageUrl":""},{"name":"Families","description":"","class":"ico-parent_child","displayName":"Families","sortOrder":100,"isHidden":false,"tagType":"goodForTags","imageUrl":""},{"name":"Group","description":"","class":"ico-group","displayName":"Group","sortOrder":100,"isHidden":false,"tagType":"goodForTags","imageUrl":""},{"name":"Kids","description":"","class":"ico-parent_child","displayName":"Kids","sortOrder":0,"isHidden":false,"tagType":"goodForTags","imageUrl":""},{"name":"Men","description":"","class":"ico-group","displayName":"Men","sortOrder":100,"isHidden":false,"tagType":"goodForTags","imageUrl":""},{"name":"Teens","description":"","class":"ico-group","displayName":"Teens","sortOrder":50,"isHidden":false,"tagType":"goodForTags","imageUrl":""},{"name":"Women","description":"","class":"ico-group","displayName":"Women","sortOrder":100,"isHidden":false,"tagType":"goodForTags","imageUrl":""}],"startDateDateTime":"2023-08-17T17:00:00","endDateDateTime":"2023-08-17T20:00:00","allDay":false,"mobileImageUrl":"/-/media/blue-mountain/2400x1350/things-to-do/events/livemusic_emilypower.png?w=480&rev=83f3a152d17e409eaabbd5e4f8e990bb&hash=3E6186DA3BB52275526A6FCAC420438D","tabletImageUrl":"/-/media/blue-mountain/2400x1350/things-to-do/events/livemusic_emilypower.png?w=1024&rev=83f3a152d17e409eaabbd5e4f8e990bb&hash=E464899E7B2403424C8DB4F7215E0053","description":"<p>If you're looking for an 'M-Power'-ing experience, don't miss Emily Power on the Subaru Stage from 5PM- 8PM every Thursday night! Singing both covers and original songs, Emily is a vocal powerhouse that pushes the Village energy to the max.</p>","timeZoneServerOffset":1,"hasButtonCtaText":false,"buttonCtaText":"","name":"Emily Power"},{"pageId":"{c216d394-f701-4626-ba88-b322cb936df4}","subtitle":"","targetUrl":"/things-to-do/events/live-music27","target":null,"imageUrl":"/-/media/blue-mountain/2400x1350/things-to-do/events/livemusic_alexbarber.png?rev=4339abb9e1e74226821188542bf4fc74?h=1350&w=2400&hash=F78225B589514BA47313F3EEFA753509","imageAlt":"Alex Barber sitting outside with guitar","startDate":"08/22/2023","endDate":"08/22/2023","formattedDate":"Aug. 22, 2023","formattedDay":"22","formattedShortDayOfWeek":"Tue","formattedShortMonth":"Aug","recurrence":"Weekly","locations":[{"name":"Village Town","description":"","class":"no-font-icon","displayName":"Village Town","sortOrder":100,"isHidden":false,"tagType":"","imageUrl":""}],"types":[{"name":"Concerts Live Music","description":"","class":"ico-music","displayName":"Concerts & Live Music","sortOrder":100,"isHidden":false,"tagType":"types","imageUrl":""},{"name":"Free","description":"","class":"ico-star","displayName":"Free","sortOrder":100,"isHidden":false,"tagType":"types","imageUrl":""}],"goodForTags":[{"name":"Adults","description":"","class":"ico-group","displayName":"Adults","sortOrder":100,"isHidden":false,"tagType":"goodForTags","imageUrl":""},{"name":"Couples","description":"","class":"ico-heart","displayName":"Couples","sortOrder":100,"isHidden":false,"tagType":"goodForTags","imageUrl":""},{"name":"Families","description":"","class":"ico-parent_child","displayName":"Families","sortOrder":100,"isHidden":false,"tagType":"goodForTags","imageUrl":""},{"name":"Group","description":"","class":"ico-group","displayName":"Group","sortOrder":100,"isHidden":false,"tagType":"goodForTags","imageUrl":""},{"name":"Kids","description":"","class":"ico-parent_child","displayName":"Kids","sortOrder":0,"isHidden":false,"tagType":"goodForTags","imageUrl":""},{"name":"Men","description":"","class":"ico-group","displayName":"Men","sortOrder":100,"isHidden":false,"tagType":"goodForTags","imageUrl":""},{"name":"Teens","description":"","class":"ico-group","displayName":"Teens","sortOrder":50,"isHidden":false,"tagType":"goodForTags","imageUrl":""},{"name":"Women","description":"","class":"ico-group","displayName":"Women","sortOrder":100,"isHidden":false,"tagType":"goodForTags","imageUrl":""}],"startDateDateTime":"2023-08-22T17:00:00","endDateDateTime":"2023-08-22T20:00:00","allDay":false,"mobileImageUrl":"/-/media/blue-mountain/2400x1350/things-to-do/events/livemusic_alexbarber.png?w=480&rev=4339abb9e1e74226821188542bf4fc74&hash=4B182A13A425020C7BBFCE25ABB303D6","tabletImageUrl":"/-/media/blue-mountain/2400x1350/things-to-do/events/livemusic_alexbarber.png?w=1024&rev=4339abb9e1e74226821188542bf4fc74&hash=DA98ABC38C175CF1FE852A317069C769","description":"<p>Alex Barber is a singer-guitarist who performs at weddings, events and private parties all around southern Ontario. You're guaranteed to know and love about 98% of the songs he plays. If you're into Whitney Houston and Post Malone, you wont want to miss his weekly set, every Tuesday at 5PM!</p>","timeZoneServerOffset":1,"hasButtonCtaText":false,"buttonCtaText":"","name":"Alex Barber"},{"pageId":"{86fd3ae6-1202-4b5b-b4bb-a4c75e96a6cf}","subtitle":"Playing: Puss In Boots: The Last Wish (PG)","targetUrl":"/things-to-do/events/subaru-movies-under-the-stars8","target":null,"imageUrl":"/-/media/blue-mountain/2400x1350/things-to-do/events/bmr_subaru_movies_under_stars.jpg?rev=a28d91214edc44e3a140b4212f879554?h=1350&w=2400&hash=FCCD520507467EC60CE15F26E81722EE","imageAlt":"Group of people sitting outside in the Village Plaza watching movies","startDate":"08/22/2023","endDate":"08/22/2023","formattedDate":"Aug. 22, 2023","formattedDay":"22","formattedShortDayOfWeek":"Tue","formattedShortMonth":"Aug","recurrence":"Weekly","locations":[{"name":"Village Town","description":"","class":"no-font-icon","displayName":"Village Town","sortOrder":100,"isHidden":false,"tagType":"","imageUrl":""}],"types":[{"name":"Free","description":"","class":"ico-star","displayName":"Free","sortOrder":100,"isHidden":false,"tagType":"types","imageUrl":""}],"goodForTags":[{"name":"Adults","description":"","class":"ico-group","displayName":"Adults","sortOrder":100,"isHidden":false,"tagType":"goodForTags","imageUrl":""},{"name":"Couples","description":"","class":"ico-heart","displayName":"Couples","sortOrder":100,"isHidden":false,"tagType":"goodForTags","imageUrl":""},{"name":"Families","description":"","class":"ico-parent_child","displayName":"Families","sortOrder":100,"isHidden":false,"tagType":"goodForTags","imageUrl":""},{"name":"Group","description":"","class":"ico-group","displayName":"Group","sortOrder":100,"isHidden":false,"tagType":"goodForTags","imageUrl":""},{"name":"Kids","description":"","class":"ico-parent_child","displayName":"Kids","sortOrder":0,"isHidden":false,"tagType":"goodForTags","imageUrl":""},{"name":"Men","description":"","class":"ico-group","displayName":"Men","sortOrder":100,"isHidden":false,"tagType":"goodForTags","imageUrl":""},{"name":"Teens","description":"","class":"ico-group","displayName":"Teens","sortOrder":50,"isHidden":false,"tagType":"goodForTags","imageUrl":""},{"name":"Women","description":"","class":"ico-group","displayName":"Women","sortOrder":100,"isHidden":false,"tagType":"goodForTags","imageUrl":""}],"startDateDateTime":"2023-08-22T20:00:00","endDateDateTime":"2023-08-22T22:00:00","allDay":false,"mobileImageUrl":"/-/media/blue-mountain/2400x1350/things-to-do/events/bmr_subaru_movies_under_stars.jpg?w=480&rev=a28d91214edc44e3a140b4212f879554&hash=92F2F44DB7EFCF5F6A43706923C050BB","tabletImageUrl":"/-/media/blue-mountain/2400x1350/things-to-do/events/bmr_subaru_movies_under_stars.jpg?w=1024&rev=a28d91214edc44e3a140b4212f879554&hash=B6238D3BA903DDB1DAB1960FFDC754D0","description":"<span class=\"paragraph-one\">Enjoy a family night out with outdoor movie screenings in the Village, every Tuesday night starting at dusk! Check out the film schedule.</span>","timeZoneServerOffset":1,"hasButtonCtaText":false,"buttonCtaText":"","name":"Subaru Movies Under The Stars"},{"pageId":"{c8f80b4d-d0f8-4c5d-a410-a056146ff49a}","subtitle":"","targetUrl":"/things-to-do/events/live-music18","target":null,"imageUrl":"/-/media/blue-mountain/2400x1350/things-to-do/events/livemusic_emilypower.png?rev=83f3a152d17e409eaabbd5e4f8e990bb?h=1350&w=2400&hash=DD795B8EF733D3E7309134273DB476A6","imageAlt":"Emily Power singing at Blue Mountain Resort","startDate":"08/24/2023","endDate":"08/24/2023","formattedDate":"Aug. 24, 2023","formattedDay":"24","formattedShortDayOfWeek":"Thu","formattedShortMonth":"Aug","recurrence":null,"locations":[{"name":"Village Town","description":"","class":"no-font-icon","displayName":"Village Town","sortOrder":100,"isHidden":false,"tagType":"","imageUrl":""}],"types":[{"name":"Concerts Live Music","description":"","class":"ico-music","displayName":"Concerts & Live Music","sortOrder":100,"isHidden":false,"tagType":"types","imageUrl":""},{"name":"Free","description":"","class":"ico-star","displayName":"Free","sortOrder":100,"isHidden":false,"tagType":"types","imageUrl":""}],"goodForTags":[{"name":"Adults","description":"","class":"ico-group","displayName":"Adults","sortOrder":100,"isHidden":false,"tagType":"goodForTags","imageUrl":""},{"name":"Couples","description":"","class":"ico-heart","displayName":"Couples","sortOrder":100,"isHidden":false,"tagType":"goodForTags","imageUrl":""},{"name":"Families","description":"","class":"ico-parent_child","displayName":"Families","sortOrder":100,"isHidden":false,"tagType":"goodForTags","imageUrl":""},{"name":"Group","description":"","class":"ico-group","displayName":"Group","sortOrder":100,"isHidden":false,"tagType":"goodForTags","imageUrl":""},{"name":"Kids","description":"","class":"ico-parent_child","displayName":"Kids","sortOrder":0,"isHidden":false,"tagType":"goodForTags","imageUrl":""},{"name":"Men","description":"","class":"ico-group","displayName":"Men","sortOrder":100,"isHidden":false,"tagType":"goodForTags","imageUrl":""},{"name":"Teens","description":"","class":"ico-group","displayName":"Teens","sortOrder":50,"isHidden":false,"tagType":"goodForTags","imageUrl":""},{"name":"Women","description":"","class":"ico-group","displayName":"Women","sortOrder":100,"isHidden":false,"tagType":"goodForTags","imageUrl":""}],"startDateDateTime":"2023-08-24T17:00:00","endDateDateTime":"2023-08-24T20:00:00","allDay":false,"mobileImageUrl":"/-/media/blue-mountain/2400x1350/things-to-do/events/livemusic_emilypower.png?w=480&rev=83f3a152d17e409eaabbd5e4f8e990bb&hash=3E6186DA3BB52275526A6FCAC420438D","tabletImageUrl":"/-/media/blue-mountain/2400x1350/things-to-do/events/livemusic_emilypower.png?w=1024&rev=83f3a152d17e409eaabbd5e4f8e990bb&hash=E464899E7B2403424C8DB4F7215E0053","description":"<p>If you're looking for an 'M-Power'-ing experience, don't miss Emily Power on the Subaru Stage from 5PM- 8PM every Thursday night! Singing both covers and original songs, Emily is a vocal powerhouse that pushes the Village energy to the max.</p>","timeZoneServerOffset":1,"hasButtonCtaText":false,"buttonCtaText":"","name":"Emily Power"},{"pageId":"{bf509aac-0e6f-4e1f-bec2-7f73956747c0}","subtitle":"","targetUrl":"/things-to-do/events/live-music28","target":null,"imageUrl":"/-/media/blue-mountain/2400x1350/things-to-do/events/livemusic_alexbarber.png?rev=4339abb9e1e74226821188542bf4fc74?h=1350&w=2400&hash=F78225B589514BA47313F3EEFA753509","imageAlt":"Alex Barber sitting outside with guitar","startDate":"08/29/2023","endDate":"08/29/2023","formattedDate":"Aug. 29, 2023","formattedDay":"29","formattedShortDayOfWeek":"Tue","formattedShortMonth":"Aug","recurrence":"Weekly","locations":[{"name":"Village Town","description":"","class":"no-font-icon","displayName":"Village Town","sortOrder":100,"isHidden":false,"tagType":"","imageUrl":""}],"types":[{"name":"Concerts Live Music","description":"","class":"ico-music","displayName":"Concerts & Live Music","sortOrder":100,"isHidden":false,"tagType":"types","imageUrl":""},{"name":"Free","description":"","class":"ico-star","displayName":"Free","sortOrder":100,"isHidden":false,"tagType":"types","imageUrl":""}],"goodForTags":[{"name":"Adults","description":"","class":"ico-group","displayName":"Adults","sortOrder":100,"isHidden":false,"tagType":"goodForTags","imageUrl":""},{"name":"Couples","description":"","class":"ico-heart","displayName":"Couples","sortOrder":100,"isHidden":false,"tagType":"goodForTags","imageUrl":""},{"name":"Families","description":"","class":"ico-parent_child","displayName":"Families","sortOrder":100,"isHidden":false,"tagType":"goodForTags","imageUrl":""},{"name":"Group","description":"","class":"ico-group","displayName":"Group","sortOrder":100,"isHidden":false,"tagType":"goodForTags","imageUrl":""},{"name":"Kids","description":"","class":"ico-parent_child","displayName":"Kids","sortOrder":0,"isHidden":false,"tagType":"goodForTags","imageUrl":""},{"name":"Men","description":"","class":"ico-group","displayName":"Men","sortOrder":100,"isHidden":false,"tagType":"goodForTags","imageUrl":""},{"name":"Teens","description":"","class":"ico-group","displayName":"Teens","sortOrder":50,"isHidden":false,"tagType":"goodForTags","imageUrl":""},{"name":"Women","description":"","class":"ico-group","displayName":"Women","sortOrder":100,"isHidden":false,"tagType":"goodForTags","imageUrl":""}],"startDateDateTime":"2023-08-29T17:00:00","endDateDateTime":"2023-08-29T20:00:00","allDay":false,"mobileImageUrl":"/-/media/blue-mountain/2400x1350/things-to-do/events/livemusic_alexbarber.png?w=480&rev=4339abb9e1e74226821188542bf4fc74&hash=4B182A13A425020C7BBFCE25ABB303D6","tabletImageUrl":"/-/media/blue-mountain/2400x1350/things-to-do/events/livemusic_alexbarber.png?w=1024&rev=4339abb9e1e74226821188542bf4fc74&hash=DA98ABC38C175CF1FE852A317069C769","description":"<p>Alex Barber is a singer-guitarist who performs at weddings, events and private parties all around southern Ontario. You're guaranteed to know and love about 98% of the songs he plays. If you're into Whitney Houston and Post Malone, you wont want to miss his weekly set, every Tuesday at 5PM!</p>","timeZoneServerOffset":1,"hasButtonCtaText":false,"buttonCtaText":"","name":"Alex Barber"},{"pageId":"{125f32d8-1a9b-4aff-b844-a739615030d7}","subtitle":"Playing: The Little Mermaid (PG)","targetUrl":"/things-to-do/events/subaru-movies-under-the-stars9","target":null,"imageUrl":"/-/media/blue-mountain/2400x1350/things-to-do/events/bmr_subaru_movies_under_stars.jpg?rev=a28d91214edc44e3a140b4212f879554?h=1350&w=2400&hash=FCCD520507467EC60CE15F26E81722EE","imageAlt":"Group of people sitting outside in the Village Plaza watching movies","startDate":"08/29/2023","endDate":"08/29/2023","formattedDate":"Aug. 29, 2023","formattedDay":"29","formattedShortDayOfWeek":"Tue","formattedShortMonth":"Aug","recurrence":"Weekly","locations":[{"name":"Village Town","description":"","class":"no-font-icon","displayName":"Village Town","sortOrder":100,"isHidden":false,"tagType":"","imageUrl":""}],"types":[{"name":"Free","description":"","class":"ico-star","displayName":"Free","sortOrder":100,"isHidden":false,"tagType":"types","imageUrl":""}],"goodForTags":[{"name":"Adults","description":"","class":"ico-group","displayName":"Adults","sortOrder":100,"isHidden":false,"tagType":"goodForTags","imageUrl":""},{"name":"Couples","description":"","class":"ico-heart","displayName":"Couples","sortOrder":100,"isHidden":false,"tagType":"goodForTags","imageUrl":""},{"name":"Families","description":"","class":"ico-parent_child","displayName":"Families","sortOrder":100,"isHidden":false,"tagType":"goodForTags","imageUrl":""},{"name":"Group","description":"","class":"ico-group","displayName":"Group","sortOrder":100,"isHidden":false,"tagType":"goodForTags","imageUrl":""},{"name":"Kids","description":"","class":"ico-parent_child","displayName":"Kids","sortOrder":0,"isHidden":false,"tagType":"goodForTags","imageUrl":""},{"name":"Men","description":"","class":"ico-group","displayName":"Men","sortOrder":100,"isHidden":false,"tagType":"goodForTags","imageUrl":""},{"name":"Teens","description":"","class":"ico-group","displayName":"Teens","sortOrder":50,"isHidden":false,"tagType":"goodForTags","imageUrl":""},{"name":"Women","description":"","class":"ico-group","displayName":"Women","sortOrder":100,"isHidden":false,"tagType":"goodForTags","imageUrl":""}],"startDateDateTime":"2023-08-29T20:00:00","endDateDateTime":"2023-08-29T22:00:00","allDay":false,"mobileImageUrl":"/-/media/blue-mountain/2400x1350/things-to-do/events/bmr_subaru_movies_under_stars.jpg?w=480&rev=a28d91214edc44e3a140b4212f879554&hash=92F2F44DB7EFCF5F6A43706923C050BB","tabletImageUrl":"/-/media/blue-mountain/2400x1350/things-to-do/events/bmr_subaru_movies_under_stars.jpg?w=1024&rev=a28d91214edc44e3a140b4212f879554&hash=B6238D3BA903DDB1DAB1960FFDC754D0","description":"<span class=\"paragraph-one\">Enjoy a family night out with outdoor movie screenings in the Village, every Tuesday night starting at dusk! Check out the film schedule.</span>","timeZoneServerOffset":1,"hasButtonCtaText":false,"buttonCtaText":"","name":"Subaru Movies Under The Stars"},{"pageId":"{a0bcfed6-574c-43b9-af38-bf73d5bcc3d8}","subtitle":"","targetUrl":"/things-to-do/events/live-music19","target":null,"imageUrl":"/-/media/blue-mountain/2400x1350/things-to-do/events/livemusic_emilypower.png?rev=83f3a152d17e409eaabbd5e4f8e990bb?h=1350&w=2400&hash=DD795B8EF733D3E7309134273DB476A6","imageAlt":"Emily Power singing at Blue Mountain Resort","startDate":"08/31/2023","endDate":"08/31/2023","formattedDate":"Aug. 31, 2023","formattedDay":"31","formattedShortDayOfWeek":"Thu","formattedShortMonth":"Aug","recurrence":null,"locations":[{"name":"Village Town","description":"","class":"no-font-icon","displayName":"Village Town","sortOrder":100,"isHidden":false,"tagType":"","imageUrl":""}],"types":[{"name":"Concerts Live Music","description":"","class":"ico-music","displayName":"Concerts & Live Music","sortOrder":100,"isHidden":false,"tagType":"types","imageUrl":""},{"name":"Free","description":"","class":"ico-star","displayName":"Free","sortOrder":100,"isHidden":false,"tagType":"types","imageUrl":""}],"goodForTags":[{"name":"Adults","description":"","class":"ico-group","displayName":"Adults","sortOrder":100,"isHidden":false,"tagType":"goodForTags","imageUrl":""},{"name":"Couples","description":"","class":"ico-heart","displayName":"Couples","sortOrder":100,"isHidden":false,"tagType":"goodForTags","imageUrl":""},{"name":"Families","description":"","class":"ico-parent_child","displayName":"Families","sortOrder":100,"isHidden":false,"tagType":"goodForTags","imageUrl":""},{"name":"Group","description":"","class":"ico-group","displayName":"Group","sortOrder":100,"isHidden":false,"tagType":"goodForTags","imageUrl":""},{"name":"Kids","description":"","class":"ico-parent_child","displayName":"Kids","sortOrder":0,"isHidden":false,"tagType":"goodForTags","imageUrl":""},{"name":"Men","description":"","class":"ico-group","displayName":"Men","sortOrder":100,"isHidden":false,"tagType":"goodForTags","imageUrl":""},{"name":"Teens","description":"","class":"ico-group","displayName":"Teens","sortOrder":50,"isHidden":false,"tagType":"goodForTags","imageUrl":""},{"name":"Women","description":"","class":"ico-group","displayName":"Women","sortOrder":100,"isHidden":false,"tagType":"goodForTags","imageUrl":""}],"startDateDateTime":"2023-08-31T17:00:00","endDateDateTime":"2023-08-31T20:00:00","allDay":false,"mobileImageUrl":"/-/media/blue-mountain/2400x1350/things-to-do/events/livemusic_emilypower.png?w=480&rev=83f3a152d17e409eaabbd5e4f8e990bb&hash=3E6186DA3BB52275526A6FCAC420438D","tabletImageUrl":"/-/media/blue-mountain/2400x1350/things-to-do/events/livemusic_emilypower.png?w=1024&rev=83f3a152d17e409eaabbd5e4f8e990bb&hash=E464899E7B2403424C8DB4F7215E0053","description":"<p>If you're looking for an 'M-Power'-ing experience, don't miss Emily Power on the Subaru Stage from 5PM- 8PM every Thursday night! Singing both covers and original songs, Emily is a vocal powerhouse that pushes the Village energy to the max.</p>","timeZoneServerOffset":1,"hasButtonCtaText":false,"buttonCtaText":"","name":"Emily Power"},{"pageId":"{14186e27-3a2e-4499-a832-07723b2dbd8f}","subtitle":"September 9, 2023","targetUrl":"/things-to-do/events/canadas-only-guitar-trail","target":null,"imageUrl":"/-/media/blue-mountain/2400x1350/things-to-do/events/red_bull_blue_mountain/2018-09-08_bm_guitartrail_061.jpg?rev=12da2532297140779bf61744a8484e66?h=4016&w=6016&hash=8652CC2C3E463095917A3841B2CF5DC0","imageAlt":"","startDate":"09/09/2023","endDate":"09/09/2023","formattedDate":"Sep. 9, 2023","formattedDay":"9","formattedShortDayOfWeek":"Sat","formattedShortMonth":"Sep","recurrence":"Annual","locations":[{"name":"Village Town","description":"","class":"no-font-icon","displayName":"Village Town","sortOrder":100,"isHidden":false,"tagType":"","imageUrl":""}],"types":[{"name":"Concerts Live Music","description":"","class":"ico-music","displayName":"Concerts & Live Music","sortOrder":100,"isHidden":false,"tagType":"types","imageUrl":""},{"name":"Featured","description":"","class":"ico-bolt","displayName":"Featured","sortOrder":100,"isHidden":false,"tagType":"types","imageUrl":""},{"name":"Festivals","description":"","class":"ico-group","displayName":"Festivals","sortOrder":100,"isHidden":false,"tagType":"types","imageUrl":""},{"name":"Free","description":"","class":"ico-star","displayName":"Free","sortOrder":100,"isHidden":false,"tagType":"types","imageUrl":""},{"name":"Health Wellness","description":"","class":"ico-cloud_sun","displayName":"Health & Wellness","sortOrder":100,"isHidden":false,"tagType":"types","imageUrl":""}],"goodForTags":[{"name":"Families","description":"","class":"ico-parent_child","displayName":"Families","sortOrder":100,"isHidden":false,"tagType":"goodForTags","imageUrl":""},{"name":"Group","description":"","class":"ico-group","displayName":"Group","sortOrder":100,"isHidden":false,"tagType":"goodForTags","imageUrl":""}],"startDateDateTime":"2023-09-09T00:00:00","endDateDateTime":"2023-09-09T23:59:00","allDay":true,"mobileImageUrl":"/-/media/blue-mountain/2400x1350/things-to-do/events/red_bull_blue_mountain/2018-09-08_bm_guitartrail_061.jpg?w=480&rev=12da2532297140779bf61744a8484e66&hash=6AABA7EA70A07E7702213A2BE920EDC6","tabletImageUrl":"/-/media/blue-mountain/2400x1350/things-to-do/events/red_bull_blue_mountain/2018-09-08_bm_guitartrail_061.jpg?w=1024&rev=12da2532297140779bf61744a8484e66&hash=1B2CAE775BB7BD935948250138052F85","description":"<span class=\"heading-two\"><p>Guitar Trail</p></span><span class=\"paragraph-one\"><strong></strong><span style=\"font-size: 1rem; letter-spacing: 0.2px;\">If you love both live music and the great outdoors, you won't want to miss Canada's most unique hiking and live music experience, returning toBlue Mountain Village on Saturday, September 9th! Follow the Guitar Trail up the Mountain and around the Village to catch all 19 soloists, and make your way to the Subaru Stage for our epic headlining band.</span><strong><br /></strong><br /><br /></span><br />","timeZoneServerOffset":1,"hasButtonCtaText":false,"buttonCtaText":"","name":"Guitar Trail"}]
{"buttonAdd":"Add To My Planner","buttonAdding":"Adding","buttonAdded":"Added","noPlannerItemsMessage":"My Planner allows you to start planning your dream Blue Mountain vacation! You don\u0027t have any items in your Planner. Add some!","hideAddToPlannerButton":false,"addToPlannerWithHeartDesign":false}