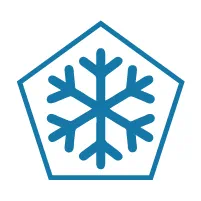 Where to Go, What to Know
The process you can expect

Before you Arrive

Do you have what you need for a day on snow?
A. Helmet

B. Goggles

C. Neck warmer

D. Underlayers

E. Snow Jacket

F. Gloves and mittens

G. Snow pants

H. Ski socks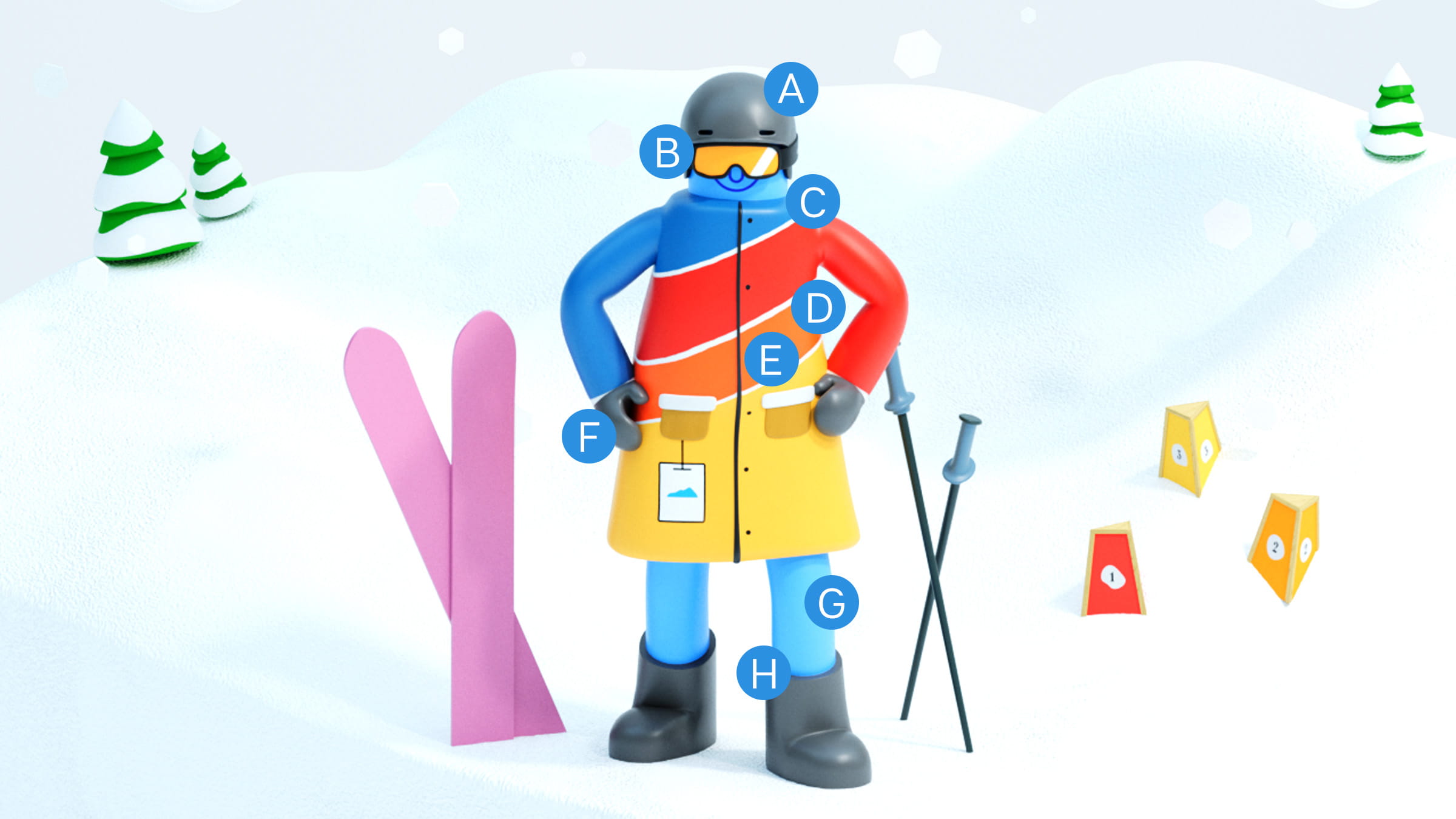 HELMET & HEADWEAR
Helmet: Wearing a helmet is essential when skiing or snowboarding. Not only does it protect and prevent head injuries, it also keeps your head and ears warm. Pro tip: A helmet is mandatory for children 17 and under in our Snow School lessons and programs.

Hat: When you are not skiing, it is ideal to wear a hat during the cold Canadian winters. Up to 60% of your body's heat can escape from an uncovered head!

GOGGLES & SUNGLASSES
Goggles: Ski goggles offer protection from the elements and are designed to keep snow and wind out of your eyes while skiing or snowboarding. They also protect your eyes from UV rays from both the sun and reflected off the snow. Pro tip: Make sure your goggles fit snugly around your head or helmet and rest gently on the bridge of your nose.

Sunglasses: You may find sunglasses work well in good weather and sunny days while most people prefer goggles.

NECK WARMER
This small-but-mighty layer makes the difference between being cold or cozy. Similar to a scarf but more efficient and compact, a neck warmer can come as a tube or a full head cover for under your helmet. Either is ideal for a cold winter day.
UNDERLAYERS
Underlayers make up the layers under your ski jacket and next to your skin.

Base layer: This close-fitting layer, casually called long underwear, will retain warmth next to your skin. Look for words like thermal or wicking when choosing long underwear. Pro tip: Cotton fabric is not ideal as a base layer for outdoor activities. Cotton doesn't allow your sweat to evaporate causing the layer to lose insulating qualities.

Mid layer: This middle layer includes sweaters, sweatshirts, vests and pullovers. The purpose of this layer is to keep heat in and cold out, which is accomplished by trapping air between the fibers. Popular insulation materials include fleece and wool.
SNOW JACKET
A snow jacket, also known as ski jacket, is different than a winter jacket as it will offer more protection from the elements like wind and water. You can get ski jackets that are insulated with more layers to
provide
warmth
,
or a shell, thinner
like a rain jacket, where you have th
e
option
to layer underneath. Either is a great
option
if you layer properly.
GLOVES & MITTENS
When choosing gloves and mittens look for waterproof and breathable fabrics.

Gloves give you more dexterity because each finger is separated. Due to each finger being separated, they tend to be a colder option and are not recommended for kids. Lots of skiers and riders like gloves in the spring months.

Mittens provide more warmth as all fingers are together except for the thumb. Although you lose some dexterity, they are easier to put on making it a great option for kids!
SNOW PANTS
There are many styles of snow pants. Some are tight or relaxed fit, some come with straps, while others do up just like pants. Similar to a snow jacket, you can get insulated snow pants that are warmer or thinner snow pants that you can layer underneath. Either is a great option if you layer properly.

Whatever type of snow pants you prefer make sure they are waterproof! Pro tip: Jeans or any other non-waterproof material are not recommended for snow sports.



SKI SOCKS
Ski socks are different than hiking or ankle socks. These socks are long and stop just below the knee for better comfort in your ski or snowboard boots. Look for light-weight or medium-weight ski socks. These work best for skiing, snowboarding or even snowshoeing. Ski socks are made from a variety of materials, including polyester, silk, wool and nylon. Some ski socks have wicking properties similar to long underwear, meaning your feet will stay dry and comfortable. Pro tip: It is recommended to put a dry pair of socks when you put your ski or snowboard boots on.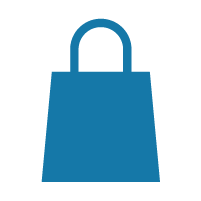 Need or Forgot Something? No Problem!

We have a variety of shops that can meet all your skiing and snowboarding needs.

Hillside
Red Devil Sports
Columbia Sportswear
The North Face
Burton
Kombi Warmth Centre
Blue Mountain Supply Co

Download the Blue Mountain App

Your best source for info on the go. Maps, weather, webcams, parking info, and events calendar are all on the Blue Mountain App.

Download on Apple App Store

Download on Google Play Store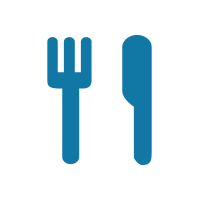 Reserve your Seats in Advance

Don't spend valuable après time waiting in line for a table. If you're looking at hitting up Grand Central Lodge or Bullwheel Pub, reserve your tables in advance! Take the hassle out of your dining or après planning and secure your space now for the entire season!
Reserve at Grand Central Lodge

Reserve at Bullwheel Pub
On Arrival

Once you have found your parking spot, please visit the Rentals Centre at Activity Central in the Village, or at South Base Lodge to pick up your lift ticket and equipment.

After picking up your lift ticket and rentals, head to the learning centre directly outside of either Rental building. Look for the Snow How pillars!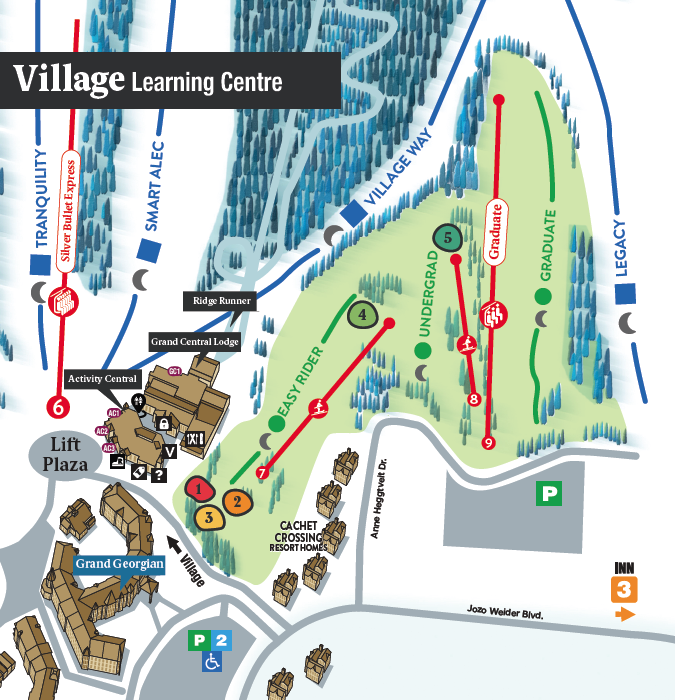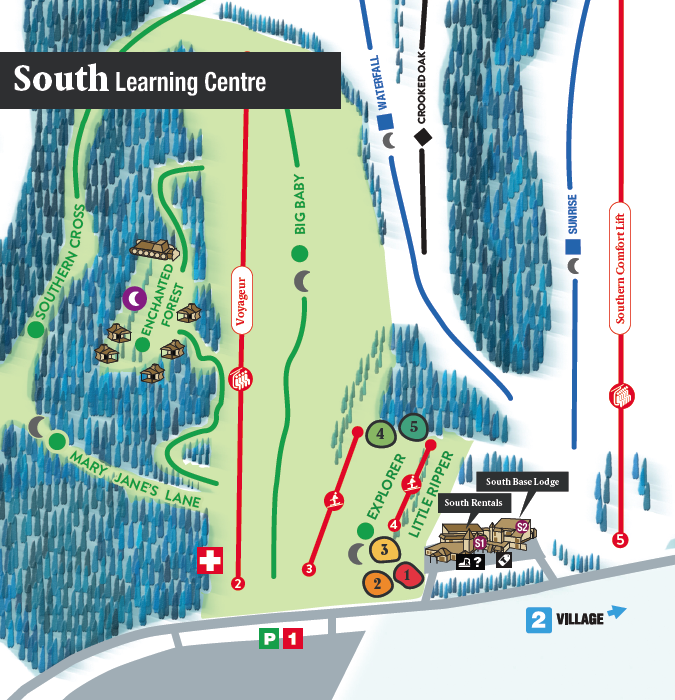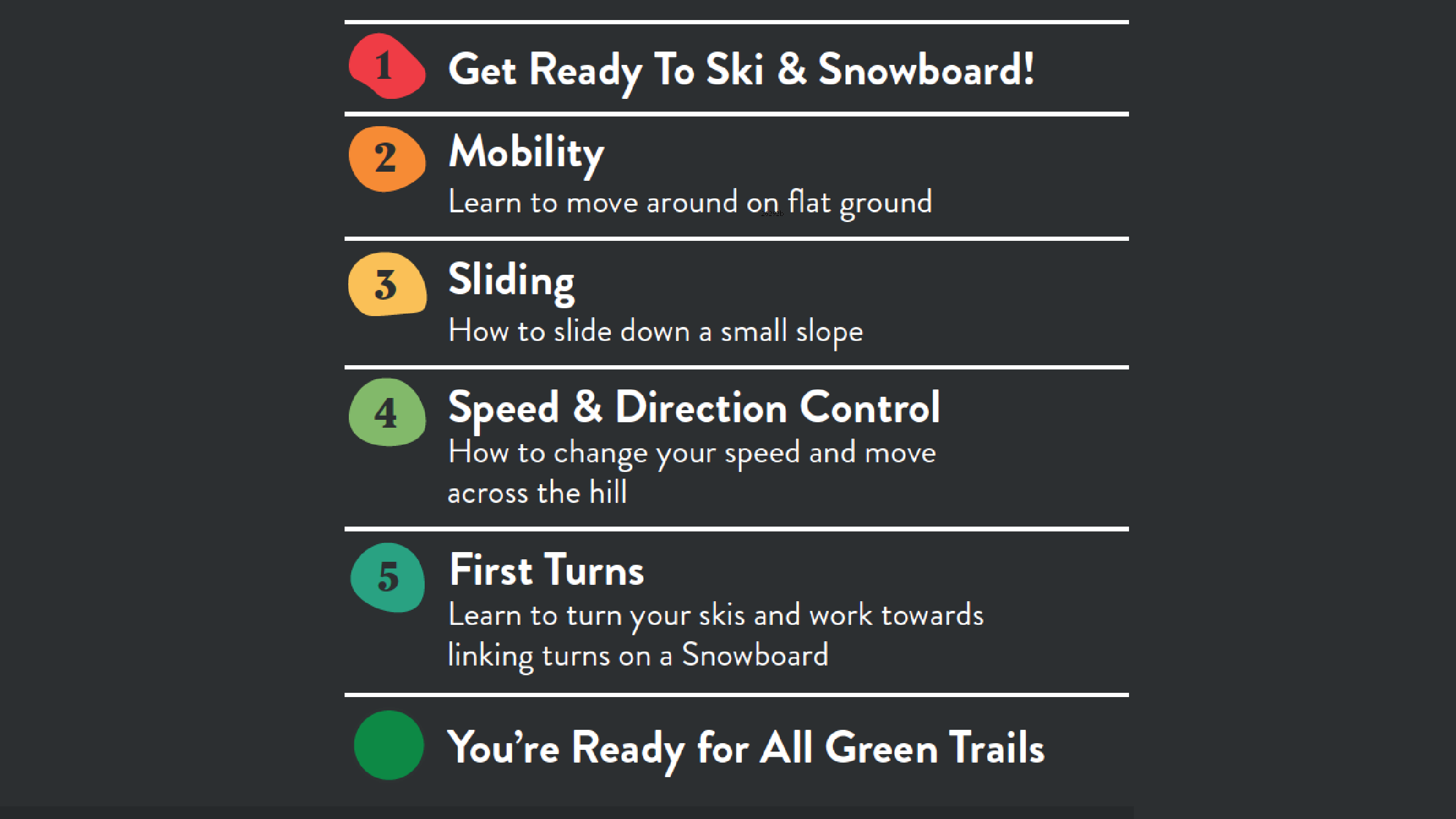 On-Hill: Ready, Set, SNOW!
Find Pillar 1 and follow the directions to begin learning at your own pace. As you master one skill, move to the next Pillar – 1 through 5.

Expect to have fun as you tackle a new and challenging task. The most important part is to have fun, if you get frustrated or stuck, take a break, watch other skiers or riders and then pick up where you left off.
Just like driving a car, there are rules when you are skiing and snowboarding on the mountain. The Alpine Responsibility Code provides the basic rules of conduct and must be followed by all who are using the terrain.
ALPINE RESPONSIBILITY CODE
Always stay in control. You must be able to stop or avoid other people or objects.

People ahead of you have the right of way. It is your responsibility to avoid them.

Do not stop where you obstruct a trail or are not visible from above.

Before starting downhill or merging onto a trail, look uphill and yield to others.

If you are involved in or witness a collision/accident you must remain at the scene and identify yourself to the Ski Patrol.

Always use proper devices to help prevent runaway equipment.

Observe and obey all posted signs and warnings.

Keep off closed trails and obey area closures.

You must not use lifts or terrain if your ability is impaired through the use of alcohol or drugs.

You must have sufficient physical dexterity, ability, and knowledge to safely load, ride, and unload lifts. If in doubt, ask the lift attendant.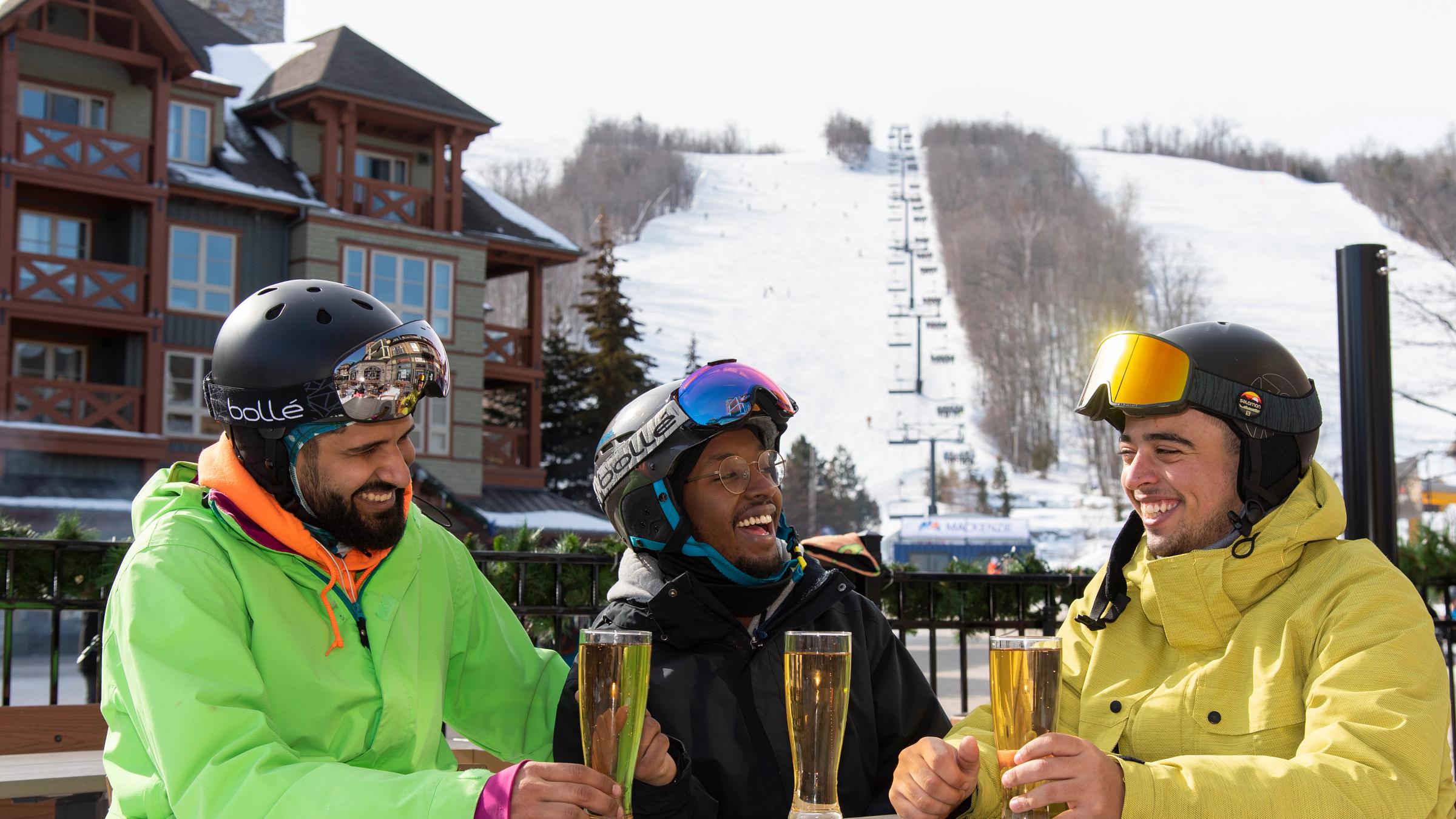 Take a Break
There is so much to explore at Blue Mountain. Here is a checklist of things you can do for a break or après (after skiing and snowboarding).

● If you get cold, head inside for a warm mug of hot chocolate – it's sure to make learning easier!

● Try the classic Canadian Poutine at Jozo's.

● Want to Après? Wrap your hands around a warm glass of mulled wine at the Grand Central Lodge or head to the original Après spot Jozo's.

● Take a walk through the Village.