Blue Mountain Explore More
Where Nature is the Main Attraction


There's something cathartic about hiking. The sound of birds chirping, leaves rustling in the soft breeze and the way the sun filters through the branches creating a shape shifting effect on the ground ahead. There's an excited anticipation of what you might see along the way, new paths you might cross, unique aspects of the surroundings. Kids let their imaginations turn them into woodland nymphs, red squirrels or foxes while parents and grandparents recall what it felt like to be so free.

It can be easy to get distracted with the day-to-day complexities of life and absorbed by the technology that dominates our lives. To walk past a park or steam and take for granted the potential that lies within nature to provide perspective, to ease stress and to find joy.

At Blue Mountain, the Explore Park makes Nature the main attraction with a network of over 20 hiking, biking or multi use trails spanning the escarpment with a total of 30km ranging from beginner to advanced. The Timeline History Trail provides an obstacle free accessible path to see the incredible views from the top while at the same time interpretive signage offers historical facts about the Resort and its founder Jozo Weider. Seasoned hikers, cross-country bikers or trail runners can tackle Green World, the longest trail full of tree islands, technical winding paths and open ski runs.

All of the trails are mapped and have clear signage to make exploring easy. An Explore All Day Pass provides Open-Air Gondola access and a trail pass. Cross-Country bike trail passes are also available, but bike access is not permitted on the gondola.

So, whether you're hiking to slow the pace down or using the trails as an adrenaline-charged technical challenge, the result is the same. Freedom, energy, clarity.


View Sample Itinerary

Explore All Day Ticket
Everybody is meant to move and here, you're never too young, too old, too new, or too experienced to hike. There is a path for every person. We invite you to explore and find freedom in the mountain.
For those who prefer two-wheels, Cross-Country Biking Trails provide a unique on-mountain riding experience. Cruise 12 Cross-Country Trails including two climbs, five down bike trails and five mountaintop rides for a day of riding that is as challenging as you make it: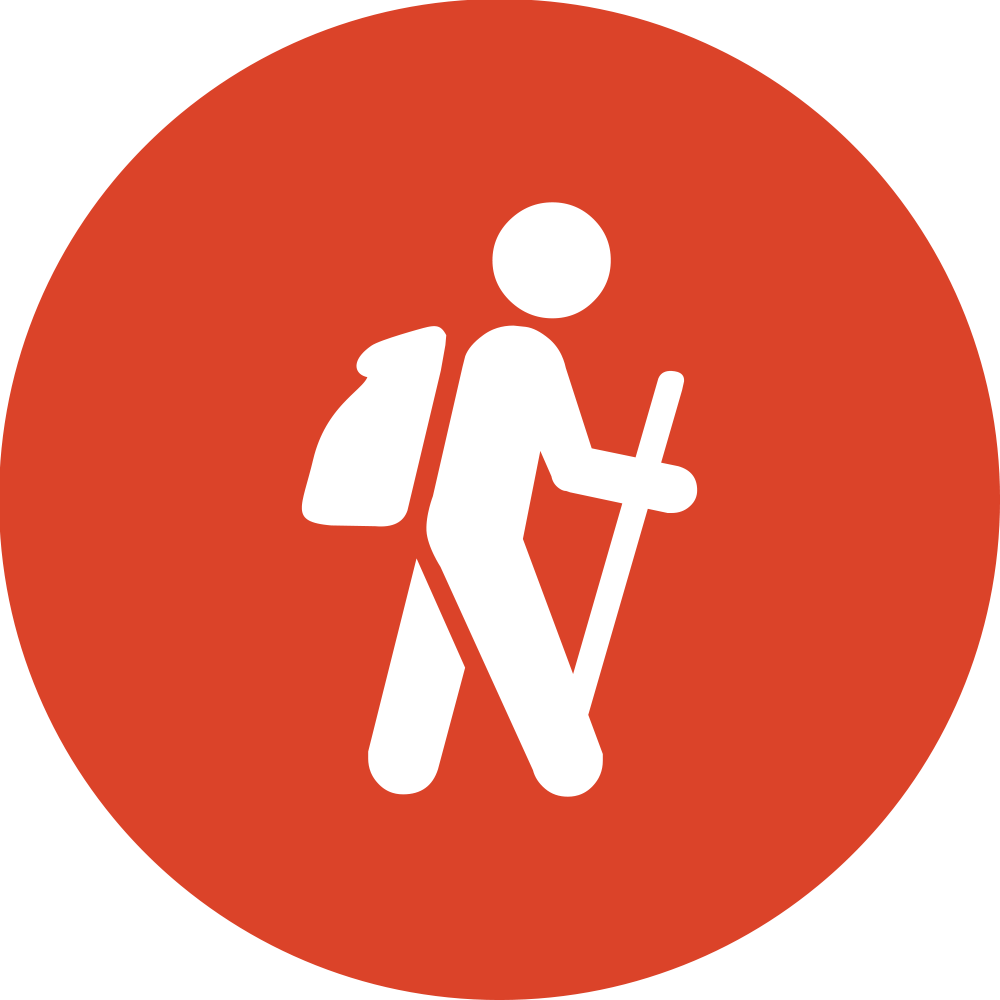 Unlimited Trail & Gondola Use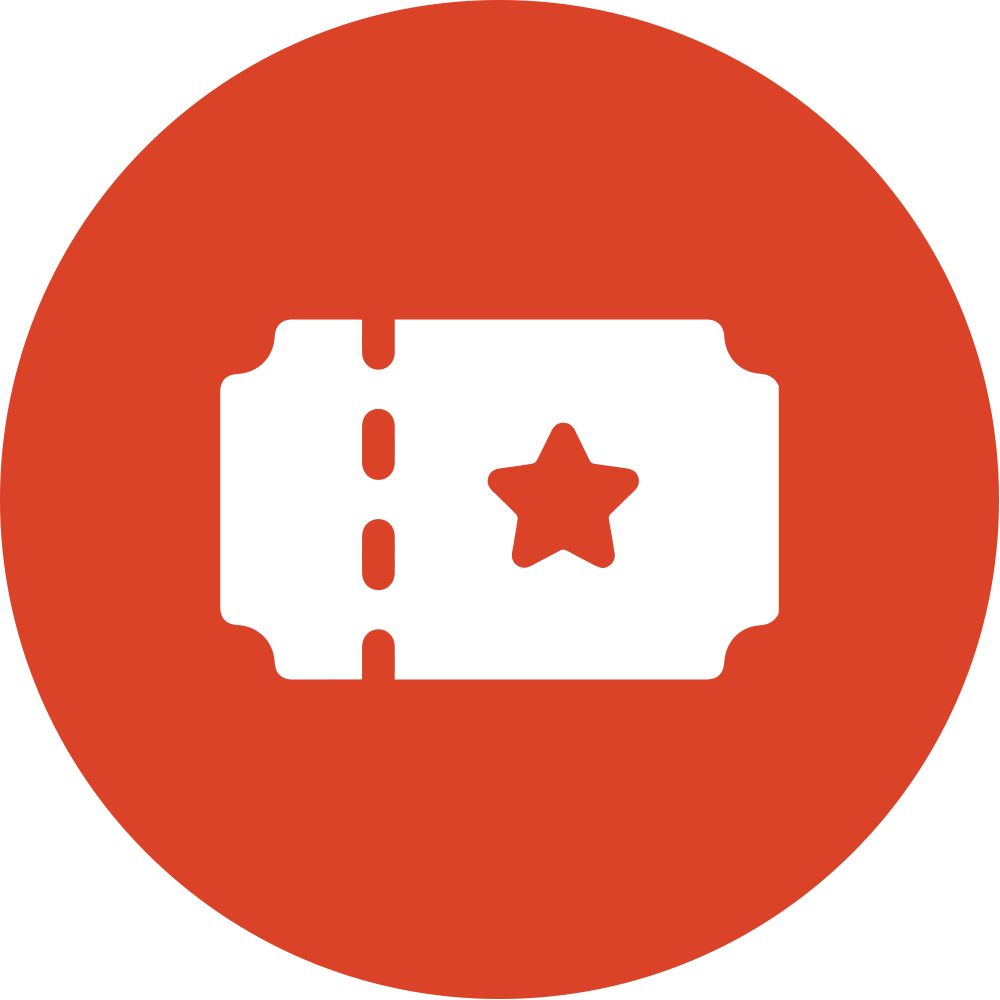 Add-on Adventure Discounts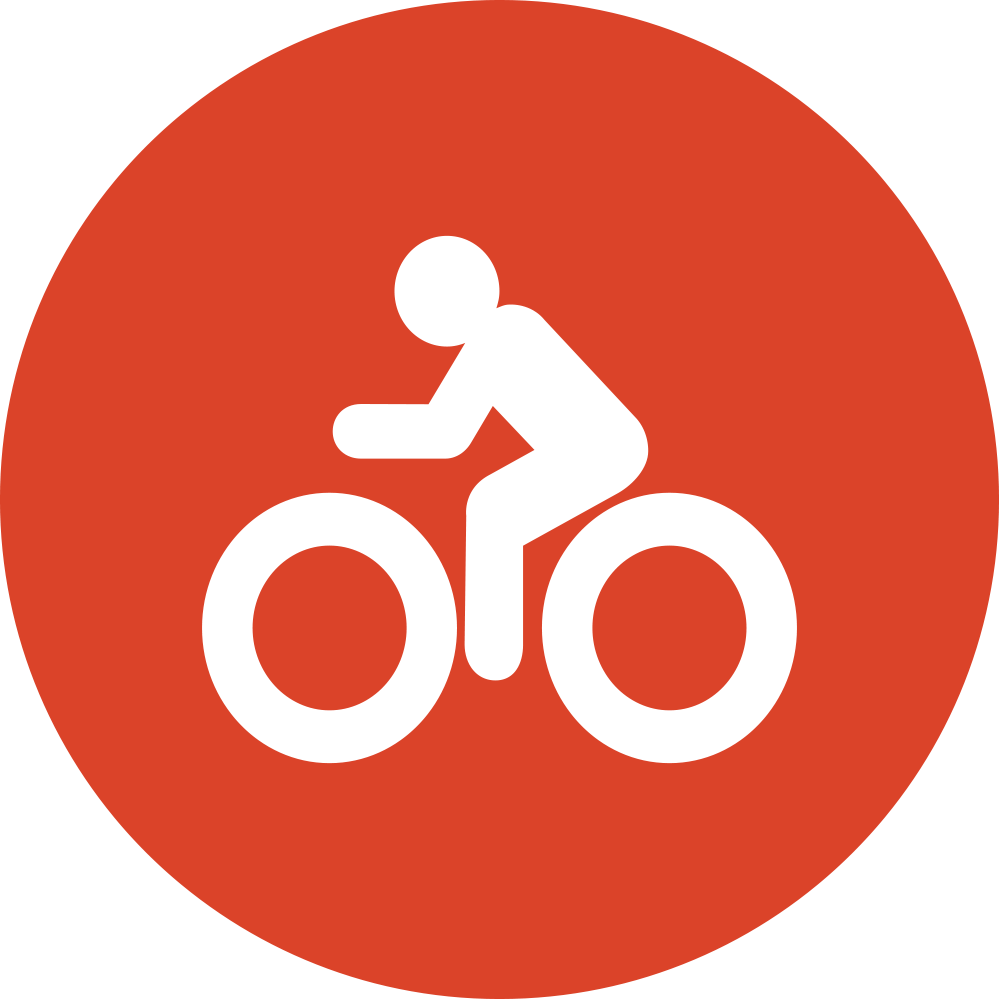 Unlimited Bike Trail Access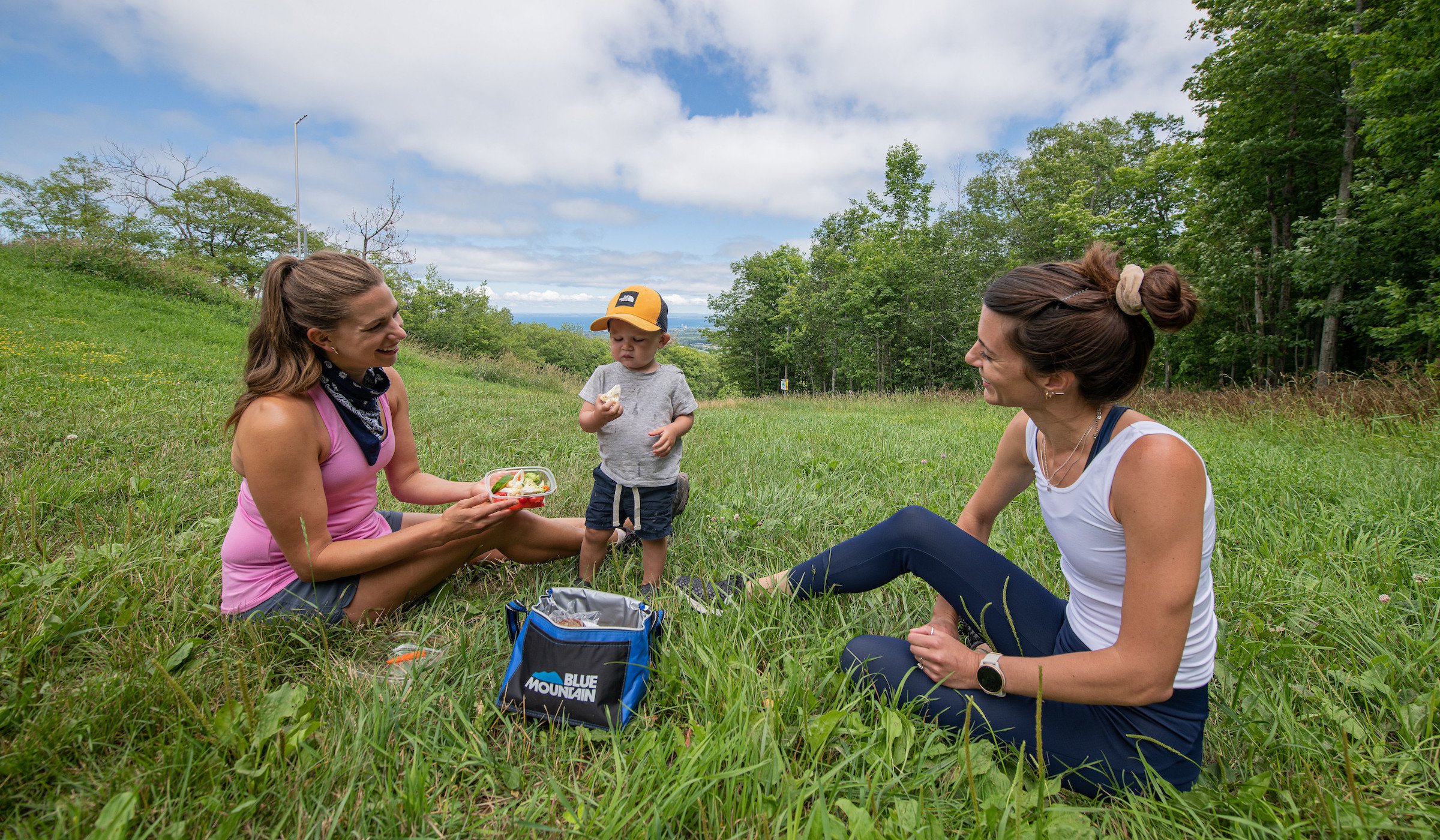 Designated Picnic Area
Guests are asked to use the designated picnic area for any outside food or drinks. Our designated picnic area is conveniently located across from the Open-Air Gondola at the top of the Mountain, next to the Coca-Cola container.

Guidelines for Safety and Enjoyment:
To ensure an enjoyable experience for all, we kindly ask guests to be considerate of others and use tables for a maximum of 60 minutes. Also, please ensure you use our provided waste and recycling receptacles to help keep this area clean. Note that this area is not secured nor monitored and any items left are at the guests' own risk. For safety reasons, grilling equipment, hot plates, and open flames are not permitted.
Day 1

You can see the escarpment ahead of you and are already planning your first hike in your mind. It's been a long winter and your trail shoes have been feeling lonely. You nudge your partner who's fallen asleep in the passenger seat. You have arrived!

You check-in and receive all the information you need. Room key, Explore All Day Passes and information on how to access the Explore Park Map on your phone. You decide to get a lay of the land by grabbing a rental bike and touring across the bottom of the mountain. You take note of the trail head entrances and spot the Apple Crusher sign at the Orchard. A timed hill climbing challenge will definitely be added to your trip itinerary.

You return your bikes and head off in search of fuel for the next day's adventure. Magnone's Italian Kitchen catches your attention, and it's close to The North Face Store giving you the perfect excuse to pop in for some new gear.

On your way back to the room, you pop into Northwinds Brewery to pick up some Hilltop Lager and Brew Mountain SMaSH Lemondrop Hop to put in the fridge. After all, a day of hiking deserves some après!

Day 2


Rise and shine! It's a beautiful day at the mountain. You head out to the balcony and see the village is already bustling with morning loving guests. You're on vacation, so there's no rush. You decide on Sunset Grill for breakfast and some time to plan your day. While you're eating you meet up with some like minded people and agree to join up later on the trails.

The plan for the day is set and now it's time to explore! You ride the Open-Air Gondola to the top. First up, you head North onto the Bruce Trail and Route 66, a relatively flat trail that takes you across the top of the Escarpment. You meet a family, who's excited kids tell you about the cool rocks they just saw and a platform with binoculars!

This you must see for yourself. You drop into Sticks and Stones, a loop that explores the geological make-up of the mountain and its native trees. You find the viewing platform at the midway point and check out the view of Georgian Bay. From here, you join Apple Bowl Lookout for more scenic views as you descend the mountain. Halfway down, you veer left and catch Happy Haul, a short connecting trail that takes you to the North area of the Resort. Now, you have a decision to make. Choose your adventure:

i.

Back track up the mountain the way you came
ii.

Take the road back to the Blue Mountain Inn and catch the paved trail to the Village.
iii.

Continue through the North Parking Lot to the entrance of 1940. This is an advanced trail as the North is known for its steep ski hills in winter.1940 represents the best of the climbs as it heads straight up the northern most side of Blue Mountain.

Since the days are long and you've got plenty of time, you accept 1940's challenge and start heading up.

The climb is no joke! Good thing you grabbed some extra water and packed a lunch from the Village Market! You almost reach the summit but see a sign for The Outer Limits, a trail that takes you to the property boundary. Well, you can't really say you've hiked the mountain if you don't go all the way North. Besides, it connects with Cagey a trail whose upper loop will bring you back to Route 66 and the top of the Gondola where you started.

You find yourself back in familiar territory. The large canopy of Summitview Pavilion beckons for an after-hike charcuterie overlooking the village. You welcome the opportunity to put your feet up and recount the day's excursion.

Finally, it's time to head back to the room for a shower and hot tub before you take a stroll through the Village in search of the perfect place for a late dinner. There's a band playing on the Subaru Stage and a crowd has formed to watch. You meet the friends from breakfast and decide on dinner together at Mother Tongue Asian Bistro to end the evening.
Day 3


A few drinks the evening before resulted in that Apple Crusher challenge coming to pass. What better way to close out your hiking vacation than with a friendly wager for the fastest time up the mountain? Loser has to buy lunch!

You wake up early to stretch out with some yoga in the Volcanic rock studio at Iwa Spa. Sleepy head opted for the extra zzz's, so you head back to the room to wake them up with some fresh coffee and treats from Royal Majesty Espresso Bar Bakery.

You meet at the Southern-most side of Blue Mountain at the bottom of the Grind, home of Apple Crusher. There's no leg burner quite like the steady climb of The Grind. This multi-use trail is perfect for strength, conditioning and stamina – which you are about to find out.

As you each make your ascent, you notice that bikers are also cranking their way up the trail, [Mental note to let your cross-country friends know about that.] as well as hikers of all ages with their eyes on their times. Seems that more than your little group had the same plan.

After your cheers, grimaces and high fives are done, you decide to head a short distance over to Vert-I-Go. This trail winds its way through the trees on changing paths through the forest where you connect onto Gully. You follow Gully to its bottom most point and merge onto Green World. Green World crisscrosses 3kms of tree islands, open ski trails, and two hiking trails making it one of the more interconnected paths on the Escarpment. You pass some other bikers taking advantage of the lower trails.

Green World brings you to the base of the mountain, just at South Base Lodge. Your legs have enjoyed the downhill climb and now they are ready for the beautiful scenery and many, many steps of Cascade. A favourite trail among Blue Mountain employees and locals. The trail gets its name from the cascading stream that runs the length of the trail. The winter melt fuels a waterfall at the summit which is best viewed in the spring and early summer. Cascade is also home to the Rainbow Bridge, Blue Mountain's tribute to love, the beauty of diversity and strength of the human spirit.

It doesn't take long before you realize why Cascade is a fan favourite. Its beautiful switch back trails can be compared to a natural stair master, giving you a definite work out.

Finding yourself back at the summit. You part ways with your friends so they can make it in time for their Mountaintop Segway Tour, but not before making a time to meet for a late patio lunch back at Copper Blue's Bar and Grill.

You've having such an amazing time on the trails that you almost forgot about all the other attractions and activities at the resort! You decide to head back to the village for a little adventure of your own. Besides, the mountain isn't going anywhere, and it gives you a great excuse to come back for another vacation to finish the job. Off to the Ridge Runner!

You saw the mountain coaster yesterday and knew you wanted to fit it in. Now is the time. You walk backwards along the Timeline History Trail and see guests of all ages walking and enjoying the interpretive boards that tell the story of Blue Mountain. You even notice that the trail is accessible for guests with limited mobility, ensuring that all can enjoy the mountaintop views.

The ride down the gondola gives you time to reflect on the last couple of days and how much you have to share with friends and family back home. Not only is the resort a hikers dream, there's something for everyone! Now, time for some serious cruising on the Ridge Runner Mountain Coaster.

After lunch, you wind down pool side and catch up on that novel you've been trying to finish. Next, it's time for some retail therapy in the village shops. You find the perfect painting for your condo at Brights Gallery, some incredible natural skincare from L'Occitane en Provence and the perfect Blue Mountain t-shirts for your niece and nephew at Blue Mountain Supply Co.

You opt for grab and go fare to compliment those Northwind's Beers you have in your room. Taco's from Camino Taco and Gourmet Grilled Cheese from Cheezed! Comfort food at its best. There's nothing better than watching people in the village and the sun set from your room's balcony. It's been a great day and a perfect end to your stay at Blue Mountain.